Do you want to get off the beaten track and explore the most unusual Vietnam has to offer?
Are you a fan of oddities?
Do you swear by the unusual activities of Atlas Obscura?
If you're fearless and open to unique experiences, you've come to the right place!
Parfum d'Automne offers you a selection of activities that are out of the ordinary and that you can only do in Vietnam!
What if during your trip you fly over Halong Bay by seaplane, taste snake liquor,
fly over Vietnam's most beautiful rice terraces on a paraglider?
All these extraordinary activities are possible in Vietnam, and more!
Discover here the unusual and original activities to do during your stay in Vietnam.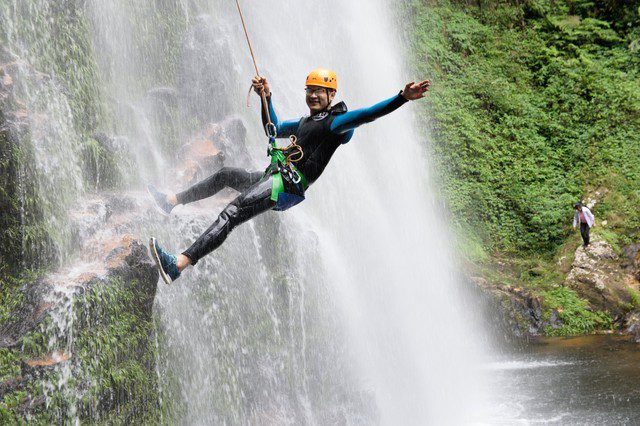 Go canyoning
Extreme and outdoor sports are developing at high speed in Vietnam. If you are a fan of these adventure sports and especially canyoning, you will have everything you dream of in Vietnam. If this adventure tempts you, we recommend that you take a tour around Sapa. For example, you can abseil down the "Love Waterfall" as well as several wild rivers. A real immersion in nature for a pure breath of oxygen and adrenaline!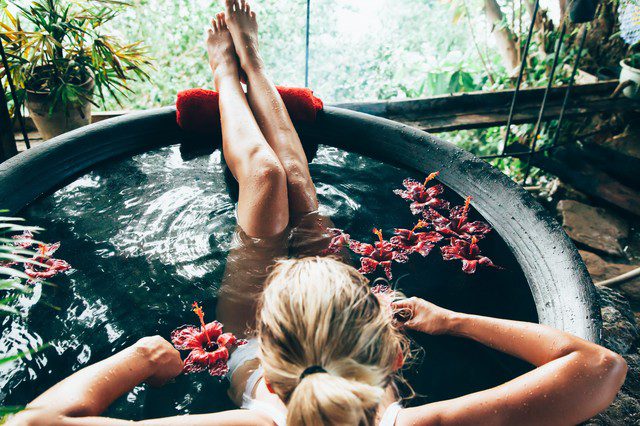 Take a red Dao bath
After several days of hiking, it is good to relax… We have the solution: the Dao bath. The particularity of these relaxing Dao baths comes from its medicinal herbs. These herbs are washed and cooked for 3 hours, until the bath takes on a red color. It is only then that hot water is added which will welcome you for a moment of relaxation and intense relaxation. The effects of Dao baths are particularly positive on muscle pain. These baths can be taken at the inhabitant or everywhere in the city of Sapa.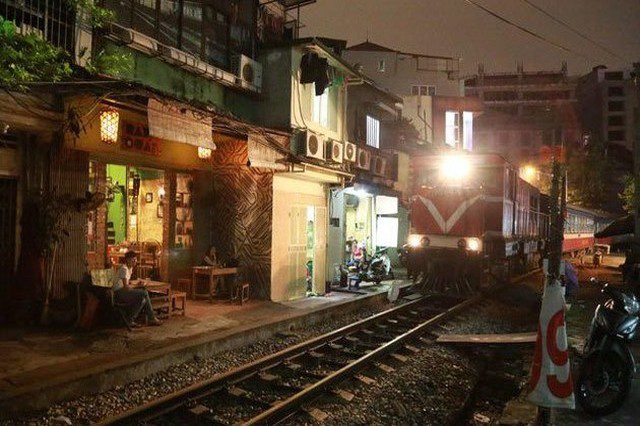 Have a drink along the railway in Hanoi
Discover a small restaurant in Hanoi located along the rails crossing the city: Ray Quan. This address, known to locals and expatriates, offers simple but good Vietnamese dishes and above all homemade fruity rice wine! It is customary to toast every time the train passes… A unique atmosphere, and not to be missed, especially on weekends!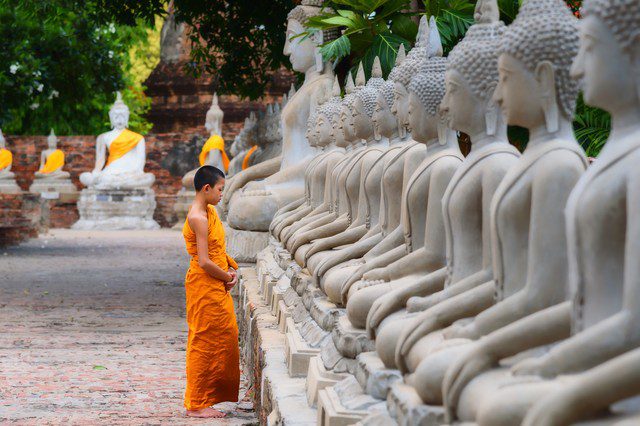 Experience Buddhist meditation retreat
It is possible today in Vietnam to organize stays in Buddhist monasteries or a circuit that will combine prayer, meditation and hiking in the middle of nature… The country is in full economic and material development and some, like everywhere, do not find their happiness in this frantic race for consumption. More and more Vietnamese are turning back to their Buddhist history. Contact us to organize a cultural stay and in French to discover the only Buddhist school in Vietnam.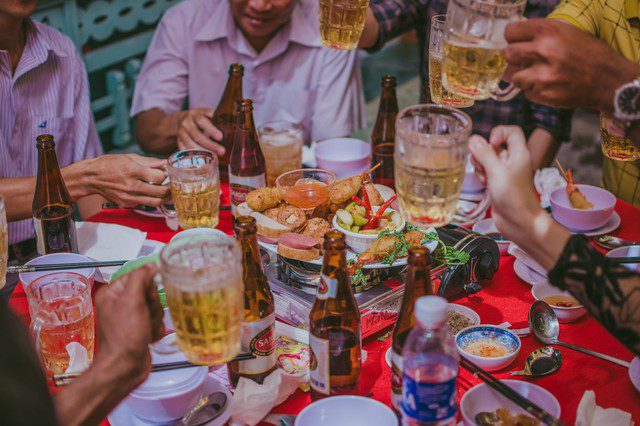 Enjoying Bia Hoi night
How about living "like a local" for a night out? In Hanoi, two activities by night are queens: eating and drinking cold beer at Bia Hoi and going to karaoke. The Bia Hoi are the many small / bars, large open to the outside most of the time, which serve cheap low-alcohol beer (about 8,000 vnd a glass). We also eat very well most of the time. After a few drinks, you might want to push the song, right? It will then be time to go to karaoke, an activity that the Vietnamese love…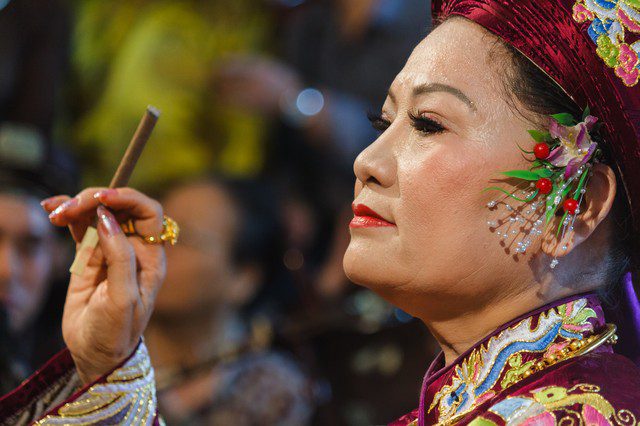 Witnessing a Lên đồng ceremony
Vietnam is a country with multiple beliefs… The cult of the Mother Goddesses is one of them. To be able to be guided by the deities, humans must enter into a relationship with them. Only certain people have the ability to be able to make the connection between spirits and humans. They are shamans ("ba dong"), men or women, having had at some point in their life the revelation of a call or a link with one of the figures of the pantheon of spirits. During your stay, you could attend these colorful ceremonies that take place in the temples!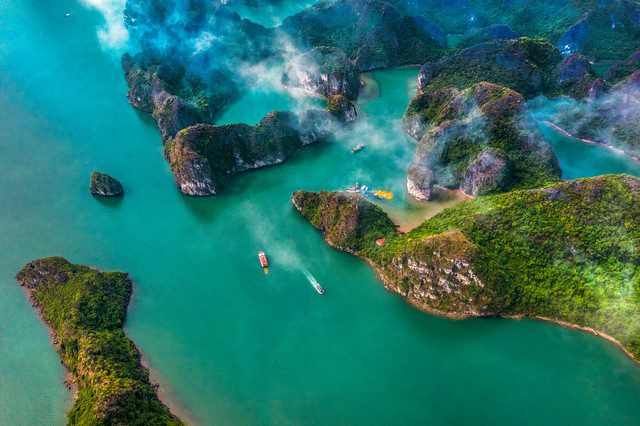 Fly over Halong bay
Take to the skies and discover Halong Bay from another angle! You will fly from Tuan Chau Marina in Halong for a 25-minute flight over hundreds of karst peaks. The small seaplane can accommodate a maximum of 12 people. If you have the time and the budget to take a cruise and this plane ride, do not hesitate! Perfect for those who want to take pictures from another point of view! Count approximately between 100 and 120 euros per person for this activity.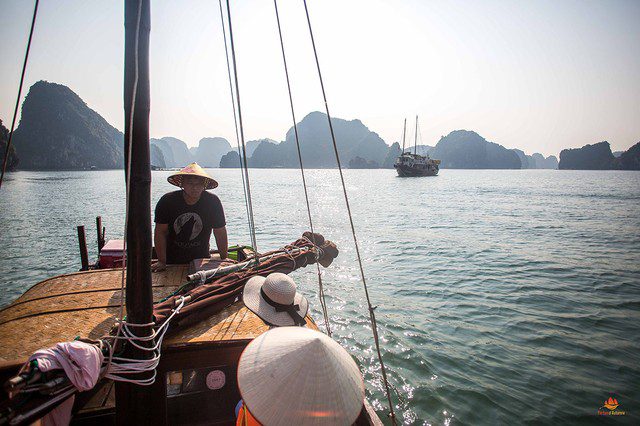 Navigate on a fisherman boat
For those who want to discover Halong Bay differently, there are alternatives to large pleasure boats! The Parfum d'Automne agency has commissioned a small fishing boat for those who prefer an authentic experience to comfort. The agency organizes private 1-day or 2-day tours with Vietnamese fishermen to discover Lan Ha Bay differently. If you choose the 2 day option, the night will be spent in a houseboat in the middle of the bay. The sunrise and sunset are superb!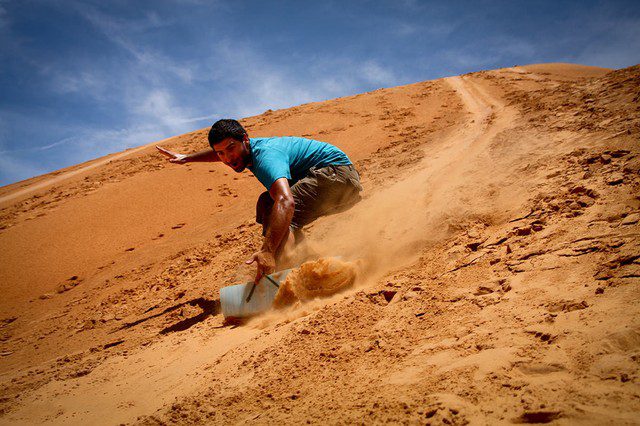 Surfin on sand dunes
In the south of Vietnam is Mui Ne, a seaside resort that has become trendy in recent years. The particularity of Mui Ne is that it is home to sand dunes… Nothing could be easier to have a good time of fun: just go to the dunes and you can rent small boards from the vendors on site!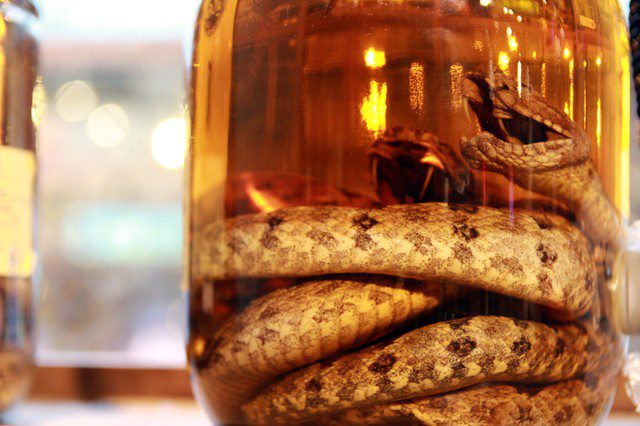 Drink snake alcohol
Only 7km from Hanoi is the village of Le Mat. The specialty of this village? Raise snakes! There you can see live snakes (whose venom has been removed) but above all jars of rice wine welcoming pythons and other cobras! It's impressive ! Then, you can go to the table in one of the restaurants to taste snake dishes and above all… snake alcohol! An original idea for an evening outing for those who are not afraid of these beasts of course…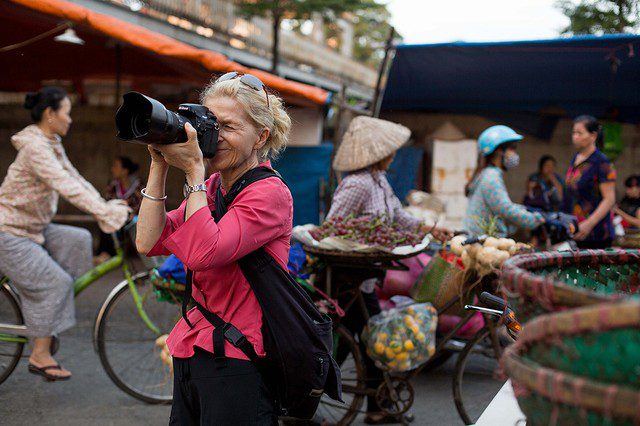 Bringing back the best pictures
Are you a budding or advanced photographer? It is possible in Vietnam to book photography tours. This has several advantages: 1) You will perfect your photography practice and 2) You will discover places that you probably would not have visited if you had not chosen these photo tours.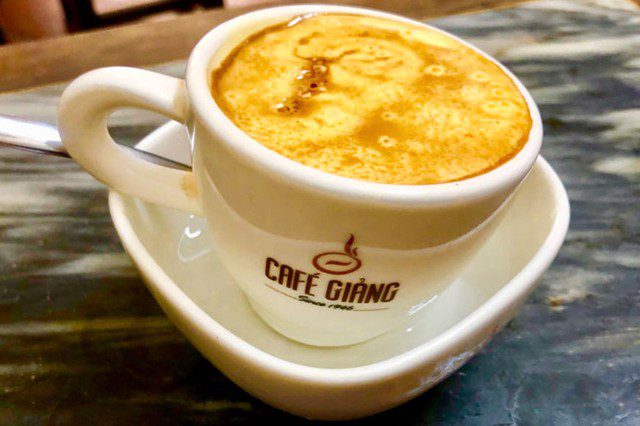 Try the egg coffee
Hanoi is known for an original specialty: egg coffee. Its invention is recent since it dates from the period of the Indochina war. You can enjoy this egg coffee all over Hanoi. But here are our two best addresses: Café Giang: This is the café opened by Mr. Nguyen Van Giang, the inventor of egg coffee. Taste the original! Of course, there may be a queue! Loading T Café: one of the prettiest cafes in the capital located in an old colonial house. They serve the original egg coffee and it's delicious! Preparation takes a bit of time so be patient, you won't regret it!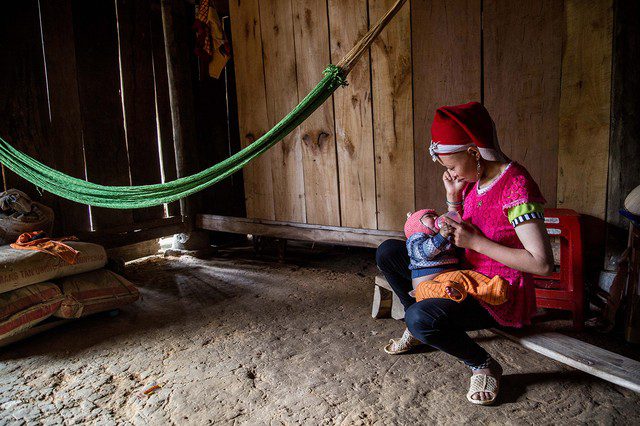 Staying in a homestay in a remote area
We can only advise you to stay in the mountains in North Vietnam! It is therefore interesting to book at least one night with the locals during your stay in order to share a moment of conviviality with your hosts. Thanks to your French-speaking guide, you will also have access to a lot of information on the ways of life and the beliefs of the ethnic groups. Be warned: Homestay dinners are often boozy! All the families indeed making their own rice alcohol.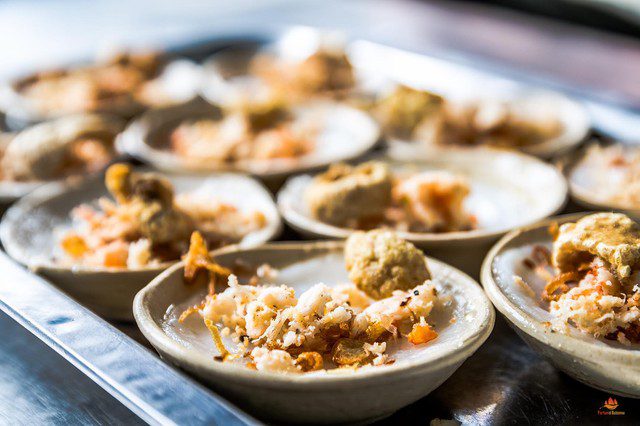 Book a Food Tour in Hue
Hue, the imperial city of the Nguyen dynasty, is one of the most pleasant cities to visit, especially on foot. It is also known for its gastronomy and we can only encourage you to taste the many typical dishes of this city of character. How ? Simply by booking a food tour. The best agency to do this is to book with Hue Grit Tour. The food tour lasts from 5 p.m. to 10 p.m. You will taste many typical dishes and you will stroll in the city in the evening. A great time. These tours are only in English. But we can integrate it into your tailor-made circuit. In this case, your French-speaking guide will accompany you.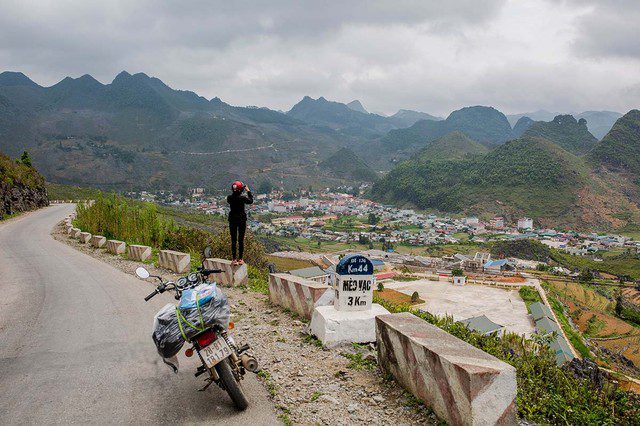 Riding motorbike in Ha Giang
In North Vietnam, you can rent a motorbike and do the famous "Ha Giang Loop". It is indeed very easy to rent a motorbike in the city of Ha Giang in the far North of Vietnam and set off for several days to explore the winding roads of the region. The mountainous and karstic landscapes are sublime. By motorbike you can also stop when and where you want! But be careful: you will have to master your bike well. The roads can be dangerous and leave little room when trucks are on them.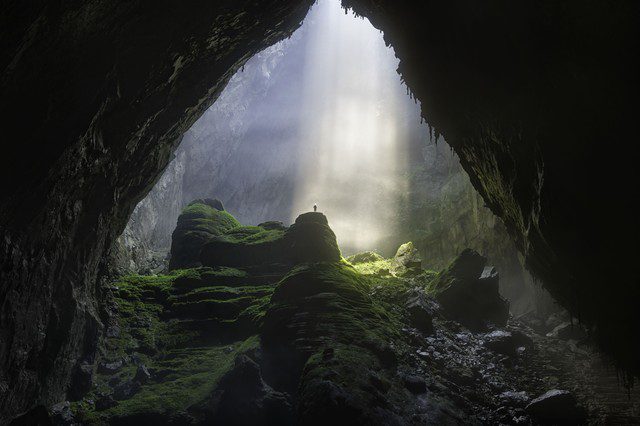 Explore the biggest cave in the world
Phong Nha Ke Ban National Park is still not on the classic routes and yet… it hosts some of the most beautiful and largest caves in the world, no less! You can visit some of them without forcing ("paradise cave" is breathtaking…). But you can also, if the adventure tempts you, carry out hikes of several days to discover several caves. If you have the budget, you might want to visit Soon Dong Cave, considered the largest cave in the world. An 8km river crosses it! To do this, you will nevertheless have to pay a few thousand dollars …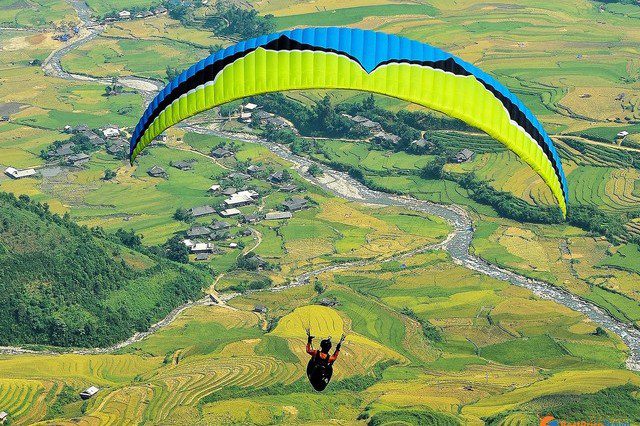 Paragliding over rice paddies
What if you could discover the rice fields from the sky? A good alternative for all those who do not have a drone! Every year in the district of Mu Cang Chai in North Vietnam is held a paragliding festival. The festival is held at the end of September when the rice is ready to be harvested and the colors of the rice fields are most vivid. It is a festival welcoming nearly 200 experienced pilots and it is also possible to do a first flight with a professional.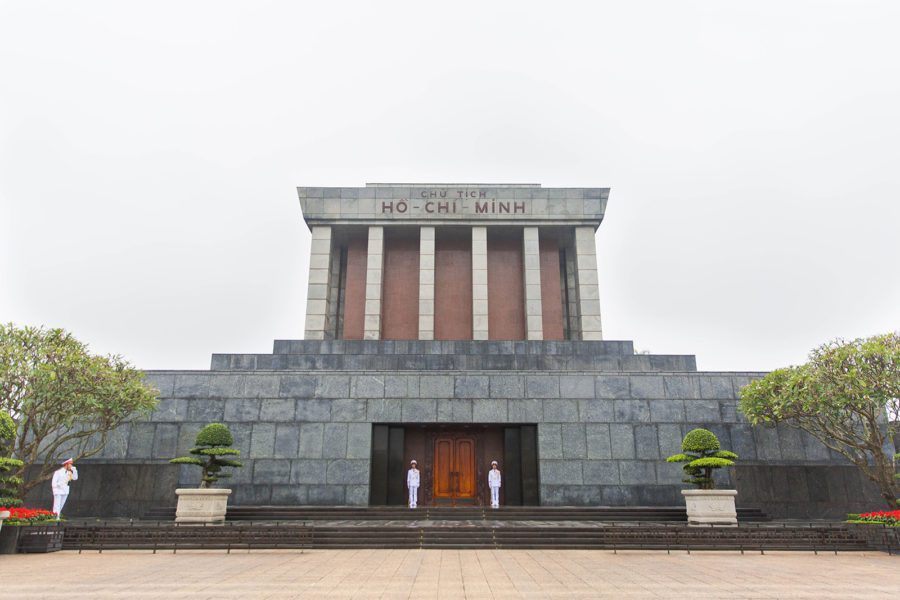 Visit Ho Chi Minh Mausoleum
The Ho Chi Minh Mausoleum located on Ba Dinh Square in Hanoi is one of the most visited sites in Vietnam. It remains an object of curiosity! Indeed, inaugurated in 1975, this building houses the remains of Ho Chi Minh, founder of the Socialist Republic of Vietnam and first President. Preserved in the cold and under a lighted glass sarcophagus, the body can be seen for a few seconds… Proper attire required to visit the most famous Vietnamese!
Ready to live an adventurous trip in Vietnam ?
Organize a stlyling trip with us !