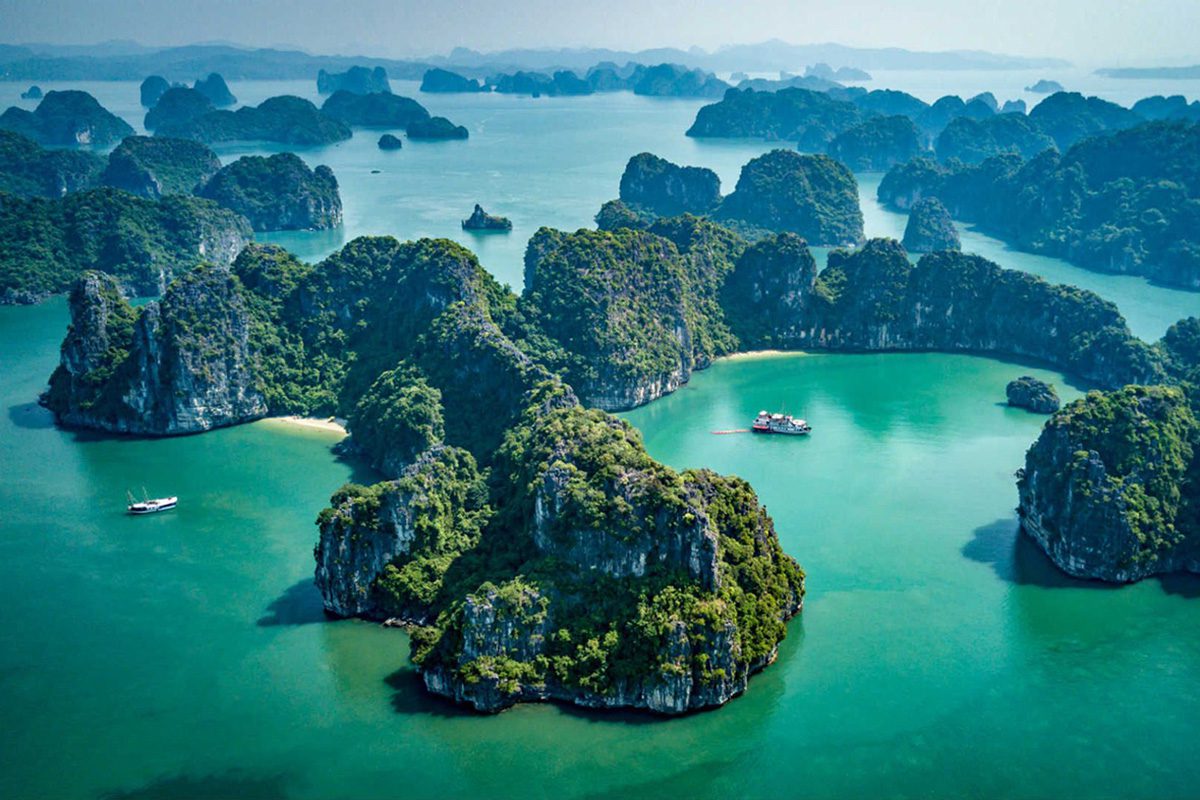 Bai Tu Long Bay – experience Halong Bay without mass tourism
Many of you are currently looking for alternatives to the main Halong Bay, which experiences significant crowds, especially during the summer. After Lan Ha Bay, here, we suggest exploring an even lesser-known part of the bay: Bai Tu Long Bay.
Few boats are allowed to navigate, and even fewer are permitted to anchor here. It's a wonderful opportunity to discover the bay in a preserved and tranquil environment.
In this article, we provide you with all the information you need about this area so that you can make an informed decision about your visit!
Feel free to contact us to plan your cruise.
Table des matières de l'article
The 3 zones of Halong bay
Halong Bay, Lan Ha Bay, and Bai Tu Long Bay in Vietnam are all located in the Gulf of Tonkin and renowned for their breathtaking natural beauty. However, each bay has its unique features that set them apart from one another.
Halong bay 
Halong Bay, the most famous of the three, is a UNESCO World Heritage site. It is located in Quang Ninh Province in northeastern Vietnam. Halong Bay is renowned for its thousands of karst islands and islets rising from the water, creating a spectacular maritime landscape. Visitors can explore the bay on large boats, engage in activities such as kayaking, swimming, and hiking. Tuan Chau Port is the usual starting point for excursions into this bay. Halong Bay is also home to several impressive caves and grottoes, such as Sung Sot Cave and Thien Cung Cave.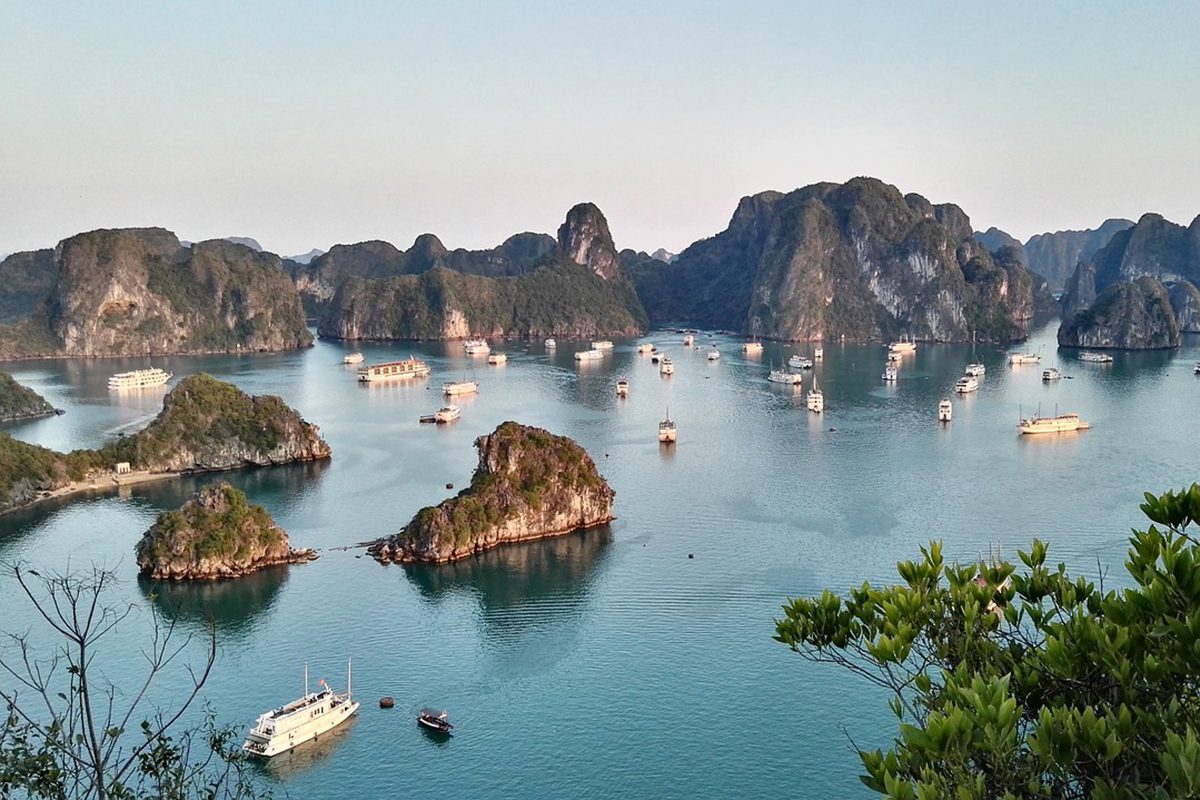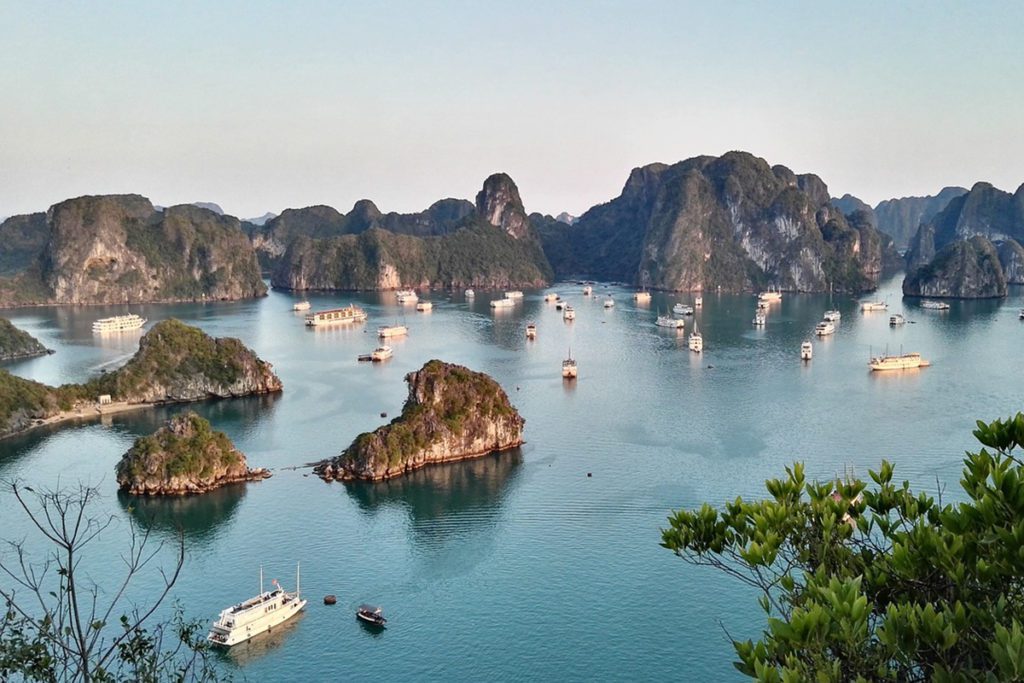 Halong bay landscape, Vietnam
Lan Ha bay
Lan Ha Bay is located to the south of Halong Bay and is considered a natural extension of the latter. However, Lan Ha stands out for its tranquility and peaceful atmosphere. It is situated near Cat Ba Island, a prime location for beaches and hiking. Lan Ha Bay is less crowded than Halong Bay, making it an ideal destination for travelers seeking calm and serenity. Beautiful beaches, like Van Boi Beach, perfect for swimming, can also be found in the area. Visitors can explore local fishing villages and interact with the residents.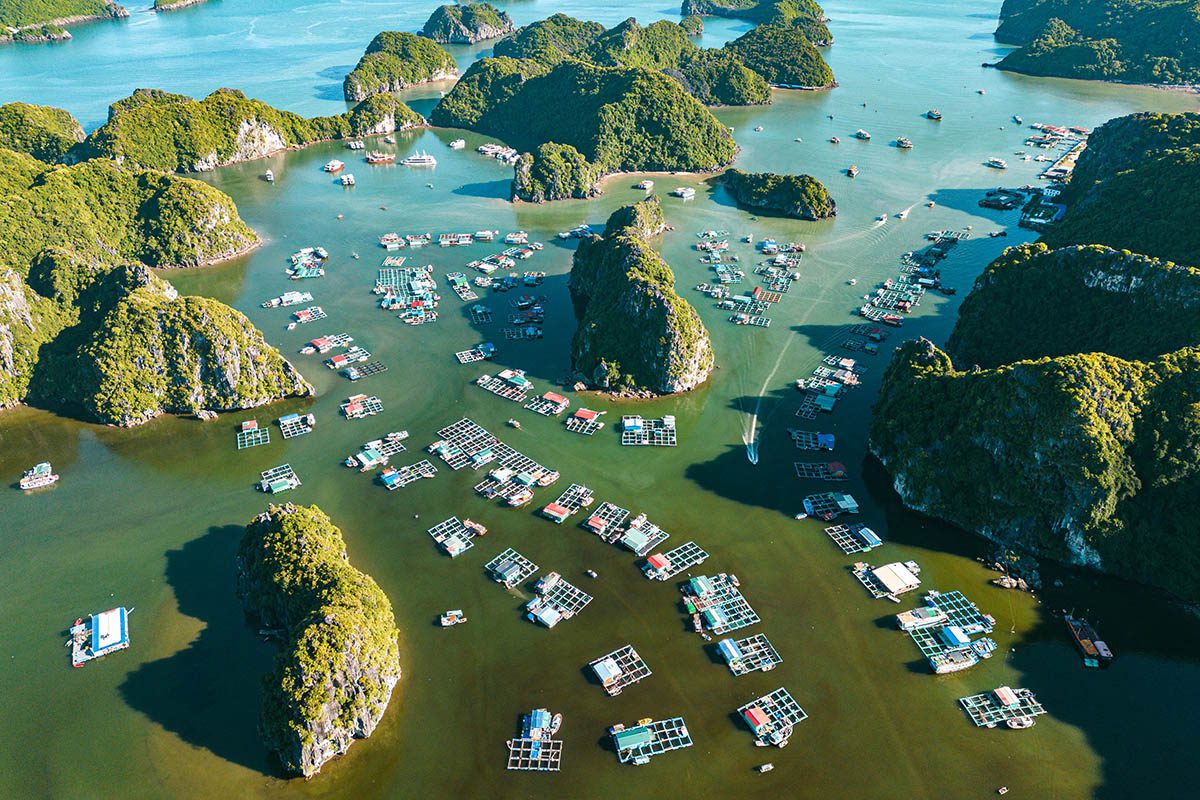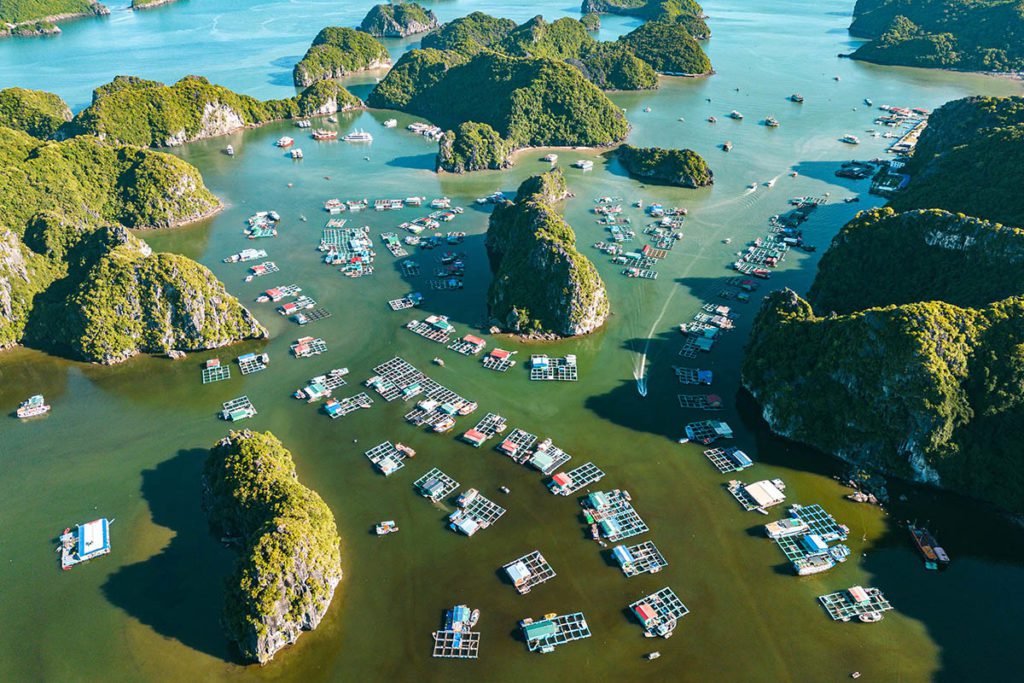 Lan Ha bay from above, Vietnam. Photo credit : Mathieu Arnaudet
Bai Tu Long bay 
Bai Tu Long Bay is located to the east of Halong Bay. It is less known than its neighbors, making it an ideal destination to escape the crowds. Bai Tu Long Bay is renowned for its crystal-clear waters, pristine beaches, and untouched landscapes. Visitors can explore caves, uninhabited islands, and fascinating marine biodiversity. Bai Tu Long Bay is perfect for a more intimate cruise experience. Travelers can also visit fishing villages and learn more about the local way of life.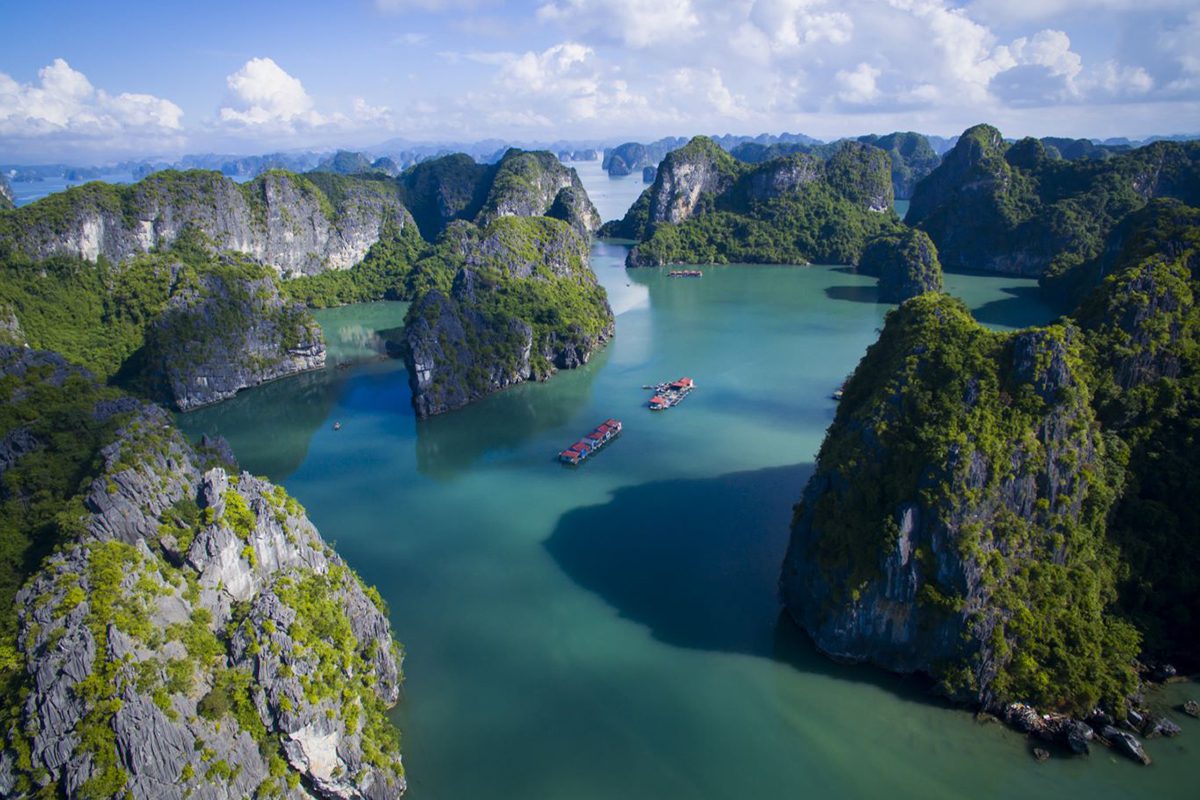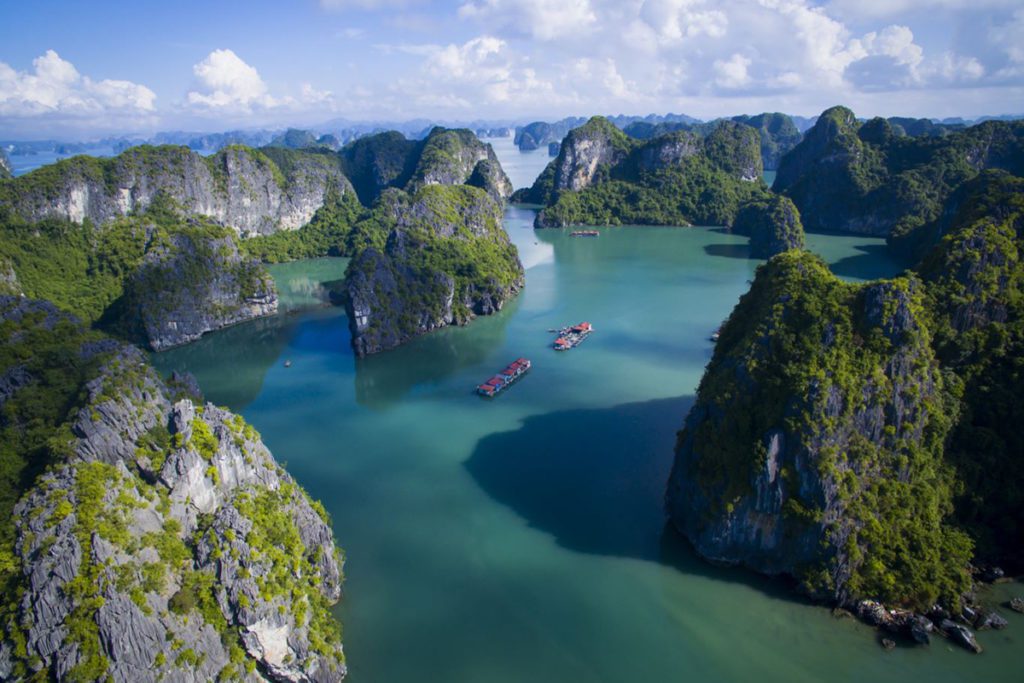 Bai Tu Long bay from above, Vietnam
Why visiting Bai Tu Long bay ?
Less known than its neighbor, Halong Bay, Bai Tu Long Bay offers equally stunning landscapes. The bay is an ideal destination for those seeking a more authentic and less crowded experience. With its pristine beaches, impressive karst mountains, and wild nature, Bai Tu Long Bay is a highly recommended area, even if it's your first trip to Vietnam.
To this day, Bai Tu Long remains largely unexplored. In many ways, it is actually more spectacular than Halong Bay as it is still in its early stages as a destination for travelers. Bai Tu Long offers many sites to visit, including the Cong Do area, the fishing village of Vung Vieng, Da Xep Park, the Cong Dam area, Thien Canh Son Cave, and Tra Gioi Beach.
There are also some inhabited islands, such as Quan Lan, Ngoc Vung, Cong Dong, and Cong Tay, which have many beautiful beaches. Additionally, the Bai Tu Long Bay National Park is rich in biological diversity, home to many different species of flora and fauna.
How to get to Bai Tu Long Bay?
The Hon Gai Port is the starting point for cruises to Bai Tu Long Bay. Here are the different options depending on your departure location:
From downtown Hanoi to Hon Gai Port (Halong City): 3 hours and 15 minutes by bus/car, covering a distance of 136 kilometers.
From Noi Bai International Airport to Hon Gai Port (Halong City): 3 hours and 20 minutes by bus/car, covering 157 kilometers.
From Cat Bi International Airport to Hon Gai Port (Halong City): 2 hours by car/taxi, covering 79 kilometers.
The most common option is, of course, to book a cruise that includes a shuttle service from Hanoi to Bai Tu Long Bay.
Travelers also have the option to hire a private driver, but if you only intend to take a cruise, the cruise shuttles will work just fine.
What to do in Bai Tu Long bay
Quieter, nevertheless, there are many things to do and discover in Bai Tu Long Bay. Here are the main ones.
Cruising 
It's obvious: it's on a boat cruise that you will discover Bai Tu Long Bay. Cruises typically focus on the sailing route that passes through famous sites such as Thien Canh Son Cave, Vung Vieng Village, Ban Chan Island, Cap La Island, and the Cong Dam area.
Below, you'll find our selection of cruise operators.
Visit Vung Vieng and Cong Dam Fishing Villages
The floating village of Vung Vieng, located nearly 20 kilometers from the mainland in the heart of Bai Tu Long Bay, is an excellent place to learn more about the local life of fishing and navigation. Fishing boats with their nets spread out to dry, along with the laughter of local families, have given Vung Vieng an idyllic and traditional character. You have the option to visit the village either by rowboat with a local resident or by kayak to explore the surroundings on your own.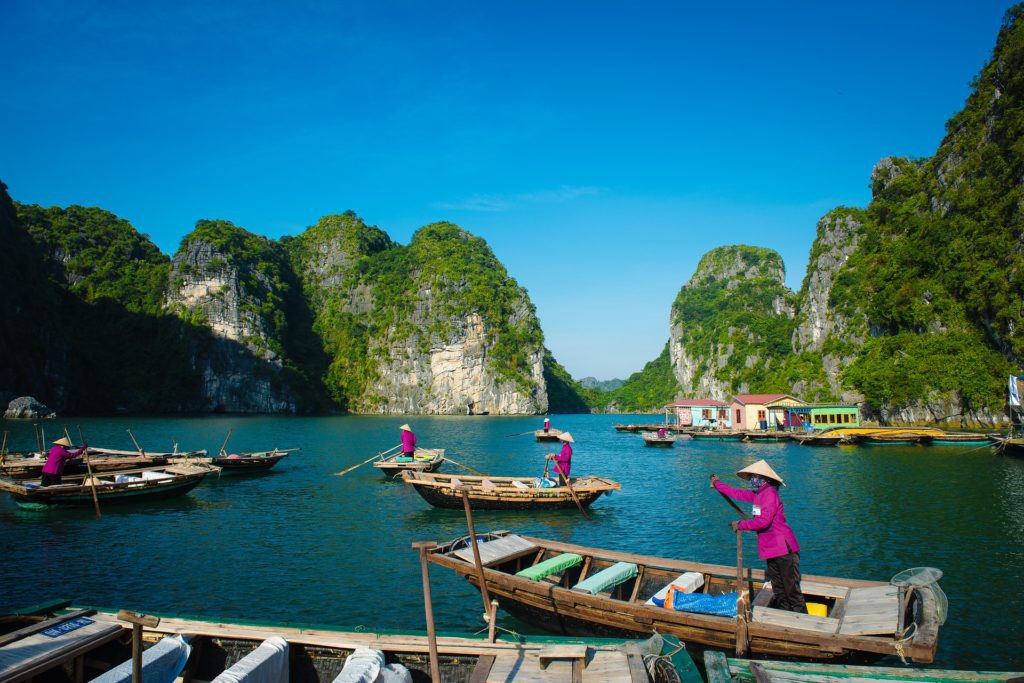 Floating village of Vung Vieng
Cong Dam resembles Vung Vieng in appearance, but it is located farther from the mainland and houses a smaller floating village of about 120 inhabitants. Travelers can take a kayak excursion in the area to enjoy the scenery or join local fishermen to try their hand at fishing. There are numerous lagoons and marine caves around the village, as well as several beautiful beaches such as Tra Gioi, Cay Bang, and Cat Oan that are worth exploring.
Swimming and Snorkeling at Ban Chan Beach
While kayaking is a must-do activity in the Vung Vieng fishing village and Cong Dam area, swimming and snorkeling are other activities not to be missed at Ban Chan Beach.
Ban Chan Beach is known for its clear waters, white sandy beach, and excellent visibility, ideal for swimming and snorkeling. The rugged rocks and lush forest surrounding it add to its charm, making this beach a majestic location.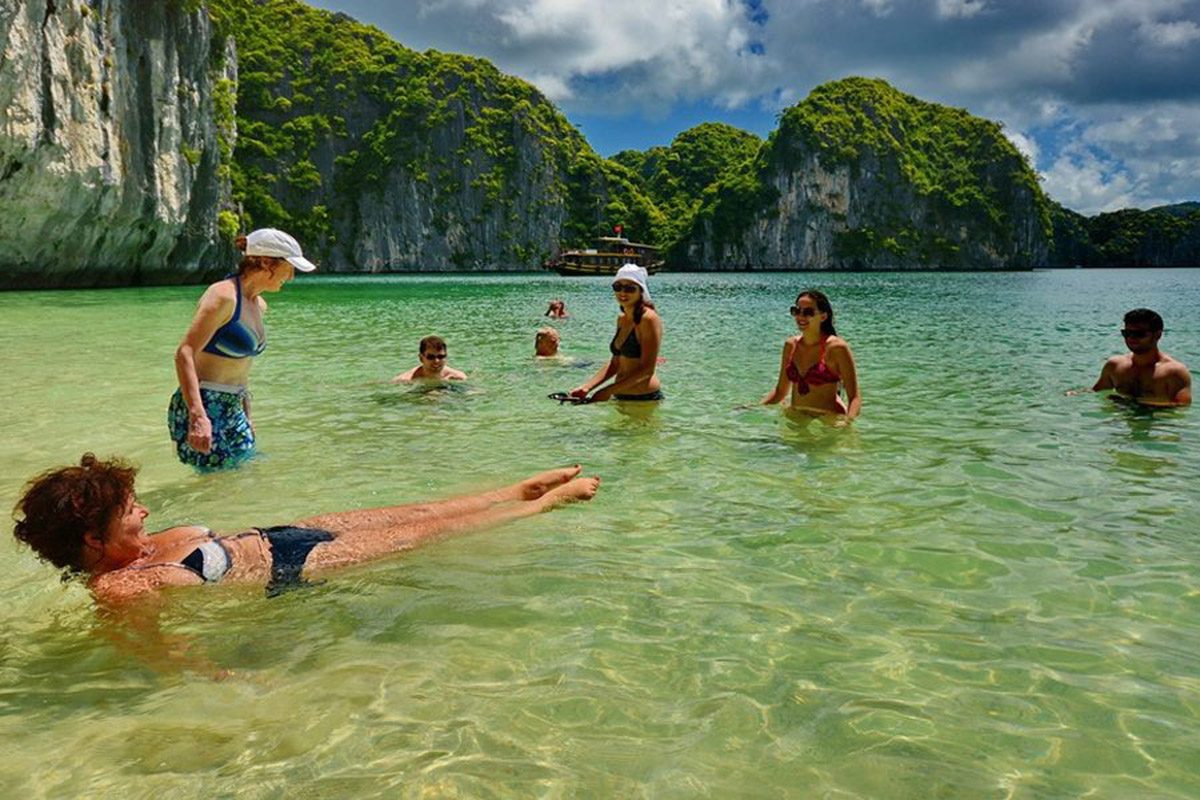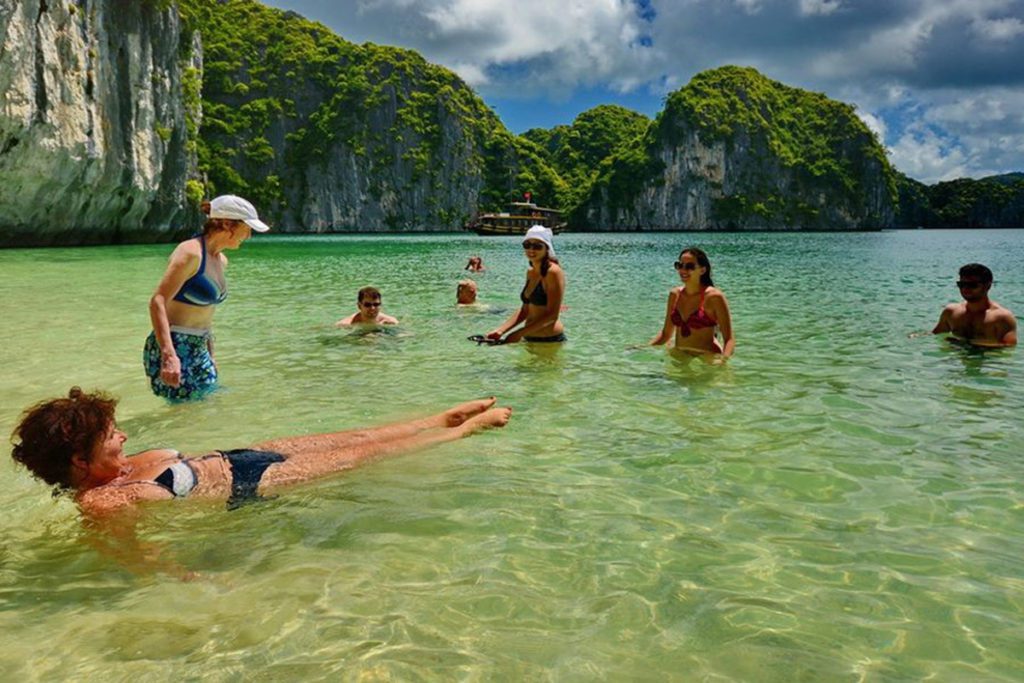 Relaxing at Ban Chan beach 
Exploring Thien Canh Son cave
Thien Canh Son is a vast cave consisting of three large chambers. The entrance to the cave is hidden under a thick forest cover, near a rocky wall. The formations inside the cave take on various shapes, resembling lotus flowers, young elephants, seals, and blossoms. The cave's ceiling, in particular, resembles a sparkling carpet adorned with glittering stalactites hanging down.
There is also a beautiful beach named Thien Canh Son, making it an ideal spot to take a break after a few hours of exploration.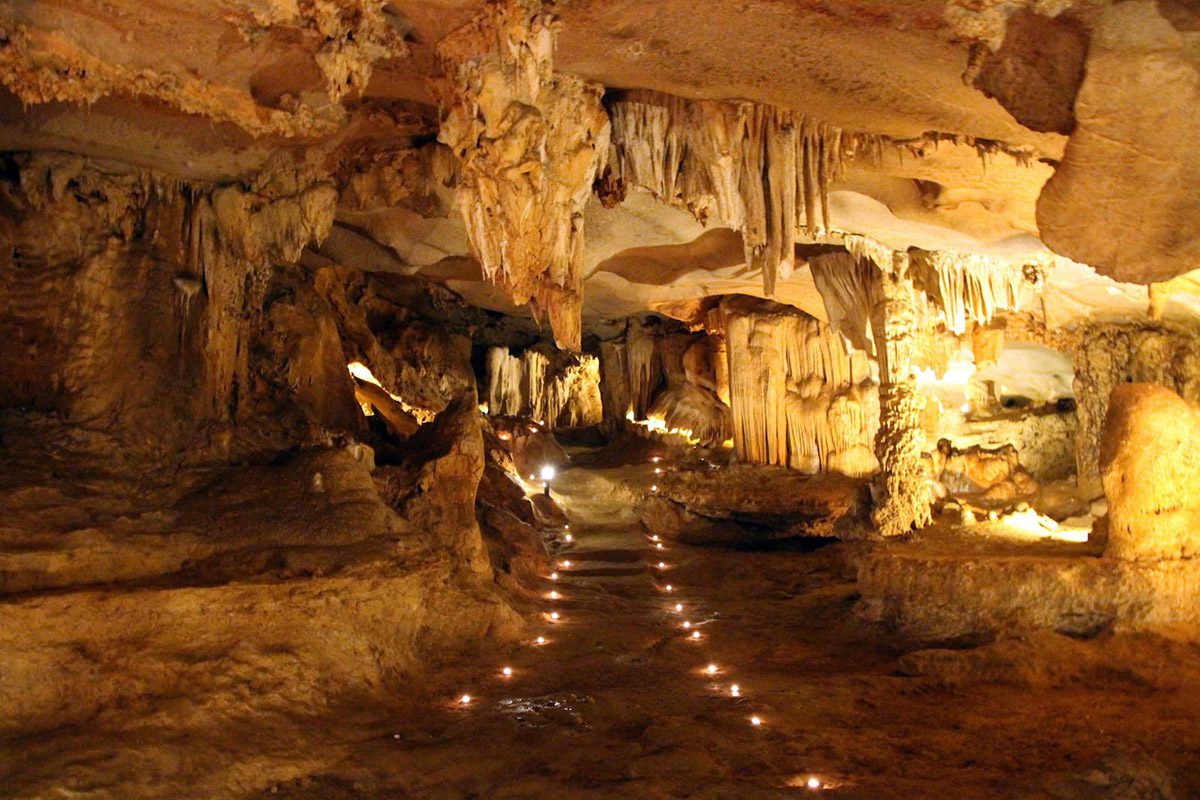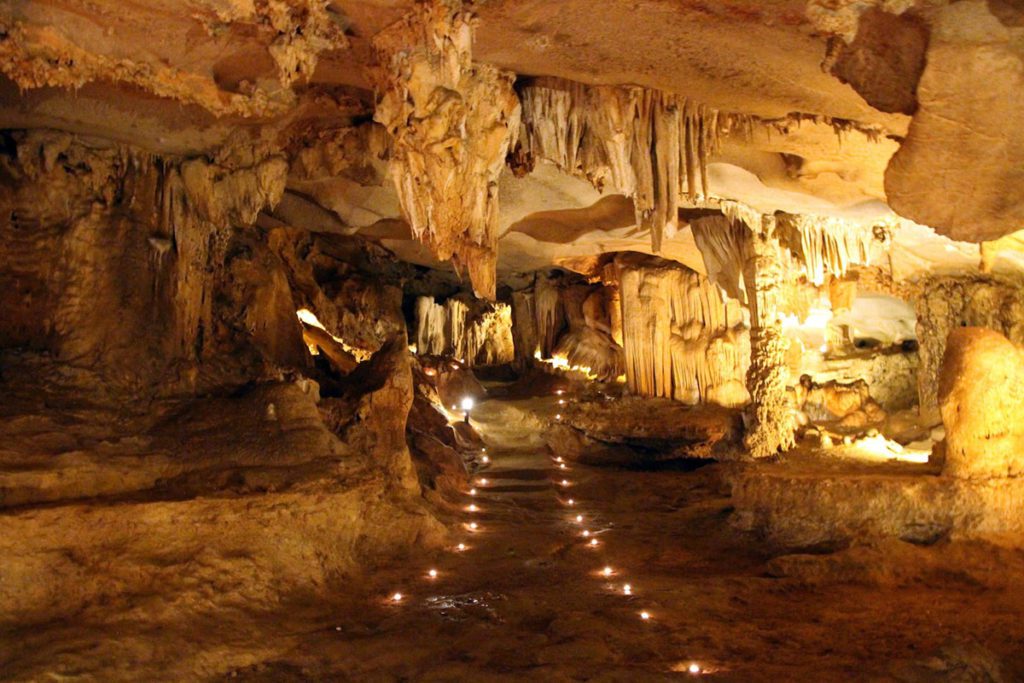 Inside Thien Canh Son cave
Visiting Bai Tu Long national park
The Bai Tu Long National Park was recently recognized as an ASEAN Heritage Park. Surrounded by massive rocky limestone mountains, the park covers 15,783 hectares and is home to nearly 500 plant species, 37 bird species, as well as hundreds of marine animals such as seagulls, mussels, and abalones. The heart of Bai Tu Long National Park is the Ba Mun island group, which boasts around 800 species of rare and diverse plants.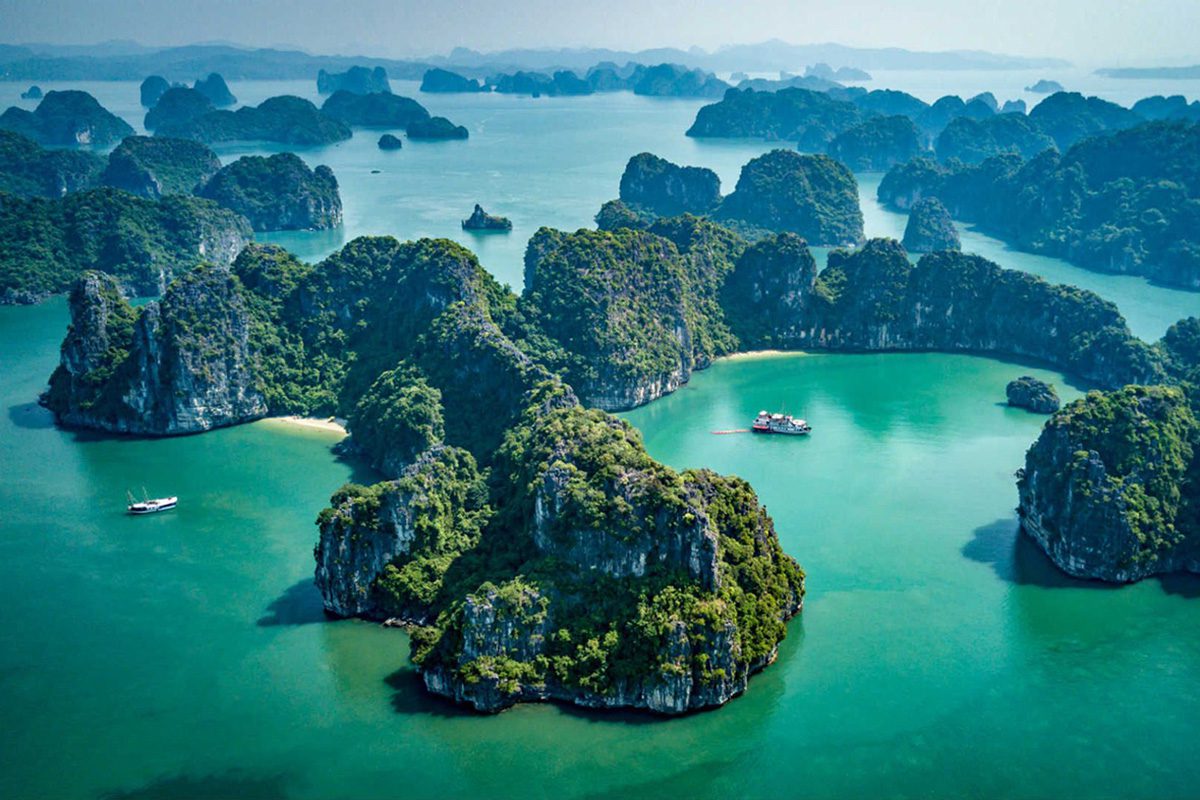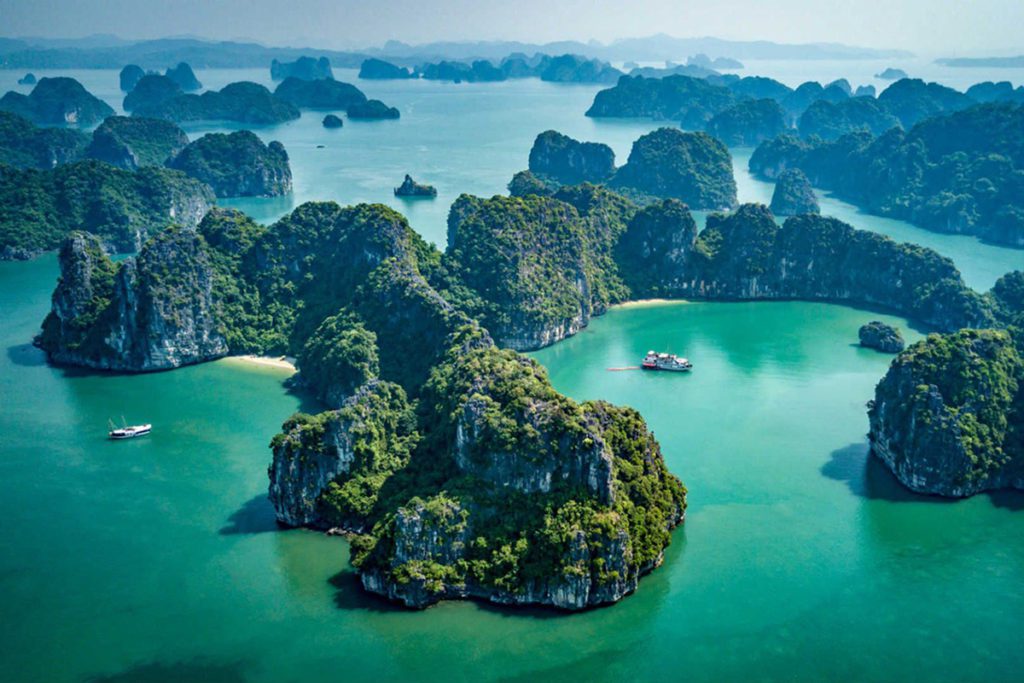 Bai Tu Long national park area
List of cruise companies
There are much fewer cruise options for Bai Tu Long than for the main Halong Bay. We have made a selection based on several criteria: duration, private or not, and finally, the quality of the boat.
Daily cruise : La Muse
La Muse is the daily cruise boat of the Indochina Junk company, which has a total of 9 junks. The boat offers two itineraries: a full-day cruise or a half-day cruise.
Half-Day Groupe Tour : You will board at 12:00 pm, have lunch on board, visit Mat Quy and Teapot islets, and then explore Thien Canh Son Cave. In the afternoon, there will be a kayaking session, followed by relaxation and disembarkation at 5:30 pm. The price is 1,550,000 VND (60 euros) per person.
Private Full-Day Cruise: If you are with family or friends, you can charter the boat for a day. The cruise starts at 8:30 am, visiting Mat Quy and Teapot islets, Thien Canh Son Cave, and a kayaking session. Lunch will be served on board. In the afternoon, you will visit Vung Vieng village on a small wooden sampan. Return to the port and disembark at 4:30 pm. The company offers a price of 400 euros for the full-day rental.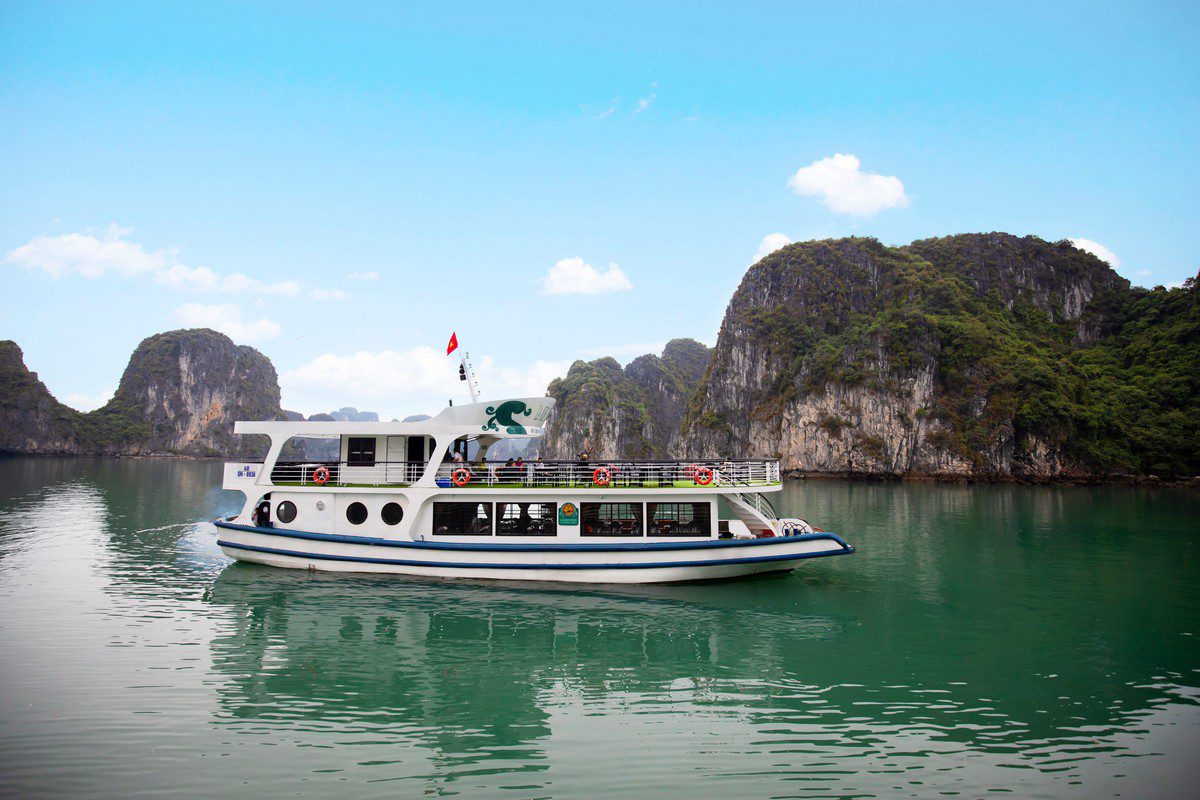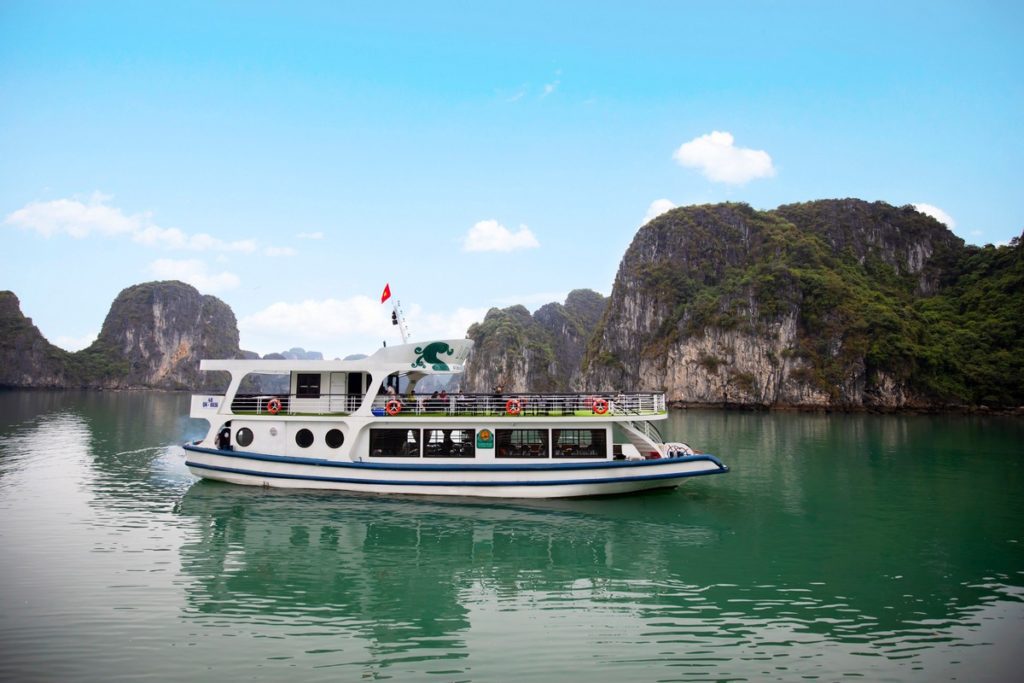 La Muse boat 
Pivate cruise : L'Amour and Prince
L'Amour and Prince are two other boats from the Indochina Junk company. Both are designed for private cruises.
L'Amour: This is a wooden boat with a single cabin and a private bathroom. The cabin with a bathroom has a large window with a sea view, and the outdoor dining area is a perfect spot to observe the natural scenery during the cruise. It is the ideal junk for honeymooning couples.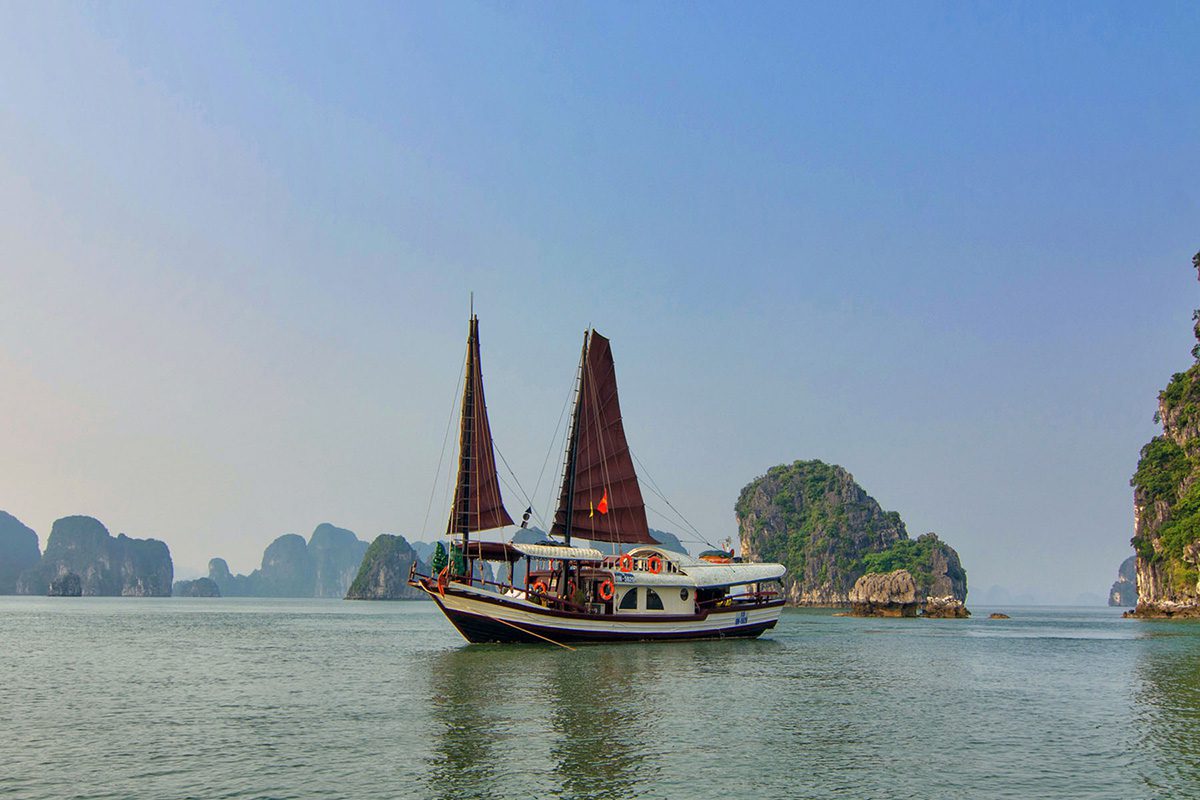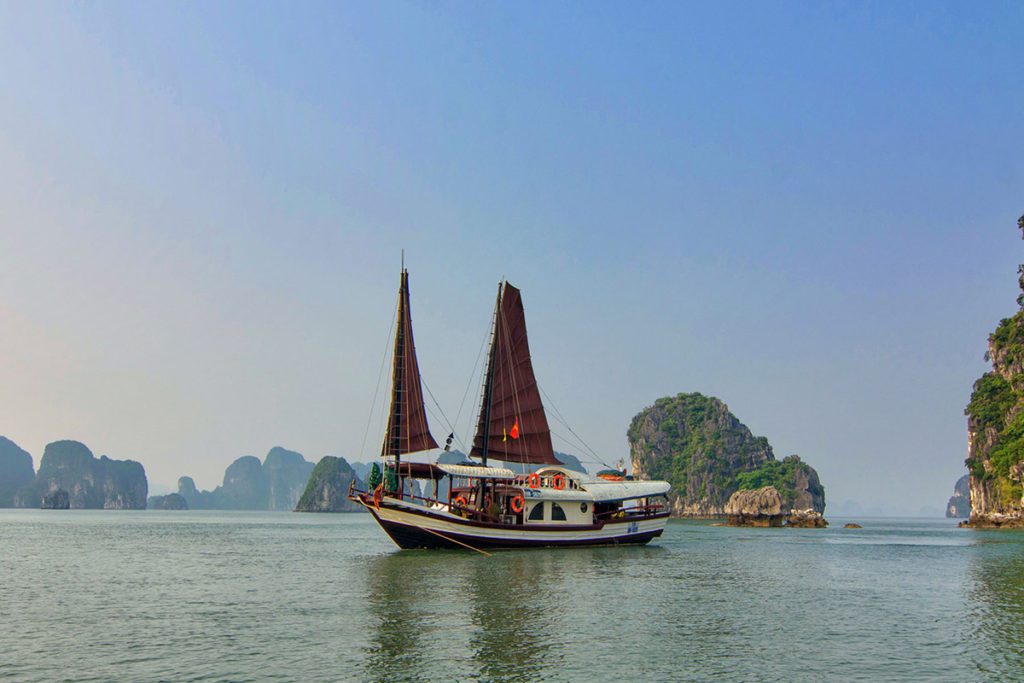 L'Amour junk 
Prince: This is a boat with 4 cabins, each with a private bathroom. The junk is designed after the traditional fishing boats of Halong Bay but on a slightly smaller scale with 4 cabins. It has 2 decks with dining spaces both indoors and outdoors, as well as cabins decorated in a traditional style with a window overlooking the sea, where you can relax and enjoy the wonderful view. This junk is perfect for families or groups of friends.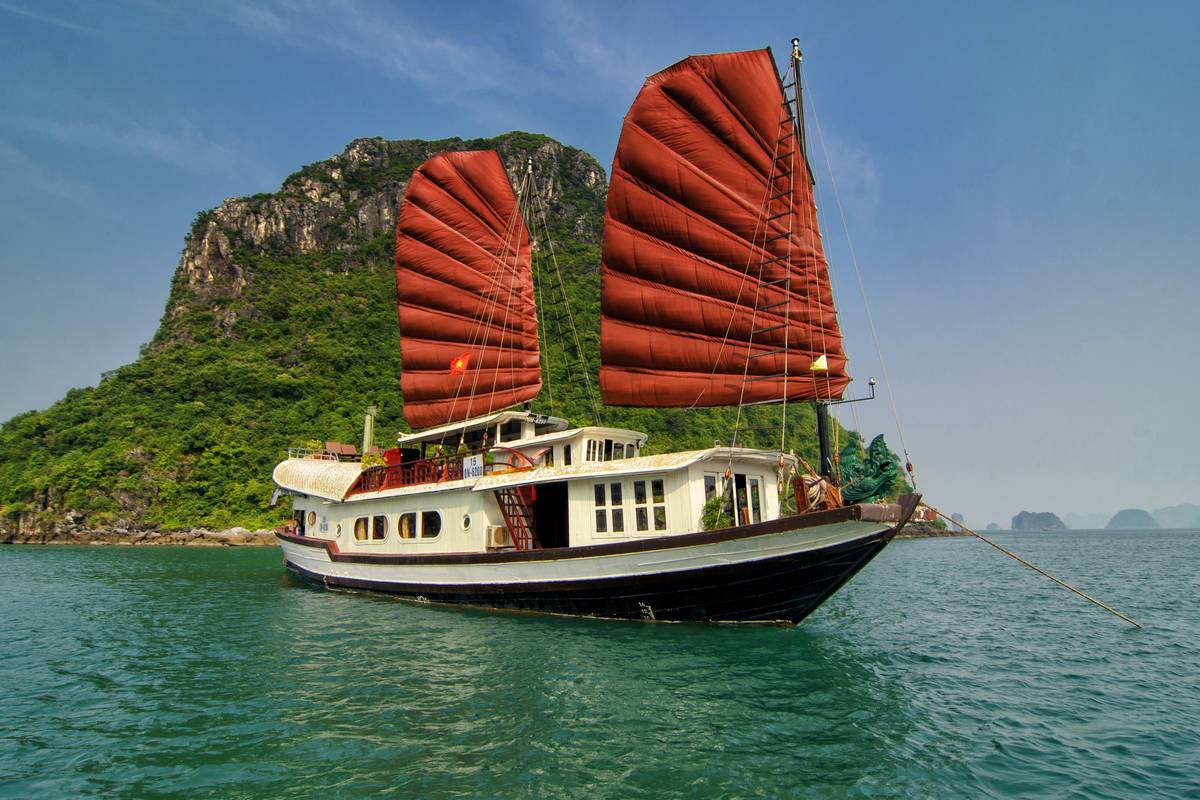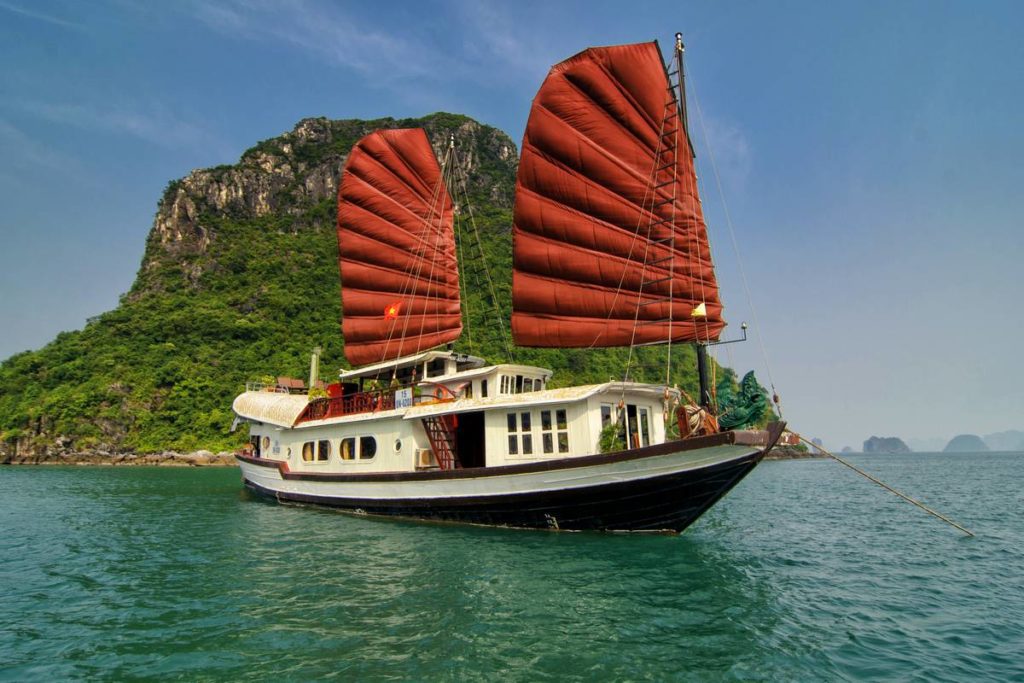 Prince junk 
Please have in mind that these junks are unique, therefore their prices are quite high, and it is necessary to book them in advance – contact us at least 3 months in advance to secure reservations.
Confortable cruise : Garden Bay junks
For a quality stay at a lower price, we recommend the boats of the Garden Bay company. There are four boats in total, with 10, 12, 13, and 14 cabins. The 10-cabin boat is the most luxurious and offers impeccable service highly appreciated by our clients. On the boat, there is an English-speaking guide, which will facilitate the cruise activities and interactions with the crew and people encountered during the cruise. You can find the details of the two-day program and photos of the boats by clicking on the link below.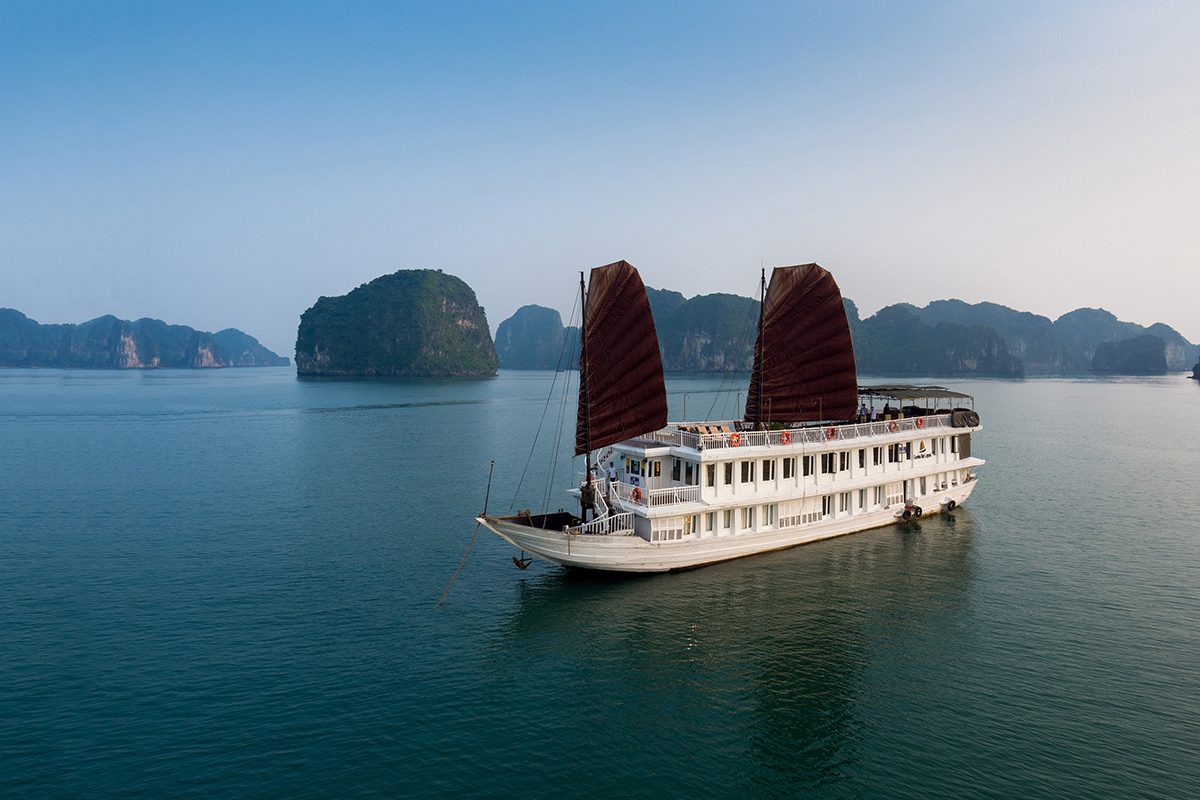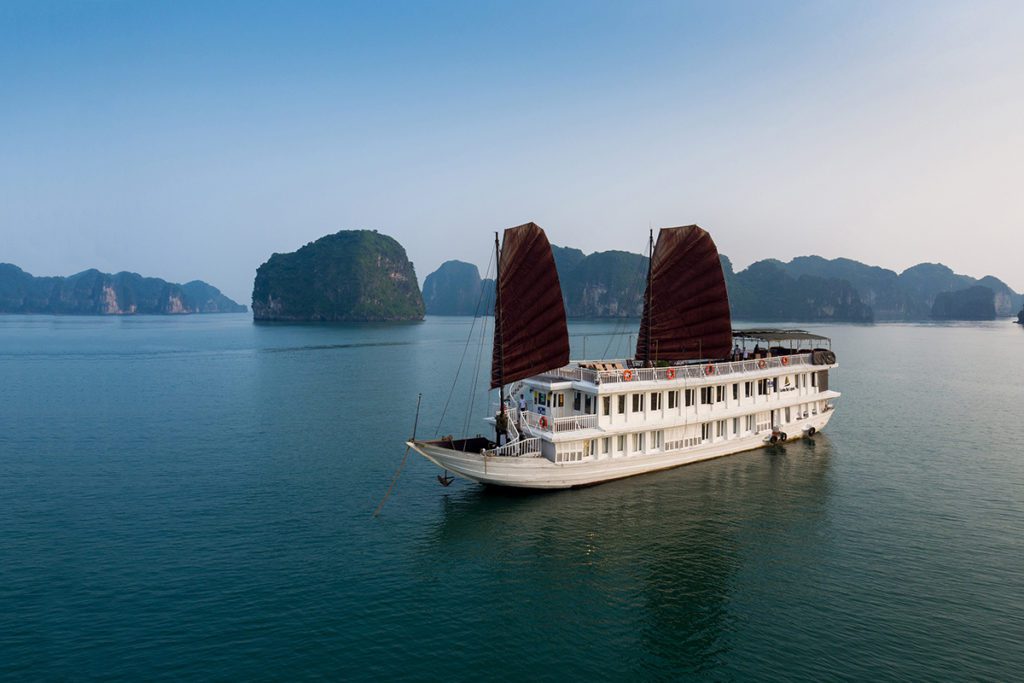 The 10 cabins Garden Bay junk 
Luxury cruise : Dragon Legend
Here is finally the largest boat on this list – with 24 cabins – but also the most luxurious. Each spacious cabin features traditional Vietnamese handmade decoration as well as modern amenities. A private bathroom includes a bathtub and large windows overlooking the sea. The boat has no less than 4 decks with both indoor and outdoor restaurants, a spa, a bar, and the sundeck. There are no fewer than 35 people on board to make your cruise an unforgettable moment. The itinerary has been carefully planned to take you off the beaten path.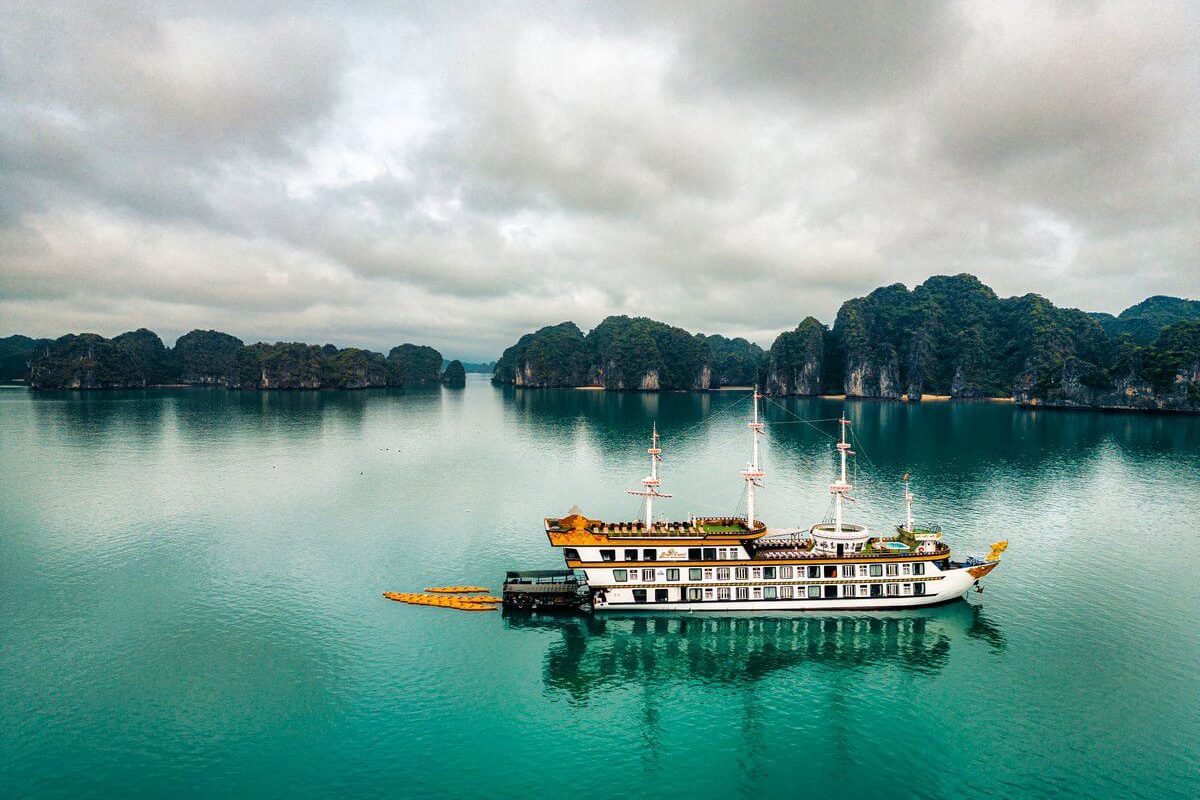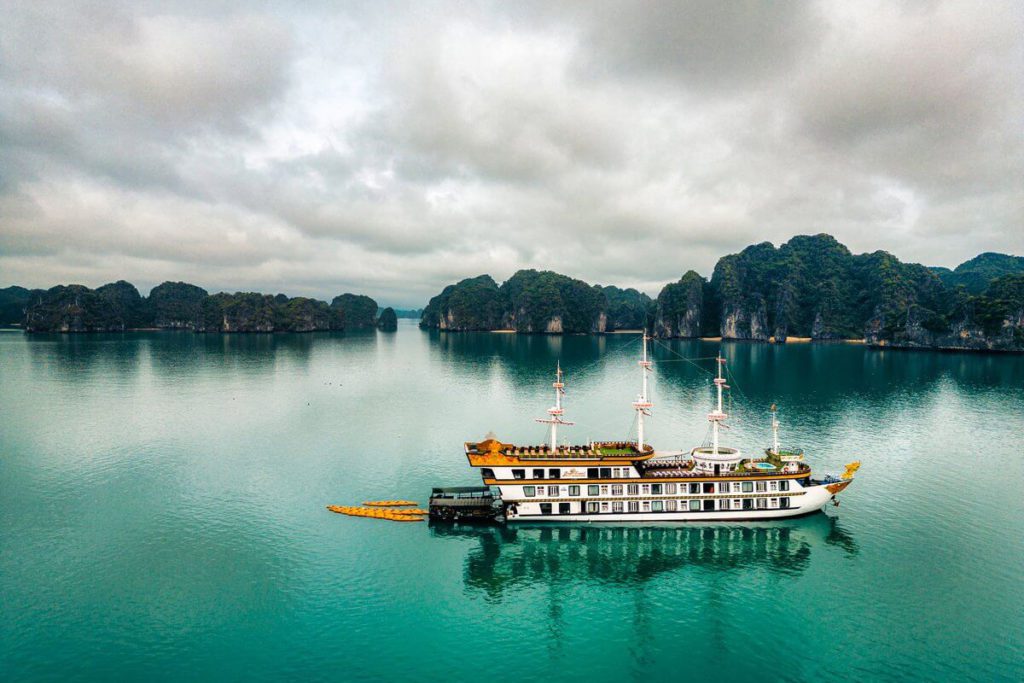 Dragon Legend boat
You now know everything about the beautiful Bai Tu Long Bay!
Feel free to contact us to organize your stay in the bay.
Sorry, the comment form is closed at this time.