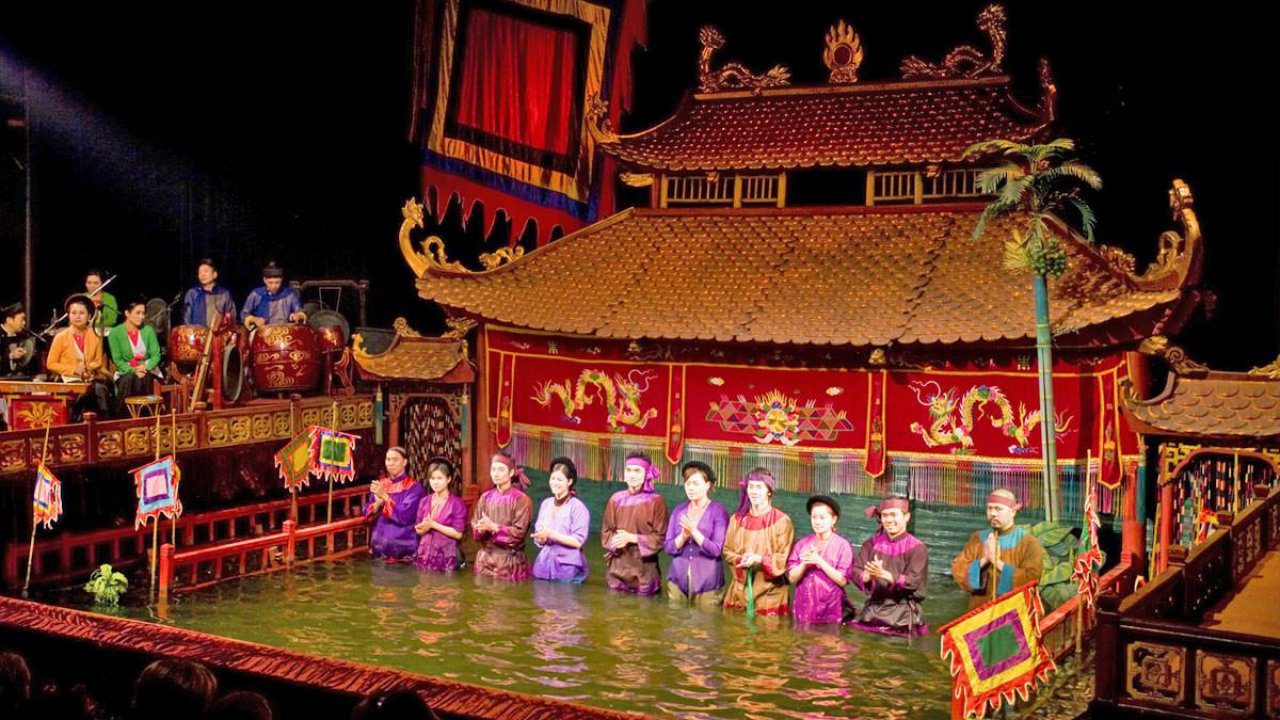 The best family-friendly activities in Vietnam
Vietnam is a truly beautiful destination for families in search of adventure, culture, and breathtaking landscapes. This country, steeped in history and traditions, places great importance on family and community, creating a truly unique travel experience. You will be amazed by how eager the local people are to learn more about you, engage with your children, and offer activities that will make your family trip unforgettable.
In this article, we will discuss fun and enjoyable activities to do with children during your trip to Vietnam. But before we delve into that, a few words about the significance of family in Vietnam.
Feel free to contact us to plan your trip
The importance of family in Vietnam
To grasp Vietnam, it is essential to understand the significance of family and community in everyday life. The concept of the extended family is deeply rooted in Vietnamese society. Grandparents, uncles, aunts, and cousins all play an active role in children's lives, helping them grow and flourish.
When traveling with your family in Vietnam, you will immediately be touched by the attention and affection the locals show towards children. Vietnamese people are naturally curious and generous towards foreign families, creating a warm and welcoming atmosphere for travelers with kids. Locals often inquire about the children's ages, education, and hobbies, and they are delighted to share their own family experiences.
It is not uncommon for strangers to spontaneously offer activities to children. Whether it's a little game in a local park, an impromptu calligraphy lesson, or even an invitation to join a family gathering or traditional meal, children are welcome wherever they go. This warm and genuine interaction creates lasting memories for families traveling in Vietnam.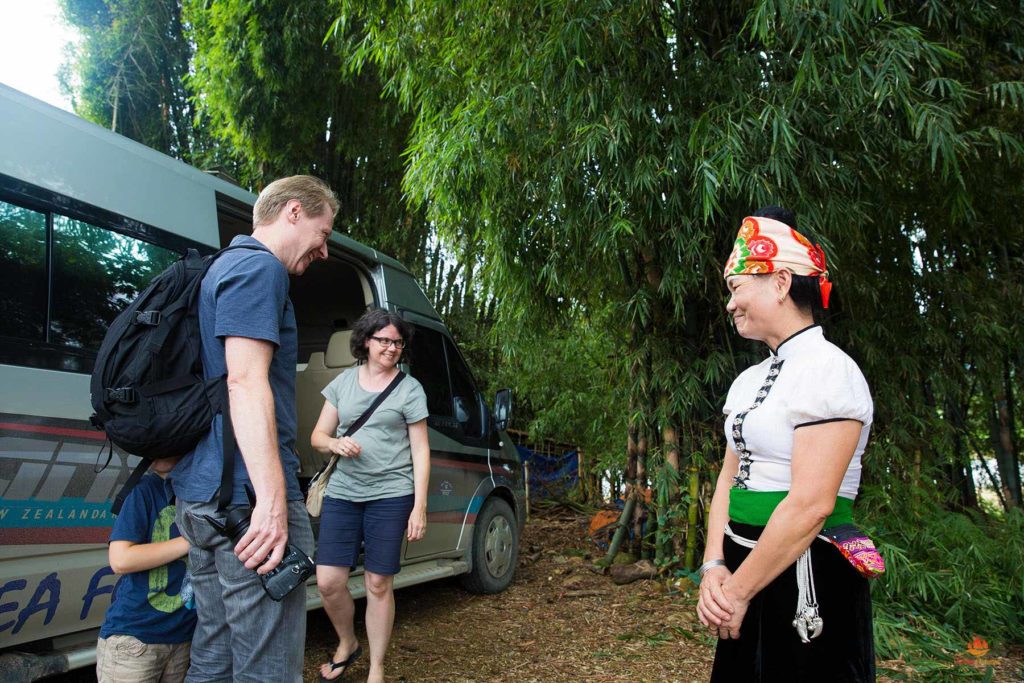 Thai woman welcoming a family in Nghia Lo, Vietnam. Crédit : Mathieu Arnaudet
Discovering Vietnamese culture with your family
Exploring Vietnamese culture is a enriching experience for the whole family. Here are some activity ideas that will allow you to immerse yourselves in this fascinating culture.
Exploring local markets
Vietnamese markets are vibrant places where you can explore a variety of local products. Children will enjoy tasting exquisite tropical fruits, delicious street foods, and unusual snacks. The ever-smiling locals will warmly welcome you and be delighted to introduce you to their local specialties.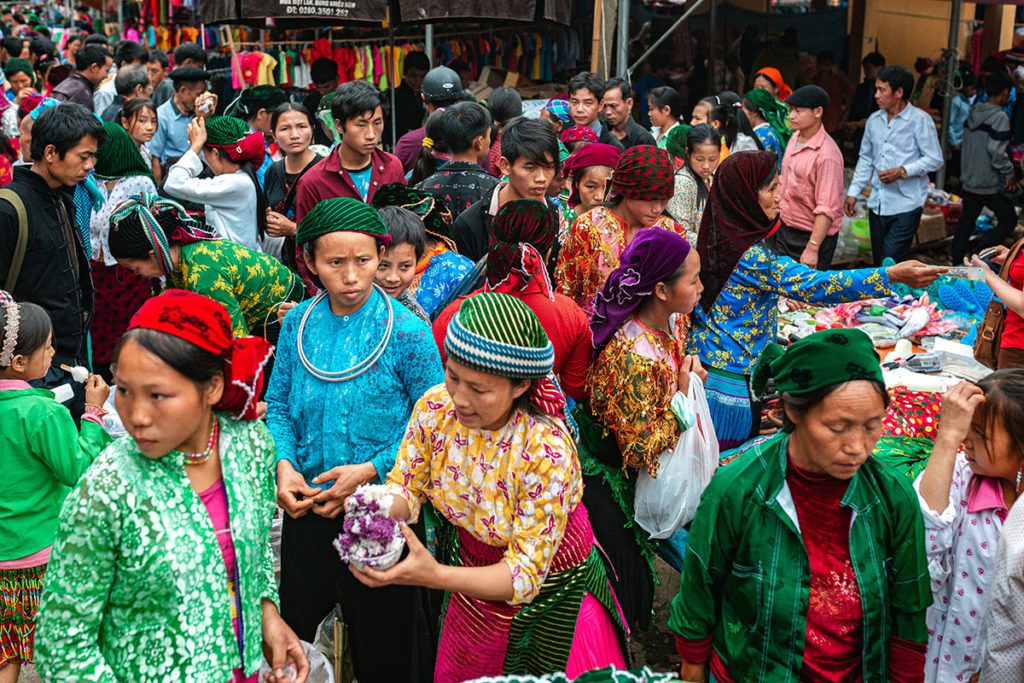 Ethnic market in Du Gia, Ha Giang. Crédit : Mathieu Arnaudet 
Visiting pagodas and temples
Vietnam is dotted with temples and pagodas that reflect the deep spirituality of the country. Your children will be fascinated by the exquisite architecture and mystical rituals. Feel free to ask your guide to connect you with a monk who can introduce you to spiritual practices for an invaluable cultural experience. Moreover, these temples and pagodas are often located in beautiful settings, making for a delightful stroll. One such example is the Tam Chuc complex.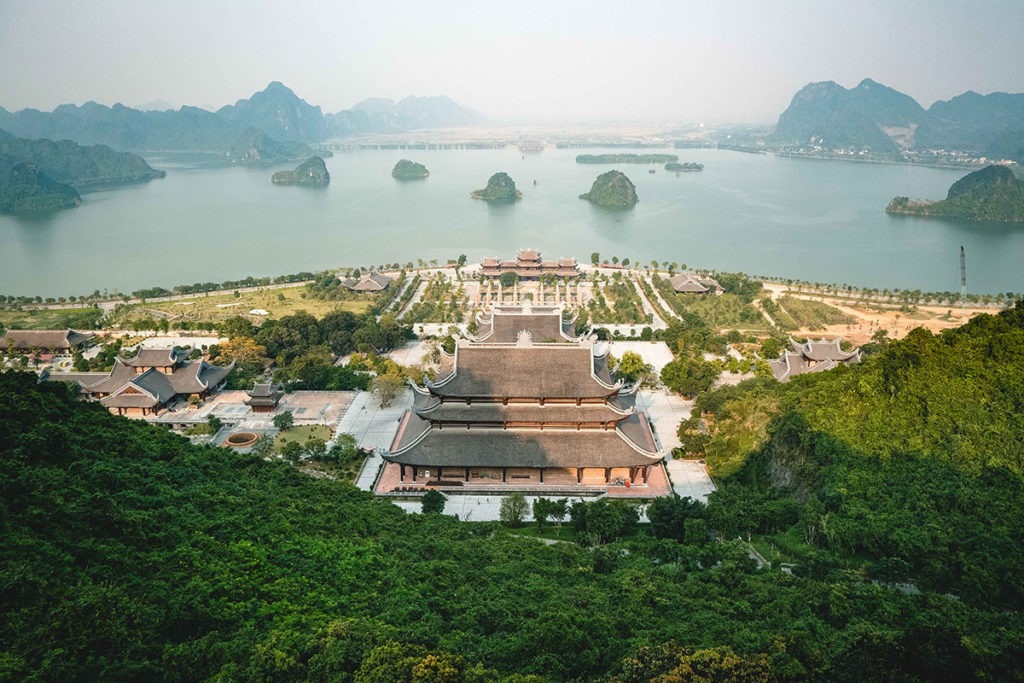 Tam Chuc pagoda. Crédit : Mathieu Arnaudet 
Participating to local festivals
Festivals, such as Tết (Vietnamese Lunar New Year) or especially the Mid-Autumn Festival, are special occasions when Vietnamese families come together. As travelers, you will be warmly welcomed to celebrate with the locals. Traditional dances, fireworks, and the sampling of festive dishes provide a unique cultural immersion experience for the whole family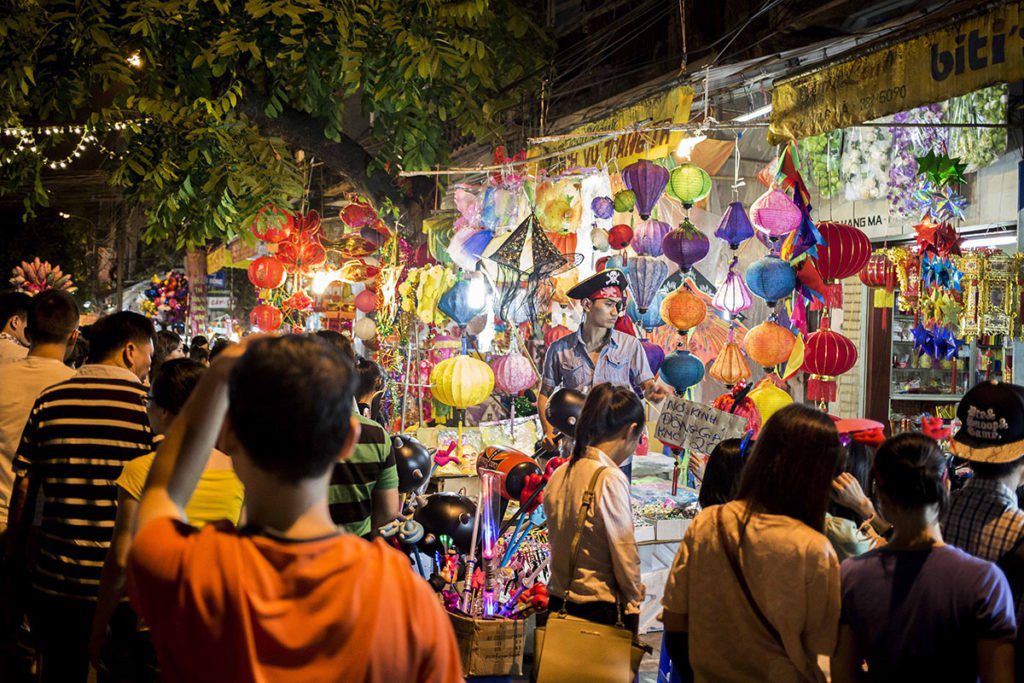 Hang Ma street during Mid-Autume festival, Hanoi, Vietnam. Crédit : Mathieu Arnaudet
After delving into the cultural aspect, you might want your children to learn about Vietnam's history while having fun. Here are some sightseeing ideas to achieve that.
Dive with your family into Vietnamese history
We know how a succession of museums can tire and irritate children! Here are some activities that might appeal to them while imparting valuable information about the country.
Watch a water puppet show
The Thang Long Water Puppet Show immerses spectators in an age-old artistic tradition. Originating from the flooded rice fields of Northern Vietnam, this captivating art form is deeply rooted in local beliefs and customs. Passed down through generations, water puppetry has become a true cultural treasure that embodies the creative spirit and profound connection between the Vietnamese people and water. To make the most of this experience, we recommend enjoying it with a French-speaking guide who can provide you with all the historical and cultural insights.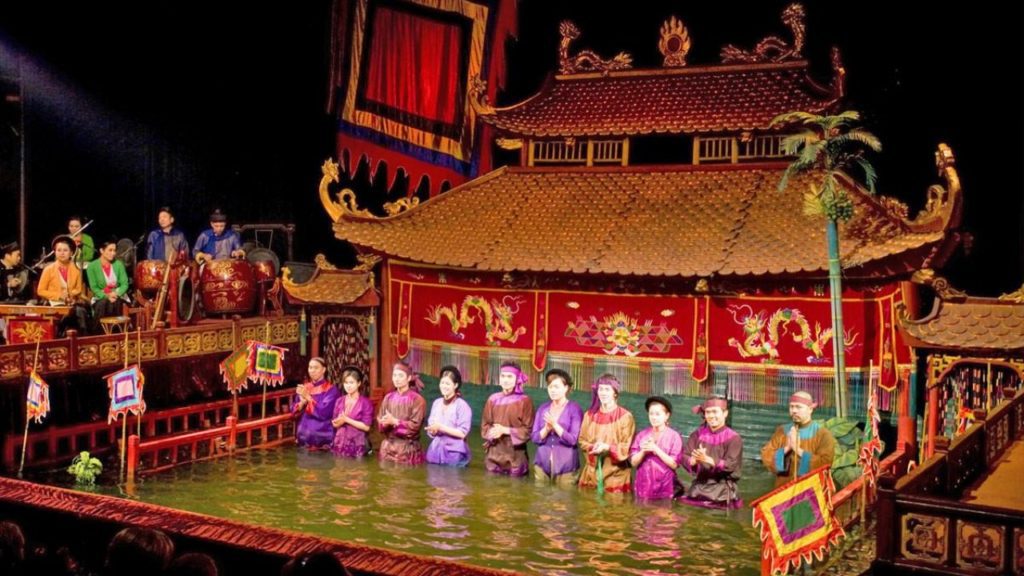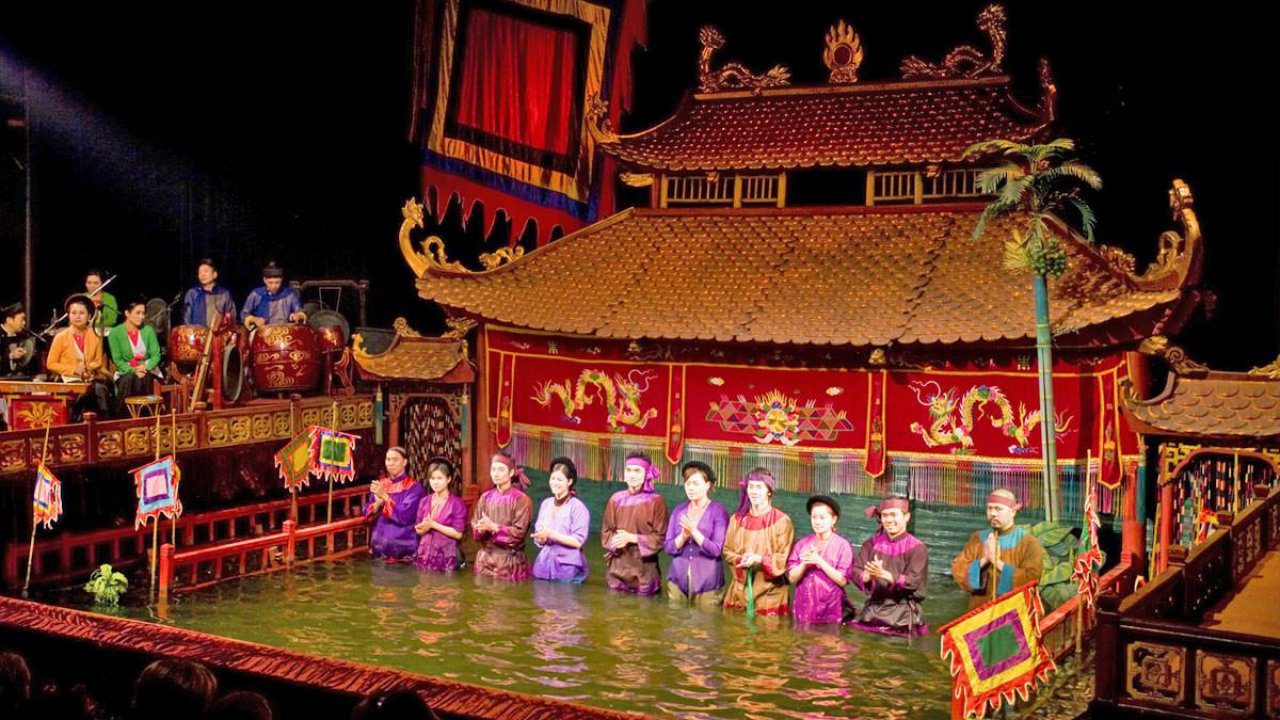 Water puppet show artists
Visiting Cu Chi tunnels 
Located near Ho Chi Minh City, the Cu Chi Tunnels are an impressive underground network used during the Vietnam War. Children will be fascinated by the narrow passages and stories of underground life. Once again, we recommend booking with an agency and having a guide who speaks your native language. This will help you gain a detailed understanding of the history behind these strategic tunnels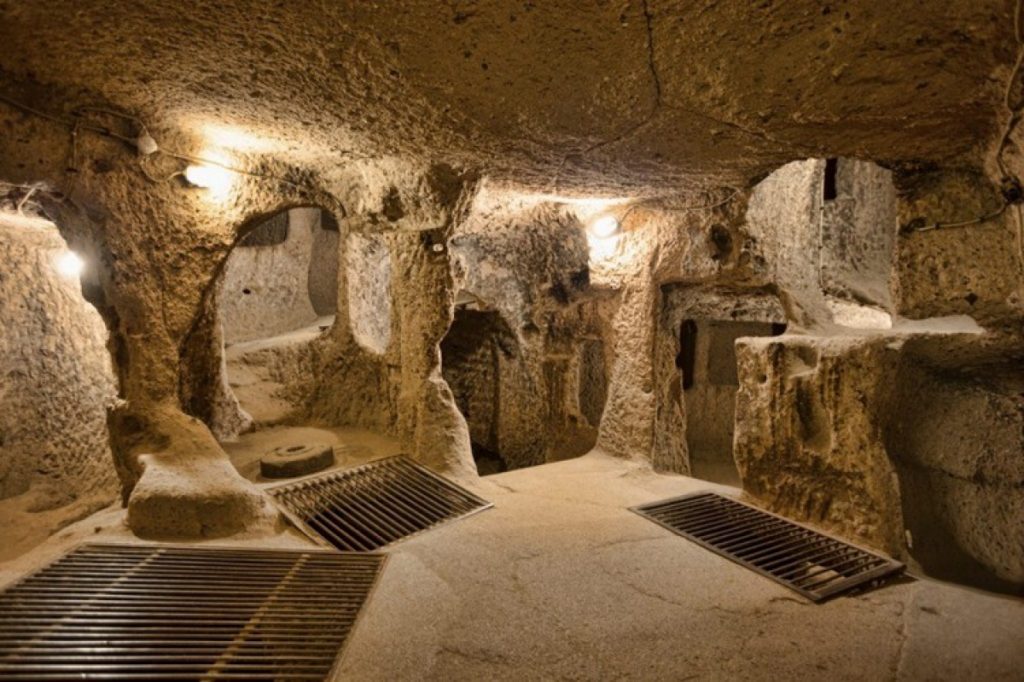 Cu Chi tunnels, Vietnam
Visiting the Vietnam Museum of Ethnology
The Vietnam Museum of Ethnology offers a fascinating immersion into the richness and diversity of the cultures that make up the country. Its comprehensive collection of cultural and ethnic artifacts, meticulously gathered, bears witness to the multiple ethnic groups inhabiting Vietnam. From traditional costumes to musical instruments to ritual objects, each item tells a unique story and provides a deeply captivating glimpse into the daily life and beliefs of different communities. In the gardens, replicas of ethnic homes are showcased, which will surely delight your young children! It's a great idea to visit it before heading to Northern Vietnam and meeting some of these ethnic minorities firsthand

Reconstruction of a traditional ethnic house, Museum of Ethnology
Enough of culture and history? Your children and teenagers will probably enjoy getting some fresh air! So, what could be better than engaging in outdoor activities?
Outdoor adventures for kids and old alike
If your family is eager for outdoor adventures, Vietnam offers a multitude of exciting options that will appeal to all family members.
Here are some of the activities not to be missed :
Mountains hiking in Sapa region
Located in northern Vietnam, the Sapa region is famous for its majestic mountains and breathtaking terraced rice fields. Family trekking through this picturesque landscape is a memorable experience. You can choose child-friendly excursions to explore local villages and learn more about the fascinating cultures of ethnic minorities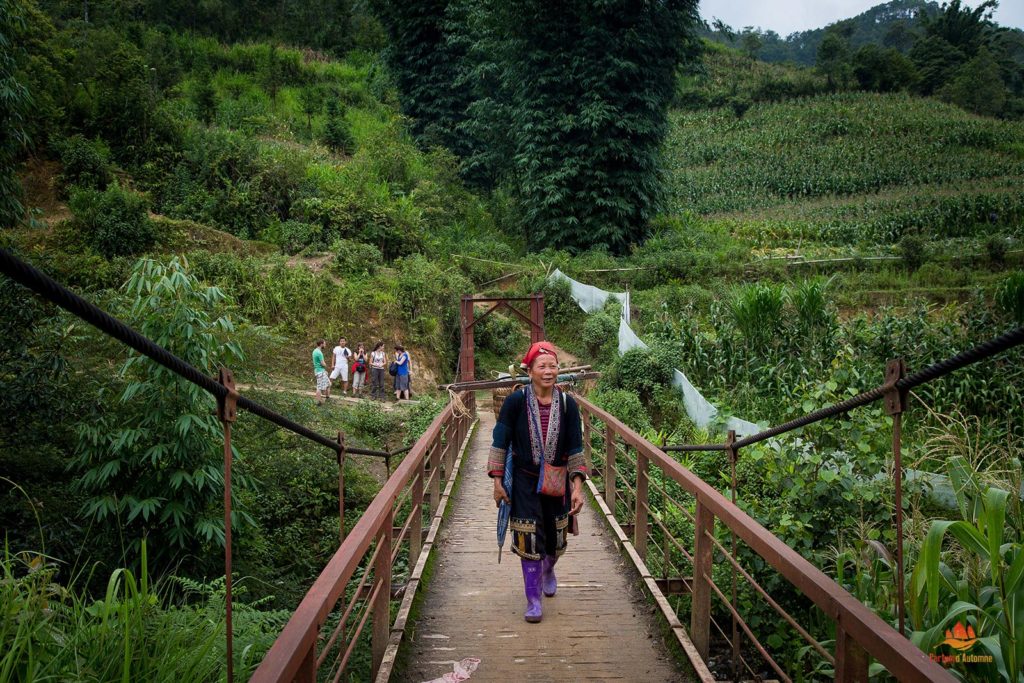 Red Dao woman in Sapa, Vietnam. Credit : Mathieu Arnaudet 
Cruising in Halong bay
A cruise in Halong Bay is an unforgettable experience for families. The calm waters and unique rock formations provide an ideal playground for children. Cruise boats are typically equipped to accommodate families and offer onboard activities to entertain both young and old. We recommend a cruise in Lan Ha Bay, which is much less touristy, allowing you to take your time, enjoy the beaches and swimming, and go cycling and kayaking as a family. Among the family-friendly boats, we suggest our Four Seasons junk, which has a unique charm, as you can see in this photo…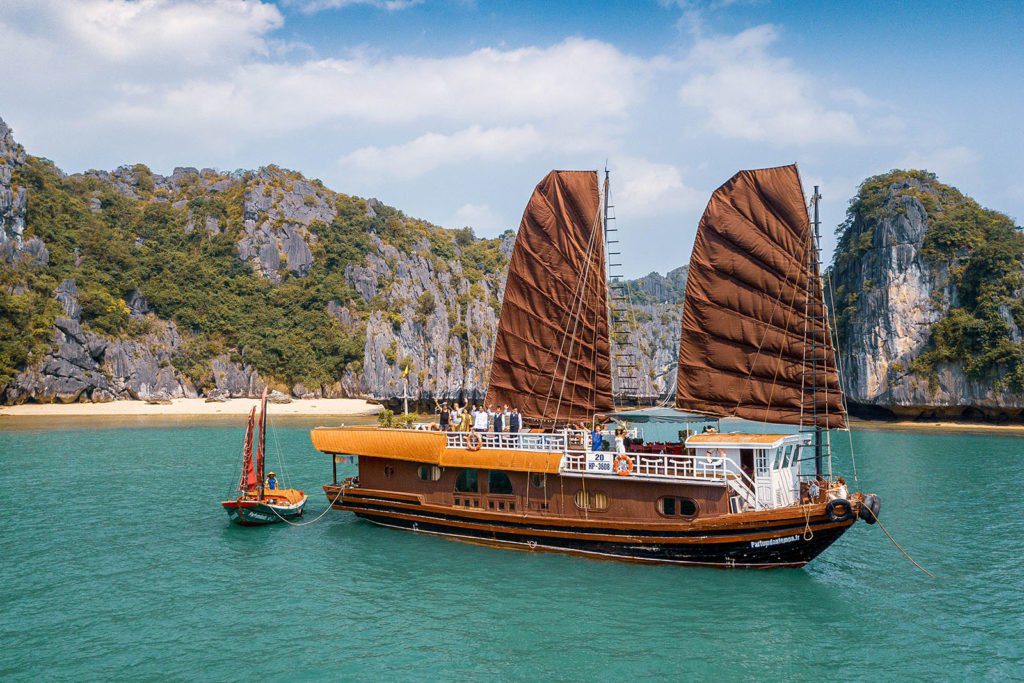 Four Seasons junk din Lan Ha bay, Vietnam. Credit : Parfum d'Automne
Exploration of wildlife and flora
Vietnam is home to an incredible diversity of fauna and flora. National parks such as Cat Tien National Park and Cuc Phuong National Park are perfect places to explore nature. Go hiking to observe animals, bike through the jungle, and discover lush tropical flora.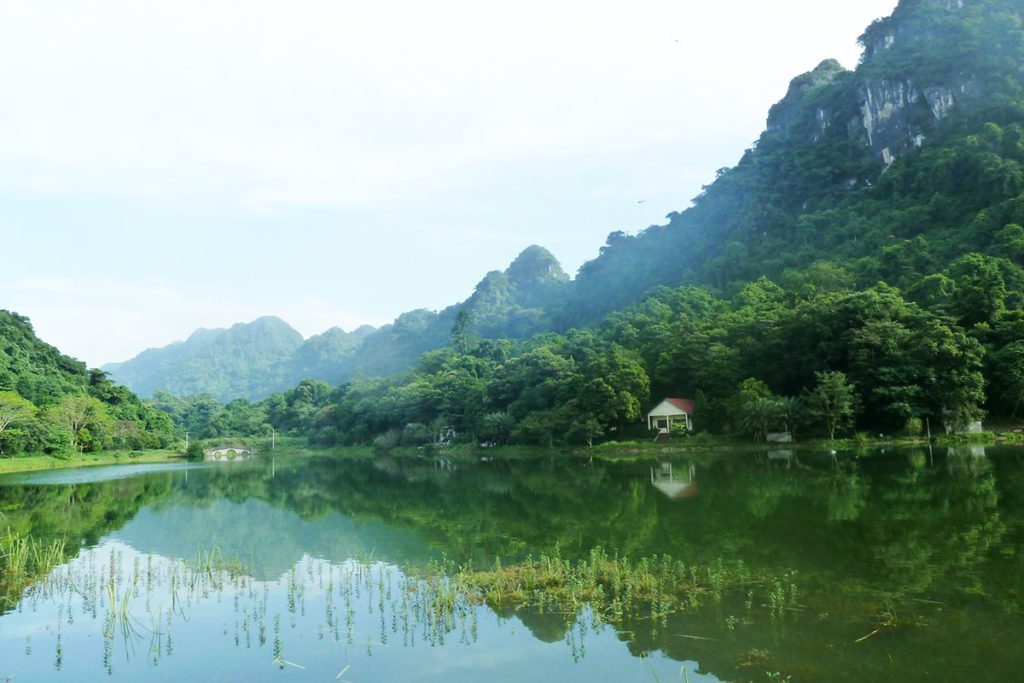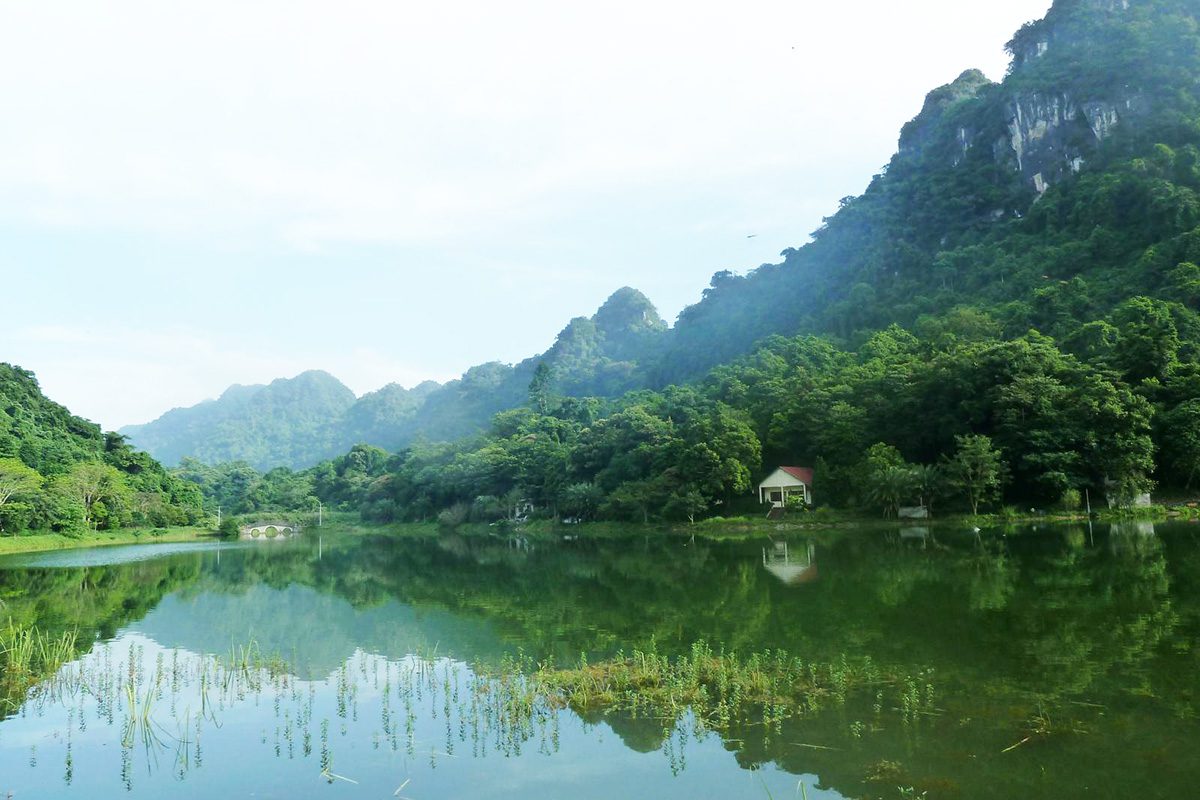 Flora of Cuc Phuong national park, Vietnam
Now, let's move on to sports activities that will surely delight your teenagers.
Sport activities to do with teenagers
If you are traveling with teenagers, they will likely enjoy some sports and exciting activities. Here is a list of some experiences to have in Vietnam.
Kayaking in Halong bay
Halong Bay is, of course, one of the most iconic places for kayaking. You can paddle through the spectacular karst rock formations and explore hidden caves. In our tours, a kayaking session is, of course, organized. If you prefer not to paddle, you have the option to rent a small sampan that follows the same route as the kayak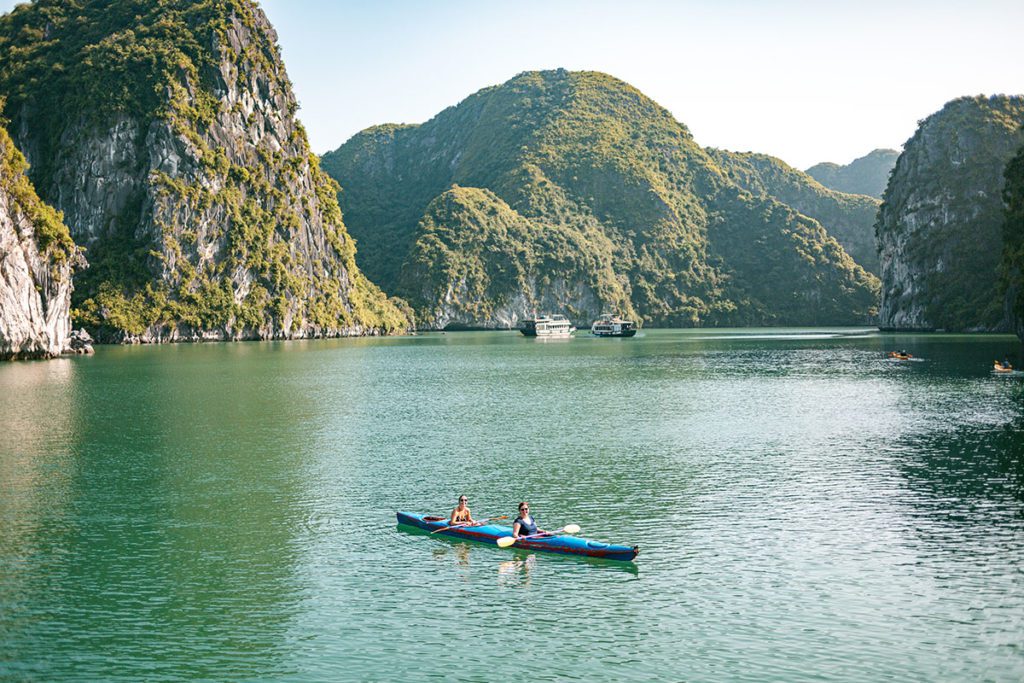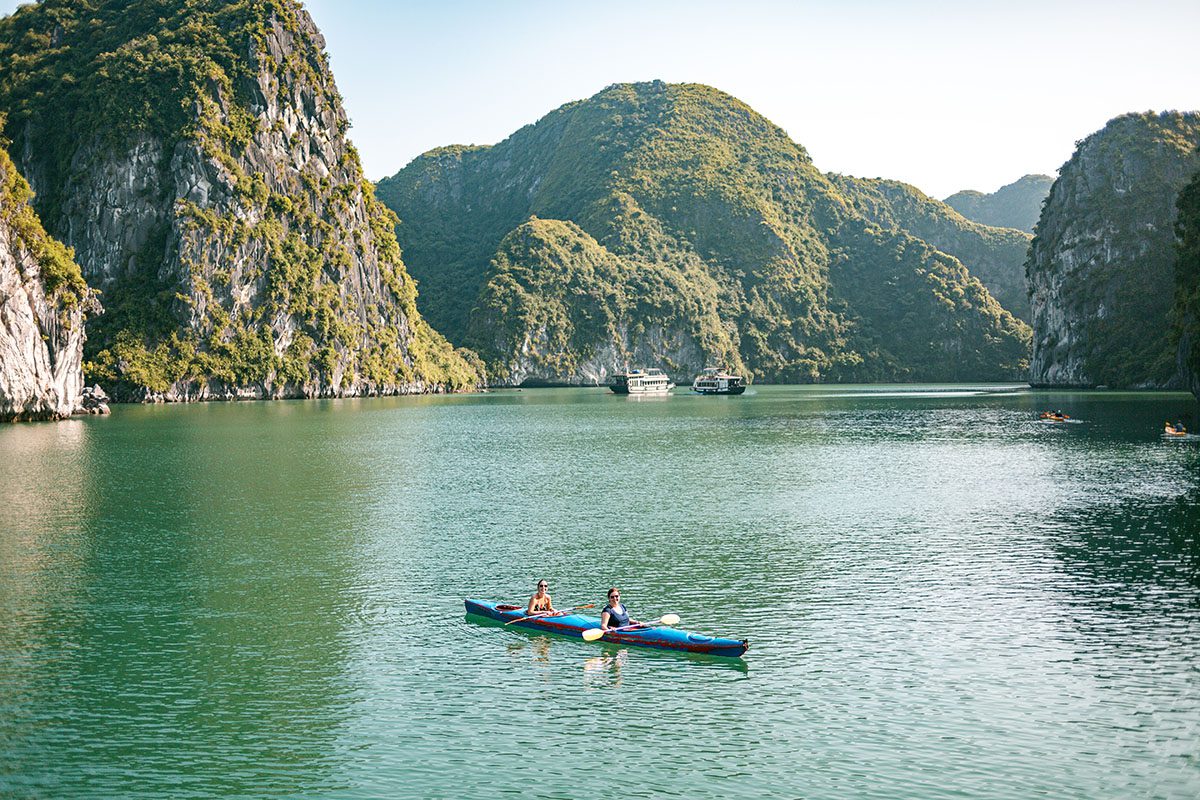 Kayaking in Lan Ha bay. Credit : Mathieu Arnaudet 
Paddleboarding in Nha Trang
The calm waters of Nha Trang are perfect for paddleboarding. You can rent paddleboards along the beach and explore the coastline at your own pace. Local instructors can also provide lessons for beginners
Canyoning in Dalat
The lush mountains of Da Lat offer an exciting opportunity for the more adventurous to engage in canyoning with breathtaking ziplines. A local company offers adventures that combine these thrilling activities. You'll have the chance to descend stunning waterfalls, plunge into natural pools, zip-line over these magnificent falls, and explore the picturesque canyons of the region.
Rock climbing in Cat Ba
The island of Cat Ba is a prime location for rock climbing enthusiasts. You will find rock walls suitable for beginners and children. Experienced instructors are available for climbing lessons
Cave exploration in Phong Nha Ke Bang national park 
Phong Nha National Park is home to impressive karst caves, including the famous Son Doong Cave. As a family, you can go kayaking, have a great time at the Dark Cave where various activities are organized (including zip-lining), or you can take your adventure further by booking a multi-day tour to explore caves. The Oxalis agency offers specially dedicated tours for families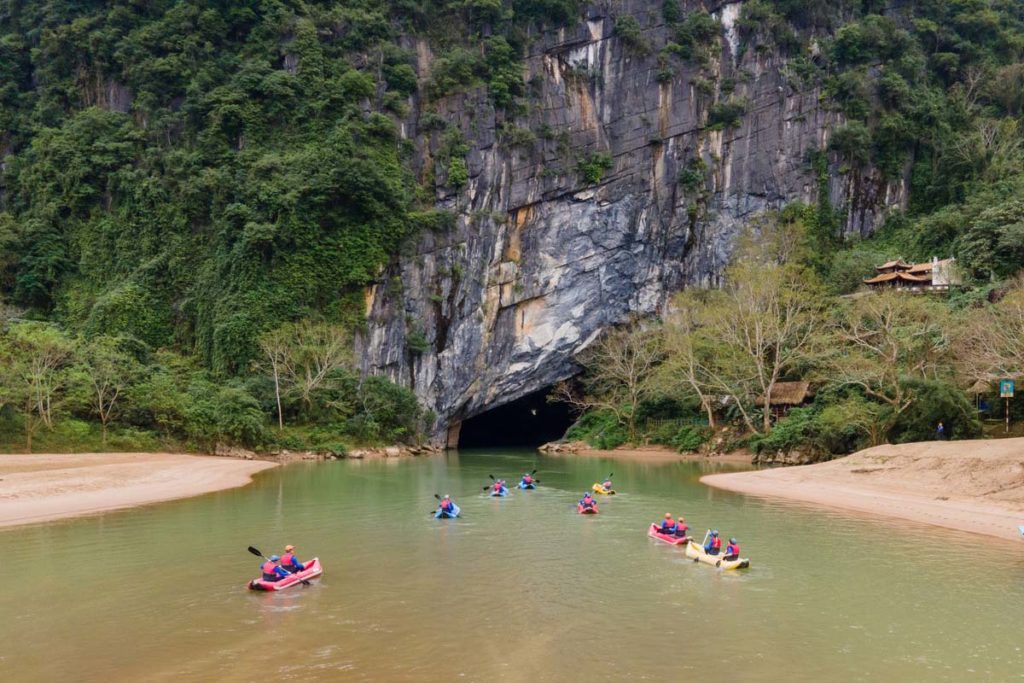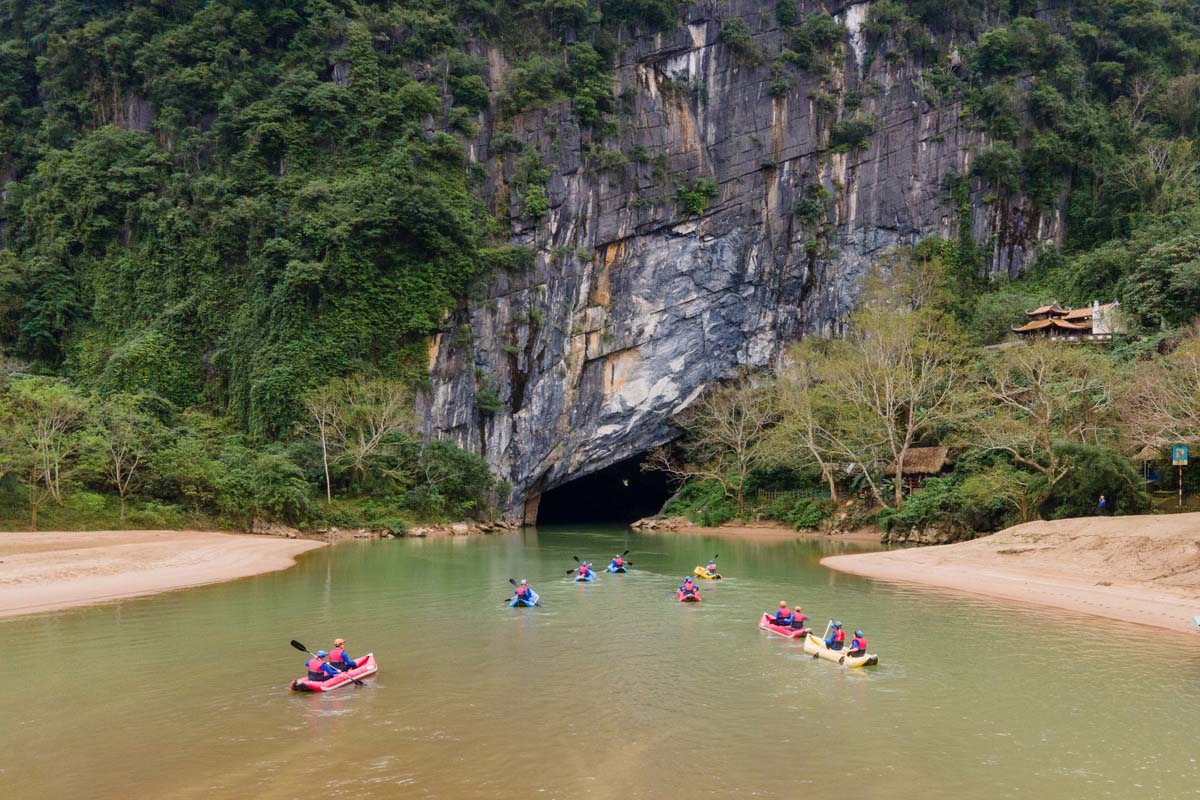 Kayaking in Phong Nha Ke Bang national park. 
Kitesurf in Mui Ne
Mui Ne is a prime destination for kitesurfing and windsurfing due to its constant winds. Water sports schools provide lessons for both children and adults, making it a fun activity for the whole family. Another unique feature of Mui Ne is sand dune sledding!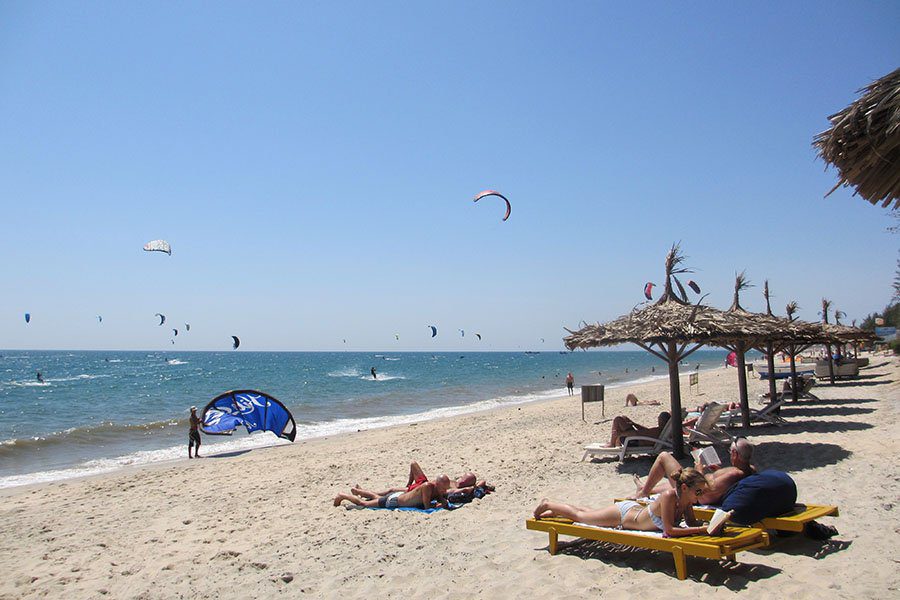 Kitesurfing in Mui Ne, Vietnam
Snorkeling and diving in Con Dao
Numerous sites offer snorkeling and scuba diving, but we recommend Con Dao Island where the crystal-clear waters are perfect for such activities. You can explore a variety of colorful tropical fish and corals. Family snorkeling excursions are easily arranged.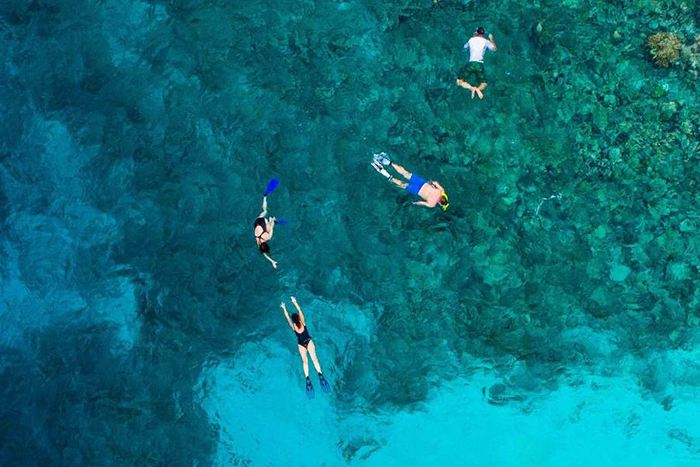 Snorkeling in cristal water of Con Dao
Relaxing moment with your family 
fter days of exploration, take the time to relax as a family.
Vietnam offers a multitude of relaxing activities:
Enjoy Da Nang and Nha Trang beaches
The fine sandy beaches of Da Nang and Nha Trang are perfect for relaxing days. Children can build sandcastles, swim in the warm waters, or simply play on the shore. The beaches also offer a variety of water activities, such as paddleboarding, jet skiing, and snorkeling.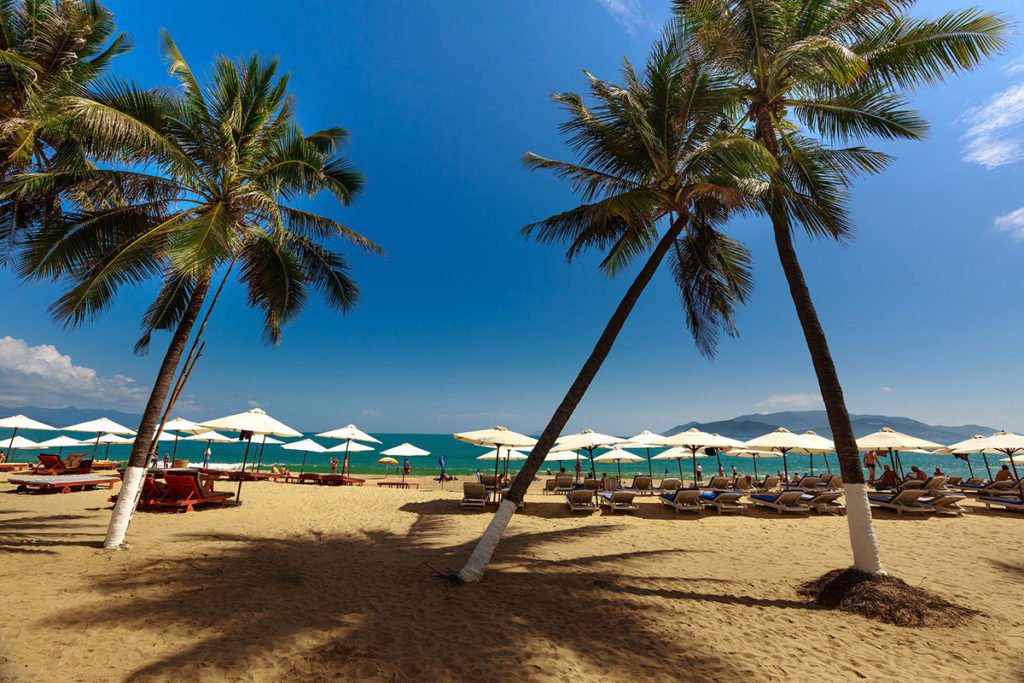 Beach in Nha Trang, Vietnam
Family cooking class
Vietnam is renowned for its delicious and diverse cuisine. For a unique experience, participate in a family cooking class. You can learn to prepare traditional Vietnamese dishes under the guidance of a local chef. Children will love getting hands-on and discovering new flavors. Once the cooking is done, enjoy your creations together in a family feast.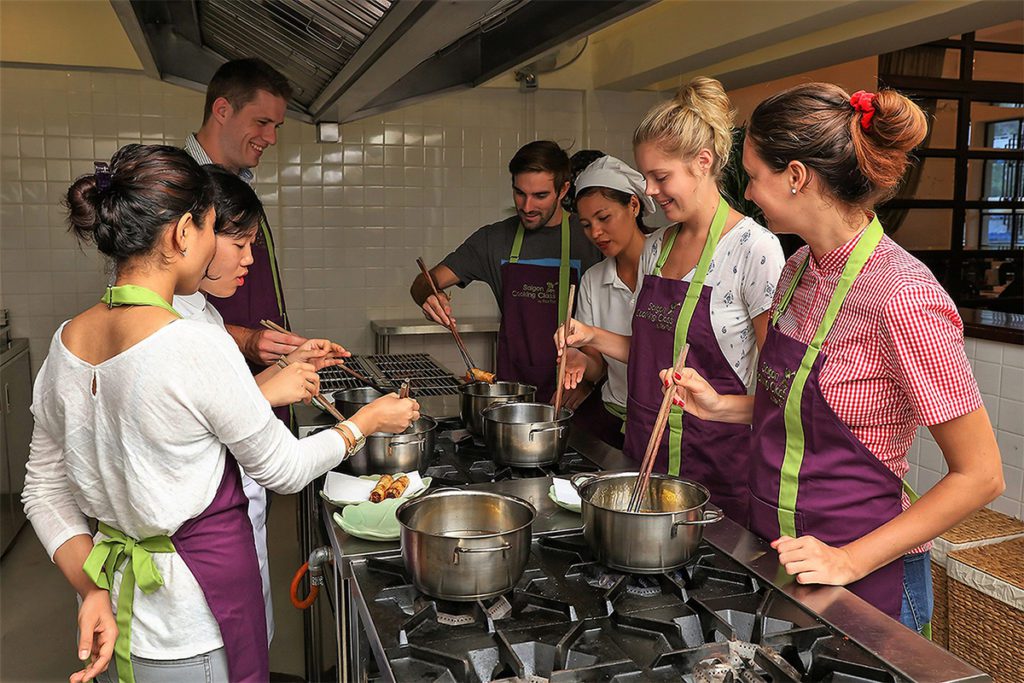 Cooking class in Vietnam. 
Cyclo ride 
A unique family experience is taking a cyclo ride, a traditional Vietnamese mode of transportation. Settle comfortably into these small three-wheeled vehicles and let yourself be guided through the bustling streets of Vietnamese cities. It's a pleasant and picturesque way to immerse yourself in the local atmosphere, markets, and historical landmarks. Children will enjoy this leisurely excursion, and parents will have the opportunity to capture memorable photos.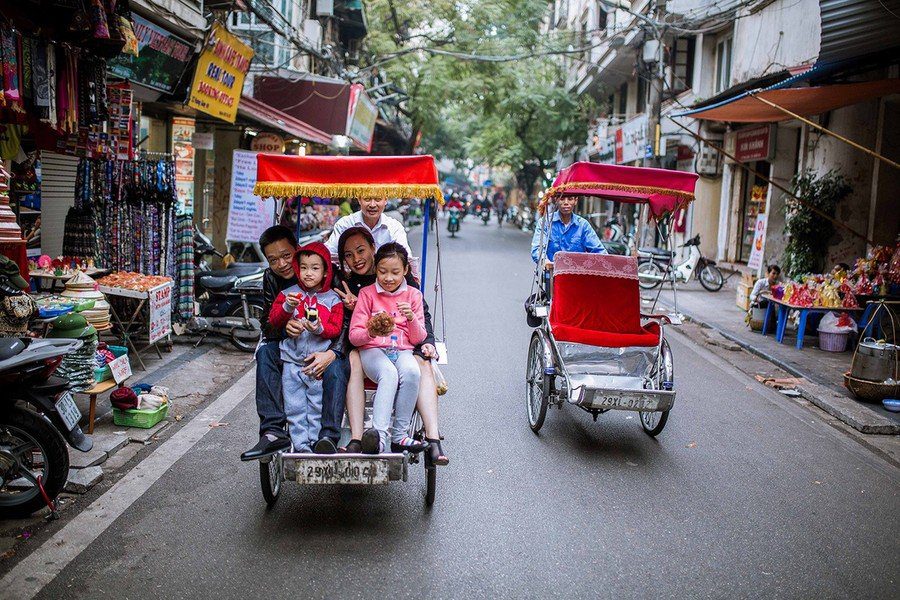 Cyclo ride in Hanoi. Crédit : Mathieu Arnaudet
Having fun in an amusement park
There are now several very popular amusement parks in Vietnam. Among the most well-known are Sun World Halong Park and Bana Hills located around Da Nang city, made famous by the iconic 'Golden Bridge.'
Vietnam is truly an exceptional travel destination for families. The unique combination of culture, adventure, history, and relaxation makes it an ideal choice for memorable family vacations. The emphasis on Vietnamese family and community will contribute to making your trip even more unforgettable for you and your children.
So, pack your bags and embark on the discovery of this gem in Southeast Asia with your family!
Feel free to contact us to organize your family tour.