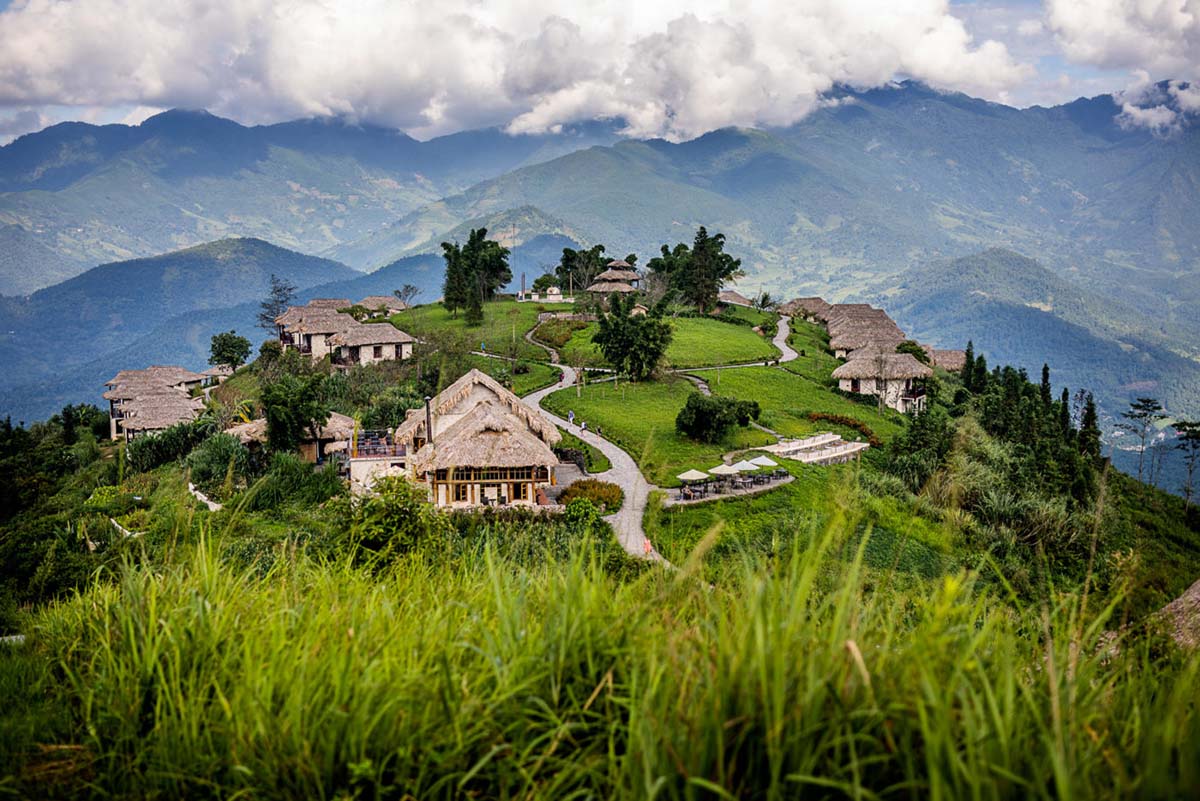 Luxury in nature : the most beautiful Northern Vietnam lodges
Topas Ecolodge – Sapa 
Located in the misty high mountains of Sapa, Topas Ecolodge is much more than just a place to stay. Perched atop a hill, it offers panoramic views of the famous terraced rice fields in the region. The stone bungalows seamlessly blend into the landscape, and the emphasis on the local experience ensures a complete immersion in the culture of the surrounding ethnic minorities.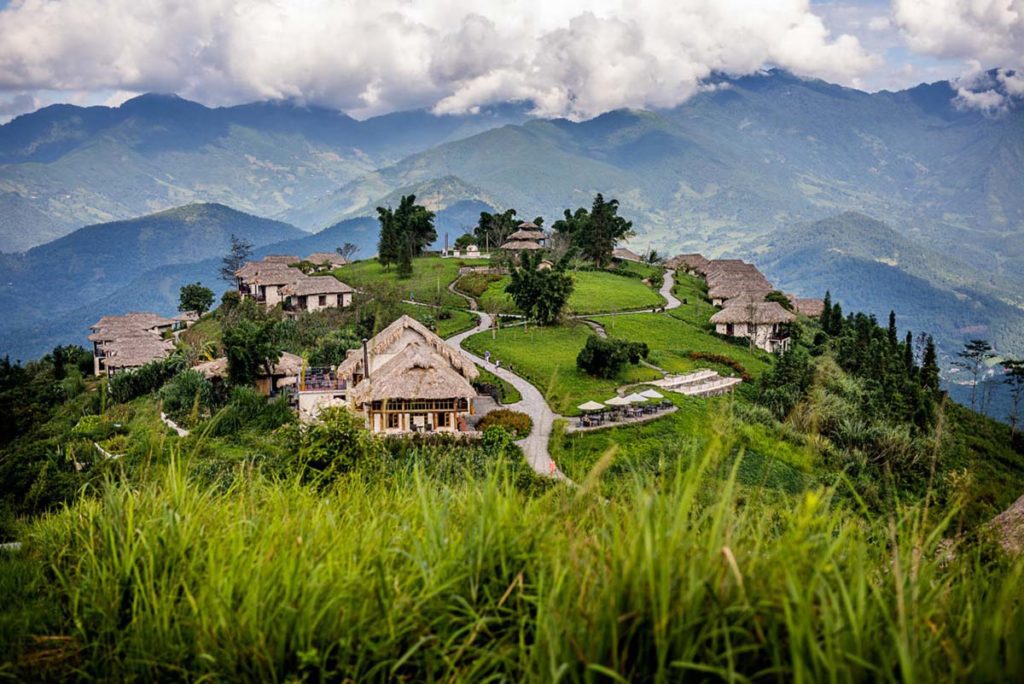 Topas Ecolodge in Sapa, Vietnam
How to Get There: to reach Topas Ecolodge, the most common point of entry is Hanoi, the capital of Vietnam. From there, you can opt for an overnight train journey to Lao Cai, the nearest town to Sapa. Once in Lao Cai, you can either take a transfer arranged by the ecolodge or rent a taxi for a picturesque 1 to 1.5-hour ride up to the hill where the ecolodge is situated. The journey already offers a glimpse of the lush mountains and traditional villages that characterize the Sapa region. Prepare to be amazed by the breathtaking view as you arrive at the top, where Topas Ecolodge awaits you for an unforgettable experience.
Travel tip: Be sure to book your transfers in advance with the ecolodge to facilitate your smooth arrival and make the most of the scenic journey from Lao Cai to the ecolodge hill.
Cinnamon Ecolodge –  Lao Cai province
Perhaps the least known on the list, and that's what makes it so charming !
Location: It is located in Xuan Hoa commune, Bao Yen district, Lao Cai province, Vietnam. It is about a 4-hour drive from Hanoi via the highway. The eco-lodge is near Sa Pa but far away from the tourist crowds. The village is approximately 95 km northeast of Lao Cai city.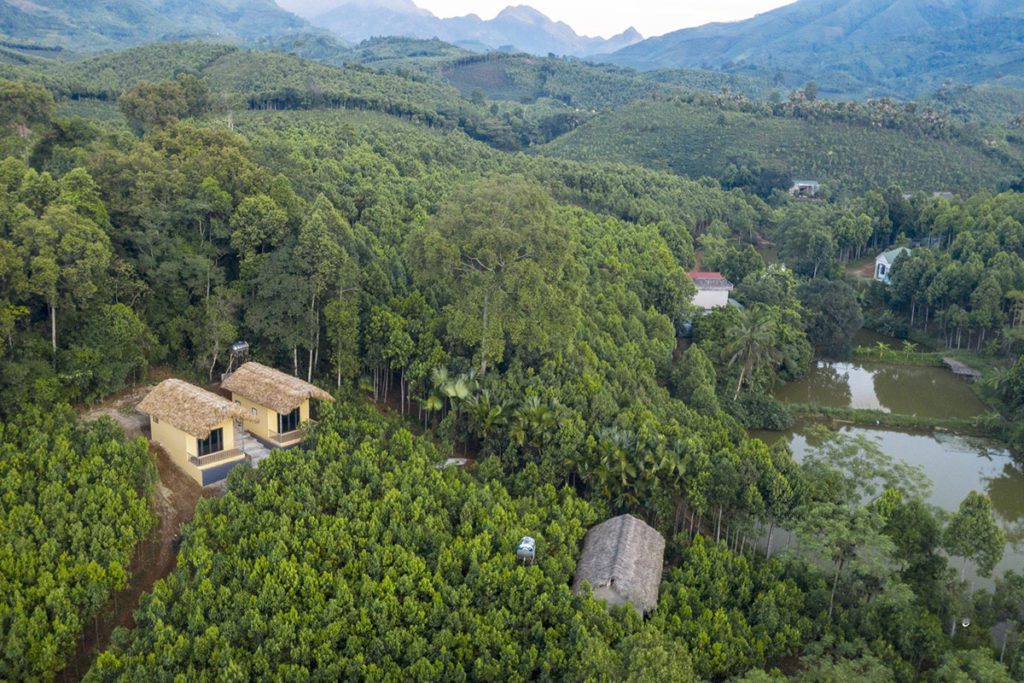 Aerial view over Cinnamon Ecolodge, Vietnam
How to get there? There are several options for getting to the eco-lodge. In addition to local buses, Gioi, the owner of the lodge, can arrange your transfer via a private air-conditioned vehicle or motorcycle. He can even meet you upon your arrival by night train or bus from Hanoi and accompany you to the eco-lodge.
Why go there? Xuan Hoa is a small rural village and a unique tourist destination because Cinnamon Eco Lodge is the only tourist accommodation in the area. You will experience the day-to-day lifestyle of northern Vietnam, and depending on the season, you may have the opportunity to participate in cinnamon harvesting (both bark and oil), rice planting or harvesting, or other seasonal activities that make up rural Vietnamese life.
Accommodation offering: A stay at Cinnamon Eco Lodge offers travelers the opportunity to stay in a rural village where there is no other tourist accommodation. The lodge has purpose-built private bungalows with their own facilities. You will be welcomed as valued guests and leave feeling like part of the family.
The bungalows each have one bedroom with a comfortable queen-size bed (or an option for twin beds) with mosquito nets, air conditioning, and an ensuite bathroom. The private accommodations are nestled among the cinnamon trees, offering peace and tranquility with private, comfortable covered terraces to enjoy the rural, lake, and mountain scenery. While the bungalows are private, they have large picture windows to ensure the views can still be enjoyed from all angles. The bungalows have traditional thatched roofs and are tastefully decorated with local crafts, giving visitors a truly rural Vietnamese experience.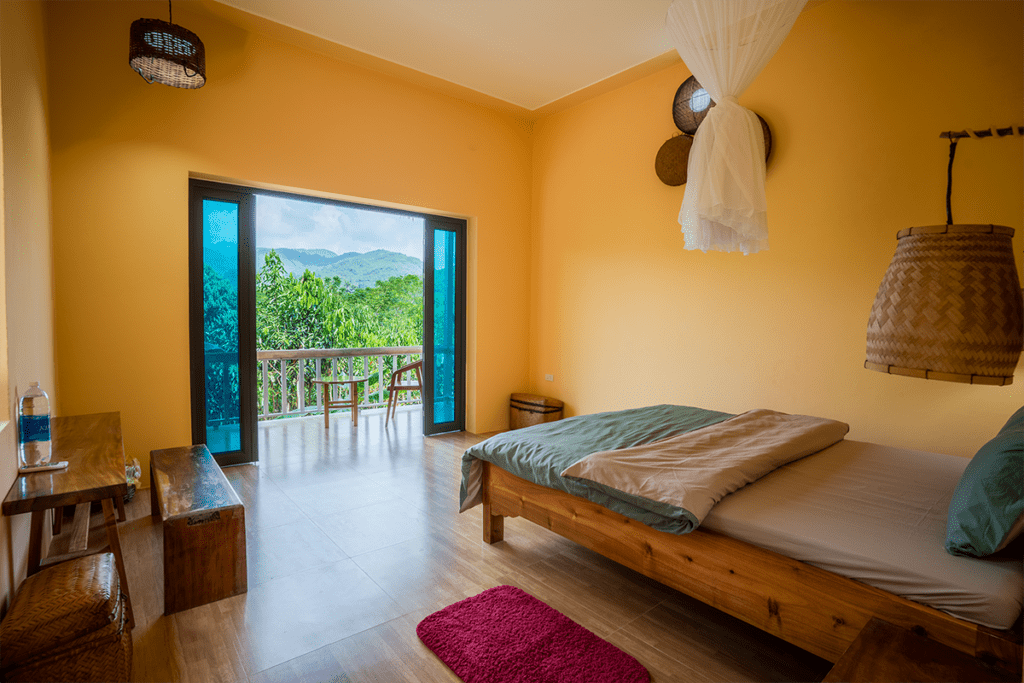 Bedroom in Cinammon Ecolodge, Vietnam
Panhou Retreat- Hoang Su Phi 
Panhou Retreat is our top pick in northern Vietnam. It's an ideal accommodation for nature lovers, trekking enthusiasts, and those seeking an authentic travel experience in Vietnam.
Here are a few reasons to visit Panhou:
The Hoang Su Phi rice terraces: The lodge is located in the Hoang Su Phi district, a stunning region in Ha Giang province. Although it's still relatively challenging to access, it will mesmerize those who venture there! With Sapa and Mu Cang Chai, you'll find some of the most beautiful rice terraces in Vietnam. Check out our comprehensive guide to this region.
The harmony of the place: Panhou Village, owned by a French national, is a beautiful accommodation that blends seamlessly with its surroundings. The village offers lodging in traditional wooden bungalows, allowing visitors to have an authentic experience in harmony with nature.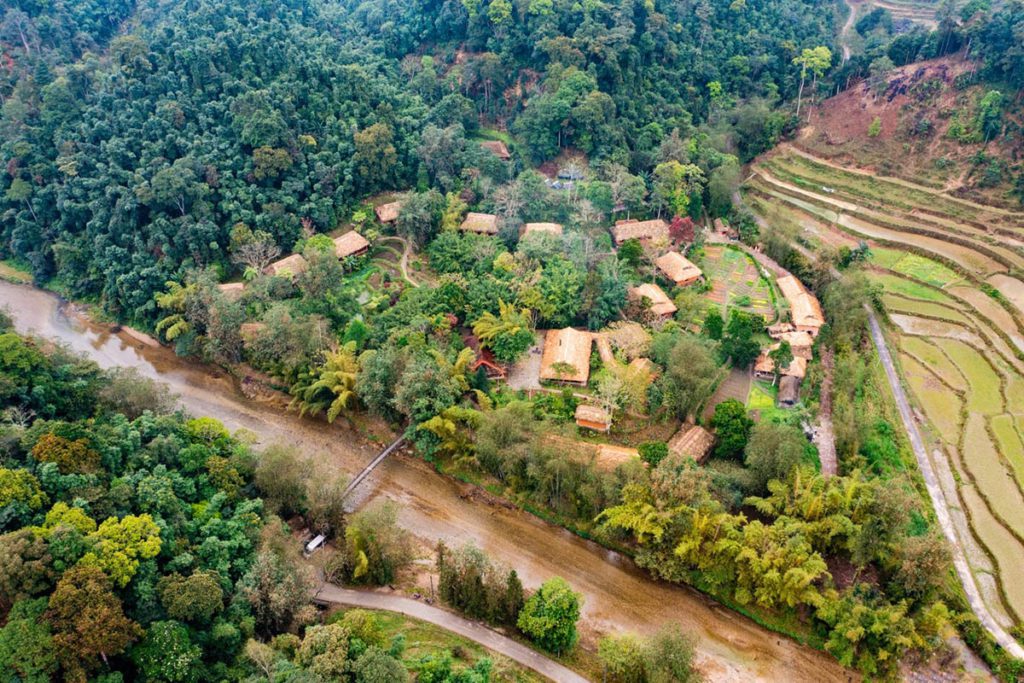 Panhou Retreat, Hoang Su Phi, Vietnam
Local culture: Visitors have the opportunity to experience the culture of the local ethnic minorities in the region, including the Hmong, Tay, and Dao people. You can participate in cultural activities, visit neighboring villages, and learn more about local traditions.
Hiking and trekking: The region offers numerous hiking and trekking opportunities through the mountains and terraced rice fields. Outdoor enthusiasts will enjoy the picturesque trails and breathtaking natural beauty. Panhou organizes day hikes and multi-day treks.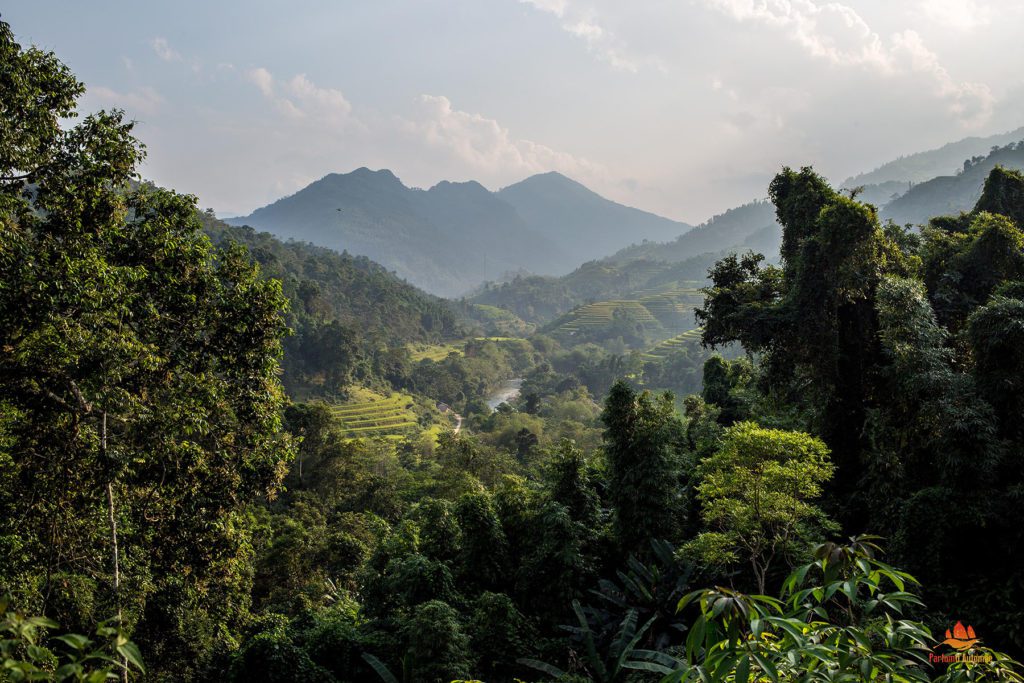 Beautiful landscape in Hoang Su Phi. Credit to Mathieu Arnaudet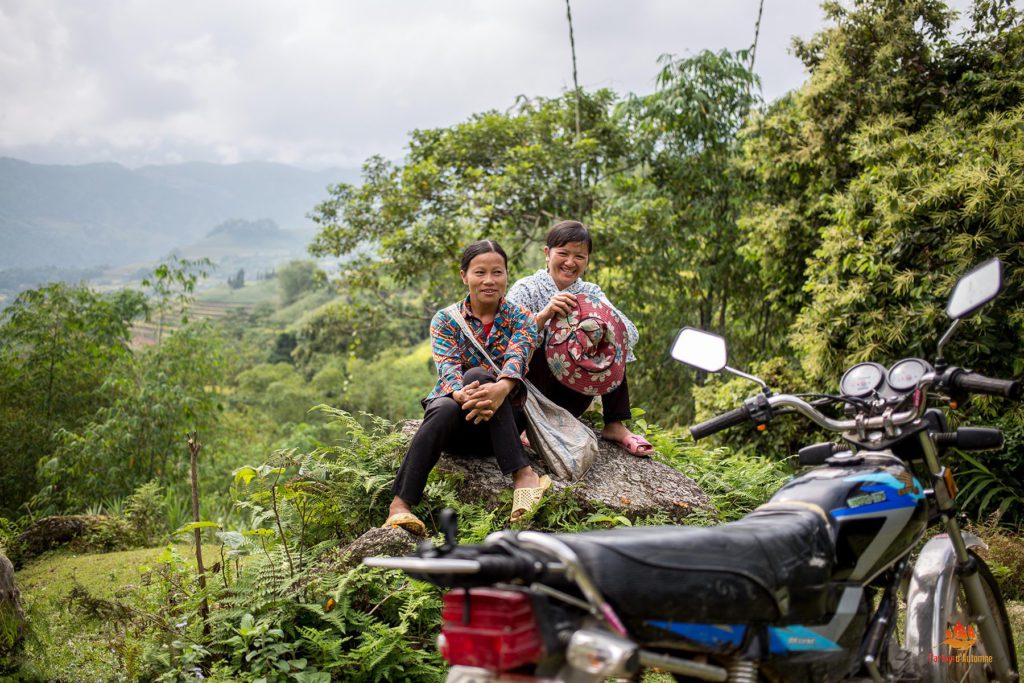 Meeting local people in Hoang Su Phi. Credit to Mathieu Arnaudet 
Pu Luong Retreat – Pu Luong 
Pu Luong Retreat is nestled in the heart of the Pu Luong Nature Reserve, providing a tranquil and picturesque setting surrounded by lush mountains, terraced rice fields, and traditional villages. It's a true haven for nature lovers.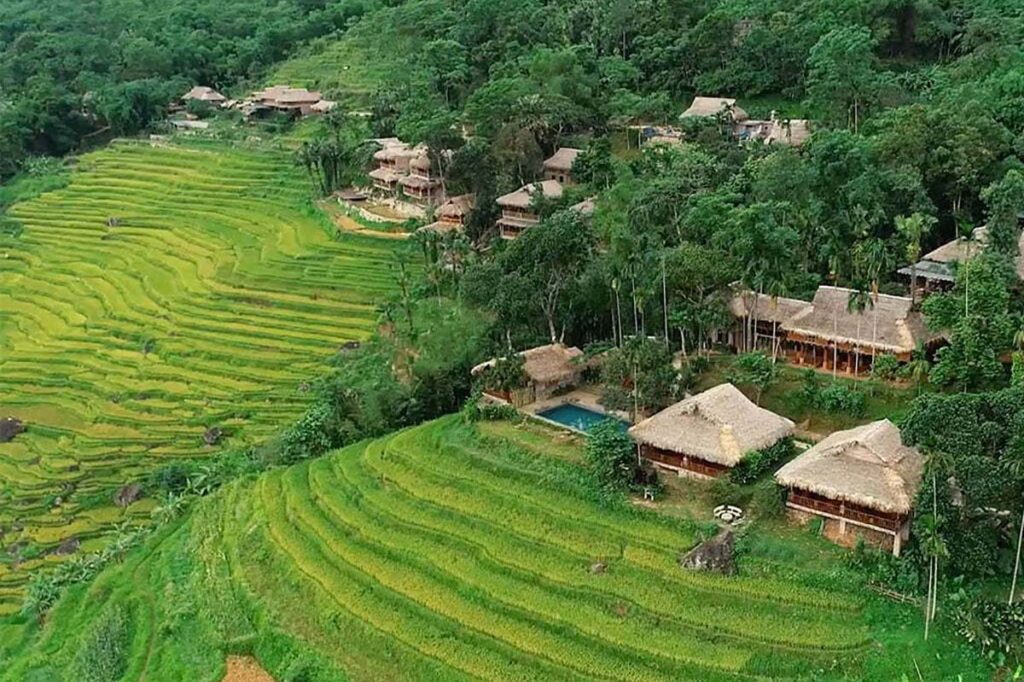 Pu Luong Retreat from above, Vietnam
Some reasons to go there:
Pu Luong Nature Reserve: For those traveling when the Northern Vietnam rice paddies are fallow, Pu Luong is a magnificent alternative. Established in 1999, Pu Luong Nature Reserve is located in the mountainous province of Thanh Hoa, in the northwest of Vietnam. This region boasts a wide variety of natural landscapes, ranging from dense forests to terraced rice fields and spectacular waterfalls.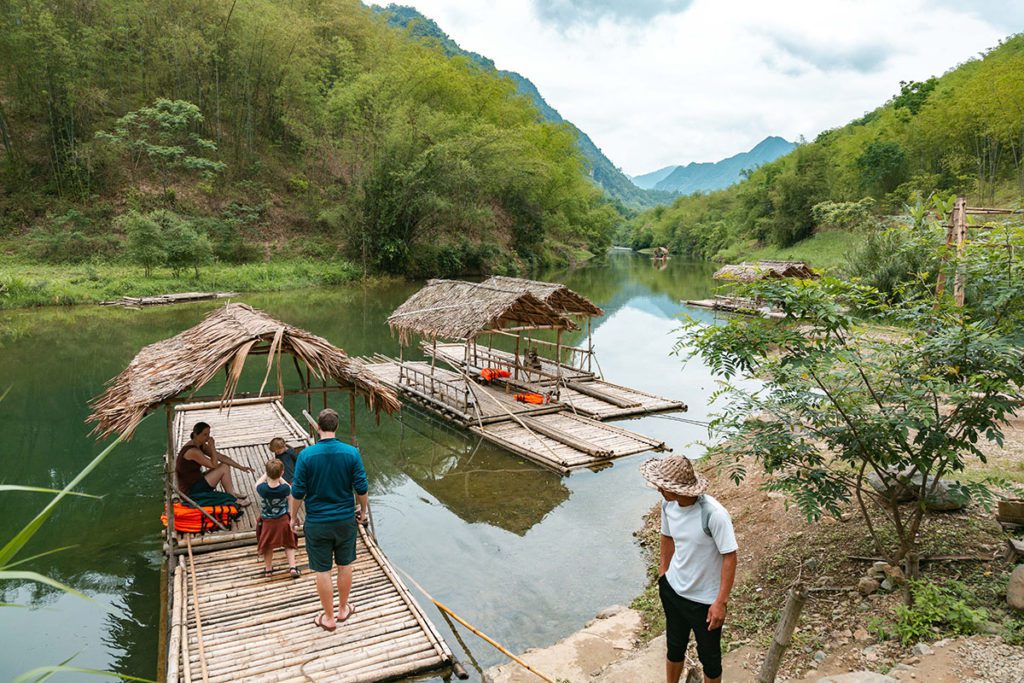 Pu Luong scenery, Vietnam
Charming accommodation and multiple options: The establishment offers various types of accommodation, including wooden bungalows and elegant rooms, all designed to provide modern comfort while preserving the authenticity of the region. For those who may not have the budget for a night in a bungalow, there is also a "homestay" section, where you will have a separate single bed separated from other beds by curtains. However, the comfort is there, and the decoration is very well done.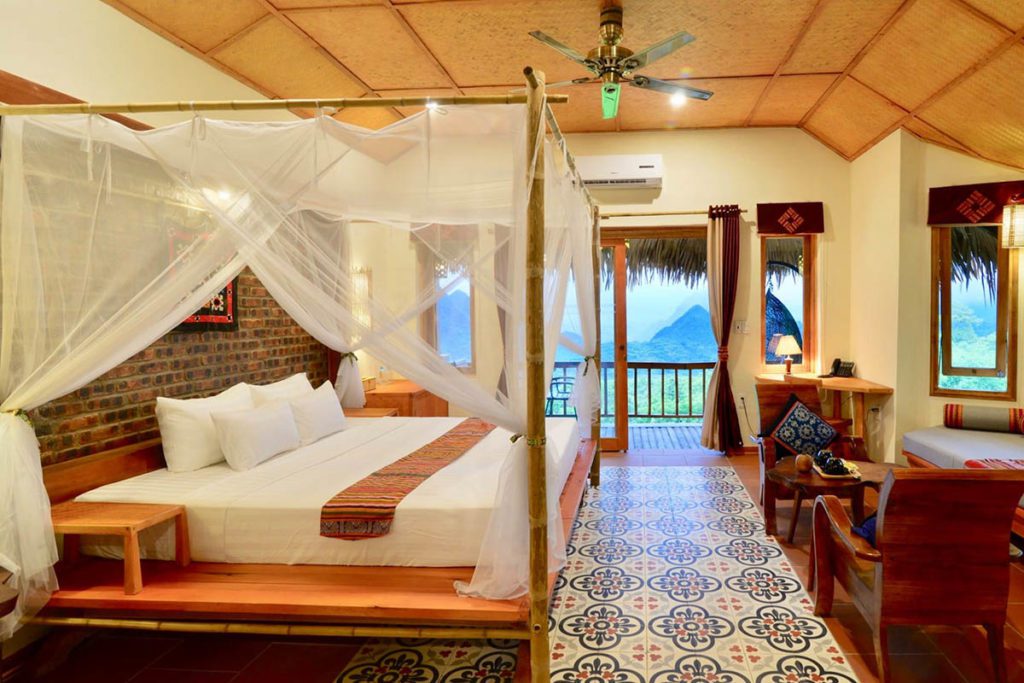 Bungalow in Pu Luong, Retreat
Rooms offer spectacular views of the terraced rice fields and surrounding mountains. You can enjoy breathtaking landscapes from your accommodation.
Cultural experiences: Pu Luong Retreat provides visitors with the opportunity to explore local culture and meet the residents of nearby villages. You can participate in traditional activities, visit local markets, and learn more about the lifestyle of the ethnic communities in the region.
Hiking and trekking: Pu Luong Nature Reserve is an ideal place for hiking and trekking. Pu Luong Retreat offers day trips or multi-day tours to explore picturesque trails, cross rivers on foot, and discover the natural beauty of the area.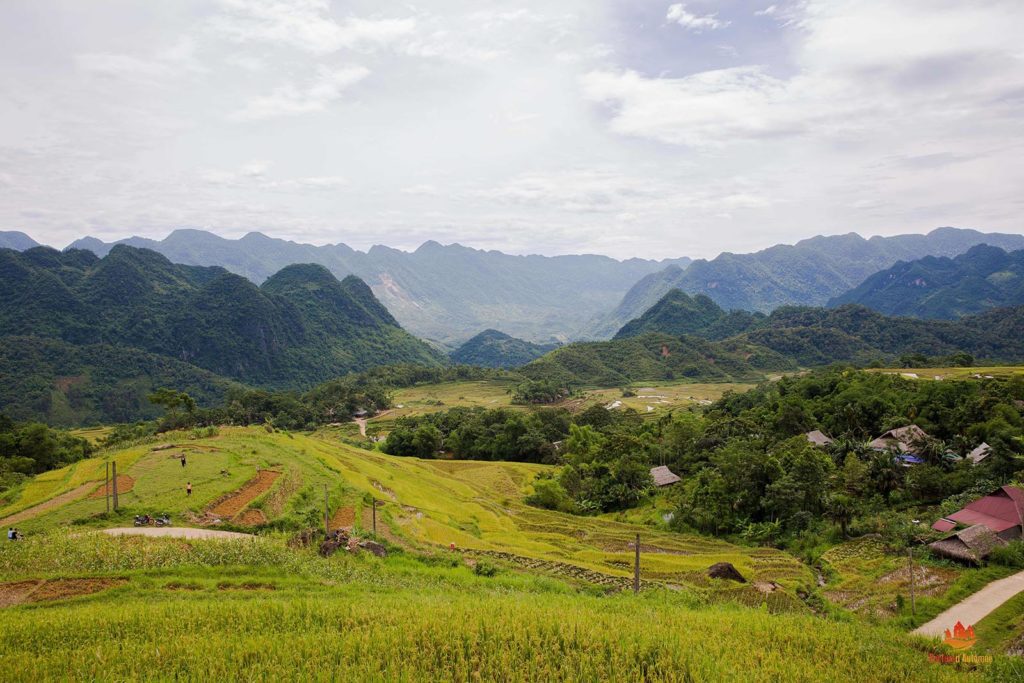 View from Pu Luong Retreat. Credit to Mathieu Arnaudet 
Responsible Ecotourism: Pu Luong Retreat is committed to responsible ecotourism practices to preserve the local environment. The establishment takes measures to minimize its impact on nature and support local communities.
Local cuisine: You can savor delicious Vietnamese cuisine prepared with local and organic ingredients. Meals are often served outdoors, providing an authentic culinary experience.
Relaxation and wellness: After a day of exploration, you can unwind in a peaceful setting, enjoy a relaxing massage, or simply relax by the pool.
Tam Coc Garden – Ninh Binh 
Tam Coc Garden is certainly the most beautiful and luxurious accommodation in Tam Coc, also known as the "Inland Halong Bay."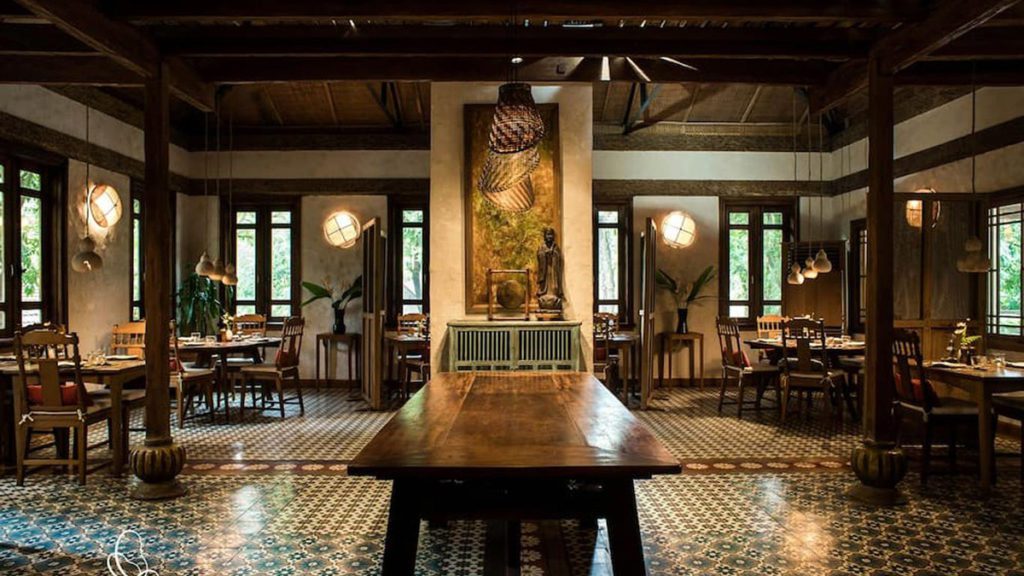 Beautiful decoration, dining room, Tam Coc Garden
Why stay here?
Superb accommodations: You have the choice between the villa, which offers panoramic views of the mountains and rice fields, and carefully decorated bungalows.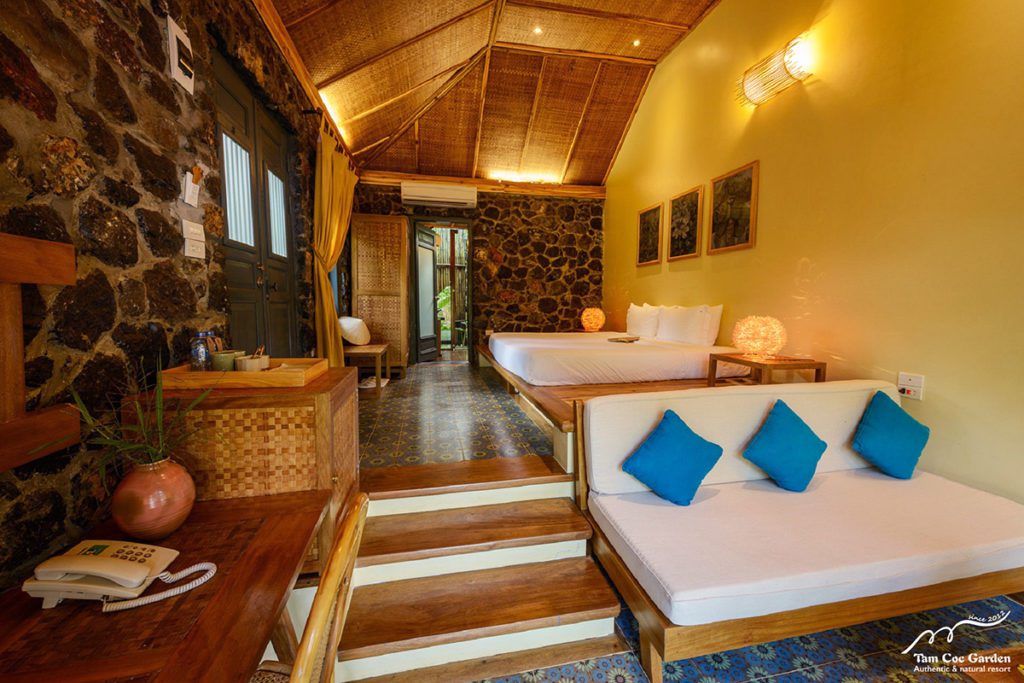 Bungalow in Tam Coc Garden, Ninh Binh
A beautiful garden: Tam Coc Garden's garden is cultivated with care and love, offering a bucolic atmosphere, not to mention the aromatic herbs that flavor the homemade dishes.
Environmental and social commitment: The lodge hires locals from surrounding villages and provides them with training to open up career opportunities, aiming to improve the living conditions and well-being of local communities. It also commits to supporting local crafts, skills, traditions, and culture in the development of tourist activities, and to balancing tourism development with environmental protection and the well-being of local communities.
Tam Coc Garden is thus one of the most socially and environmentally committed establishments in Vietnam.
You now know our top recommendations for a comfortable and nature-filled stay in Northern Vietnam! We've designed a 10-day itinerary for those wanting to explore the fantastic landscapes of the northern region under the best conditions.