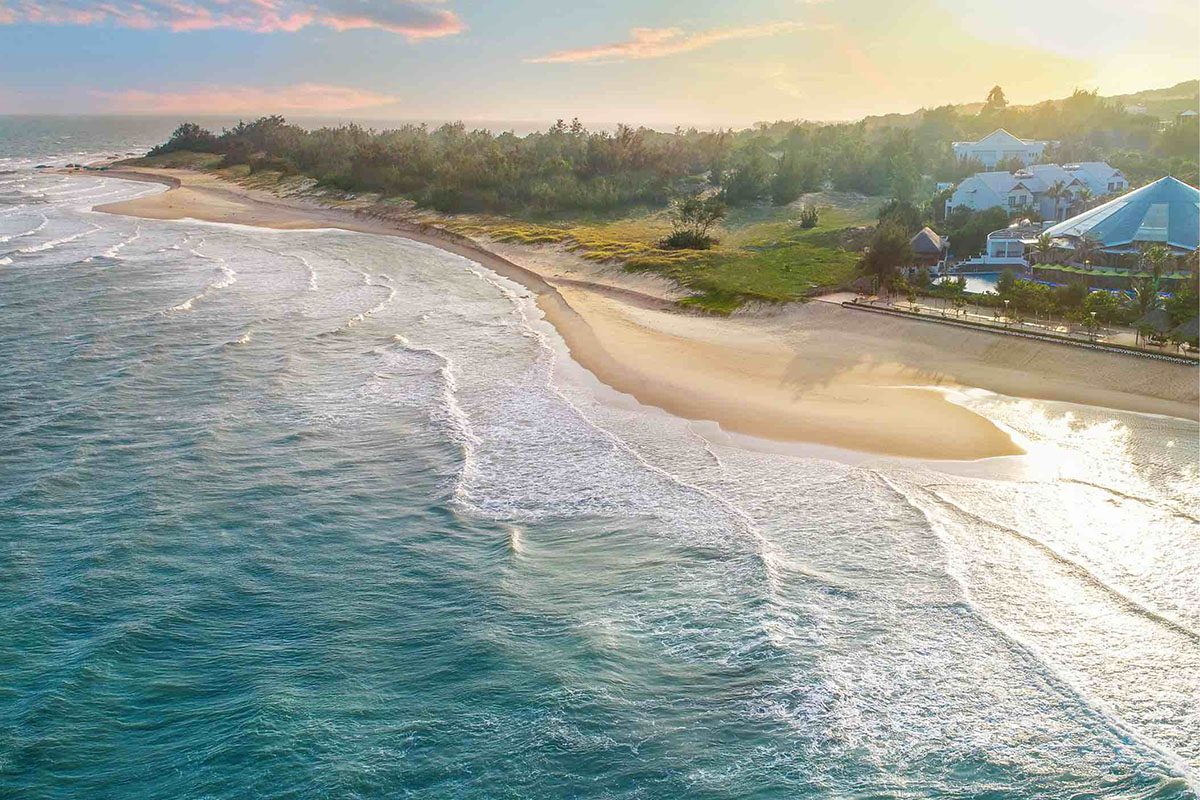 Top 10 beaches in Vietnam – 2023/2024 selection
Vietnam offers a stunning coastline bathed by the East Sea, home to beautiful beaches.
Explore in this article our selection of the 10 most beautiful beaches in Vietnam, true hidden treasures amidst breathtaking coastal landscapes. Each of these beaches has its own personality and unique charm to offer to travelers. Whether you're seeking stretches of golden sand lined with palm trees, crystal-clear waters perfect for diving, or a peaceful atmosphere conducive to relaxation, Vietnam has everything you need.
Beyond natural beauty, these beaches also tell a rich and varied story. Some are located near historic cities, allowing travelers to combine beach adventures with a dive into Vietnamese culture. Other more secluded beaches provide a tranquil retreat for those seeking calm and contemplation.
Whether you're a water sports enthusiast looking for adrenaline, a nature lover in search of tranquility, or simply seeking the perfect spot to relax under the sun, these beaches will meet all your expectations. So, put on your swimsuit, apply your sunscreen, and get ready to explore the beach treasures of Vietnam, a true tropical paradise awaiting you.
Let's travel from north to south of the country to discover these fabulous beaches.
Feel free to contact us to plan your trip.
Table des matières de l'article
Cat Ba island – Cat Co beaches
The public beaches on Cat Ba Island are called "Cat Co."
Cat Co 1 and 2 have seen the establishment of the Flamingo Resort along their shores, so we will refer to them as the "Flamingo beaches." Fortunately, both beaches remain public, and everyone can visit them.
In a rare occurrence in Vietnam, a coastal path ("rock trail" on the map below) has been developed, taking you from Cat Co 1 to Cat Co 3 beach, where another hotel, Le Perle d'Orient by the MGallery brand, has been built. Like Cat Co 1, the beach remains public, and you can visit it without any issues.
Despite recent changes, the beaches still provide a beautiful and relaxing view of Halong Bay.
For Cat Ba beaches, we advise against visiting during the summer period, from late May to late August – this is the holiday season (like everywhere in the world!), and Hanoi families literally flock to the nearest beaches. Unfortunately, there are not many, and those in Cat Ba are crowded. However, the rest of the year, no problem, you can go there in peace.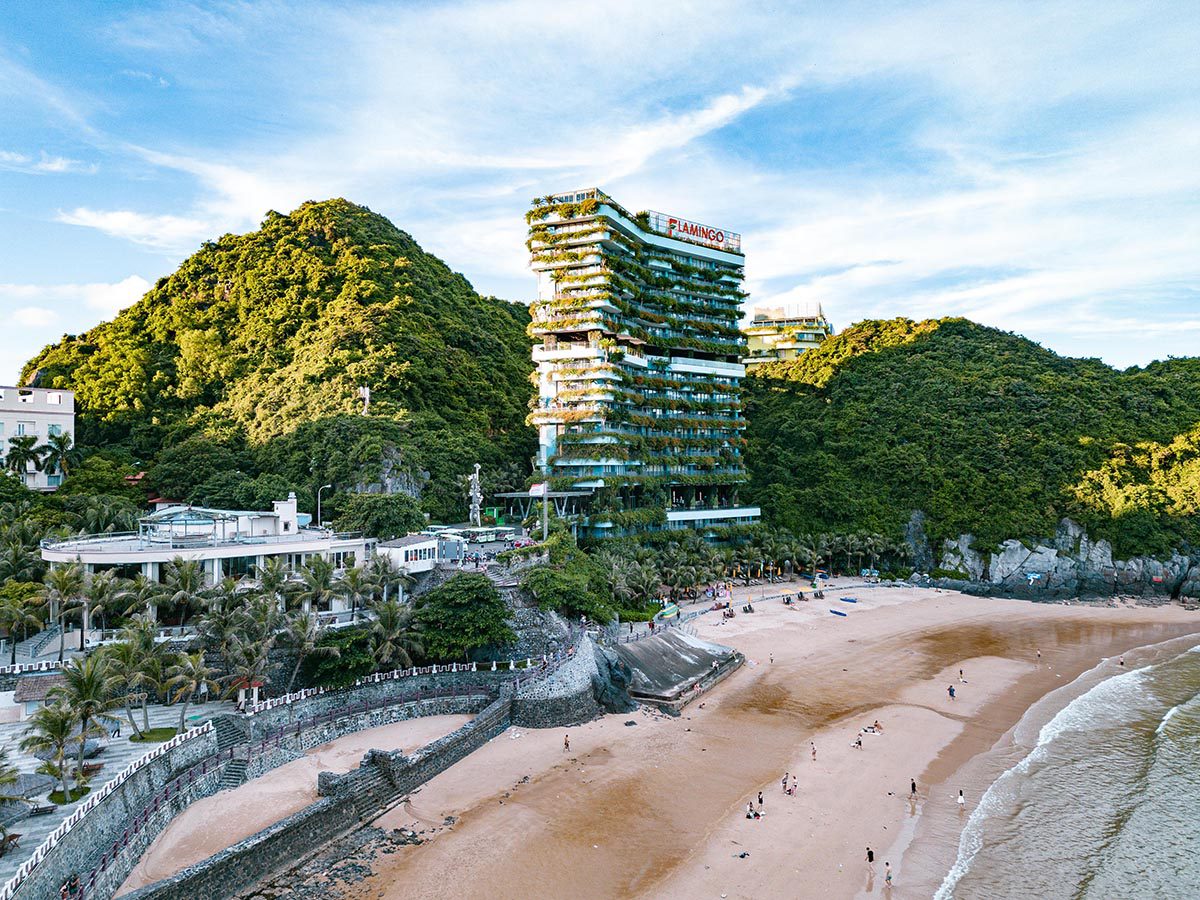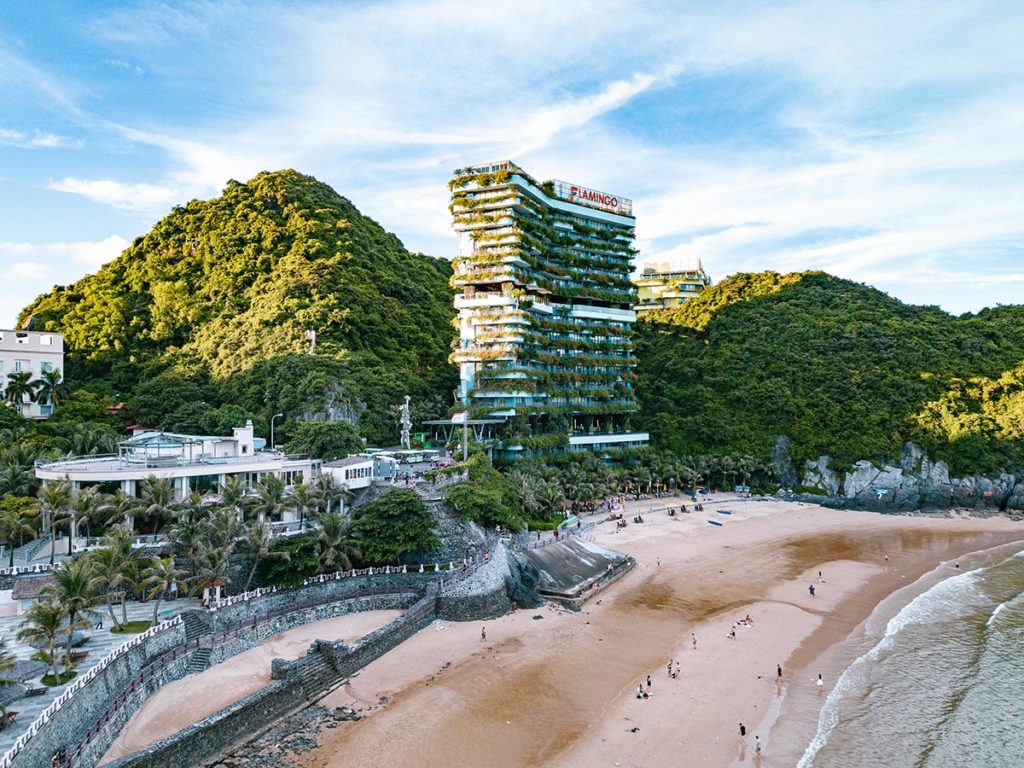 Cat Co 1 if Cat Ba island, Vietnam. Crédit : Mathieu Arnaudet 

View from Cat Co 1 beach, Cat Ba. Crédit : Mathieu Arnaudet 
The beaches on Google Map :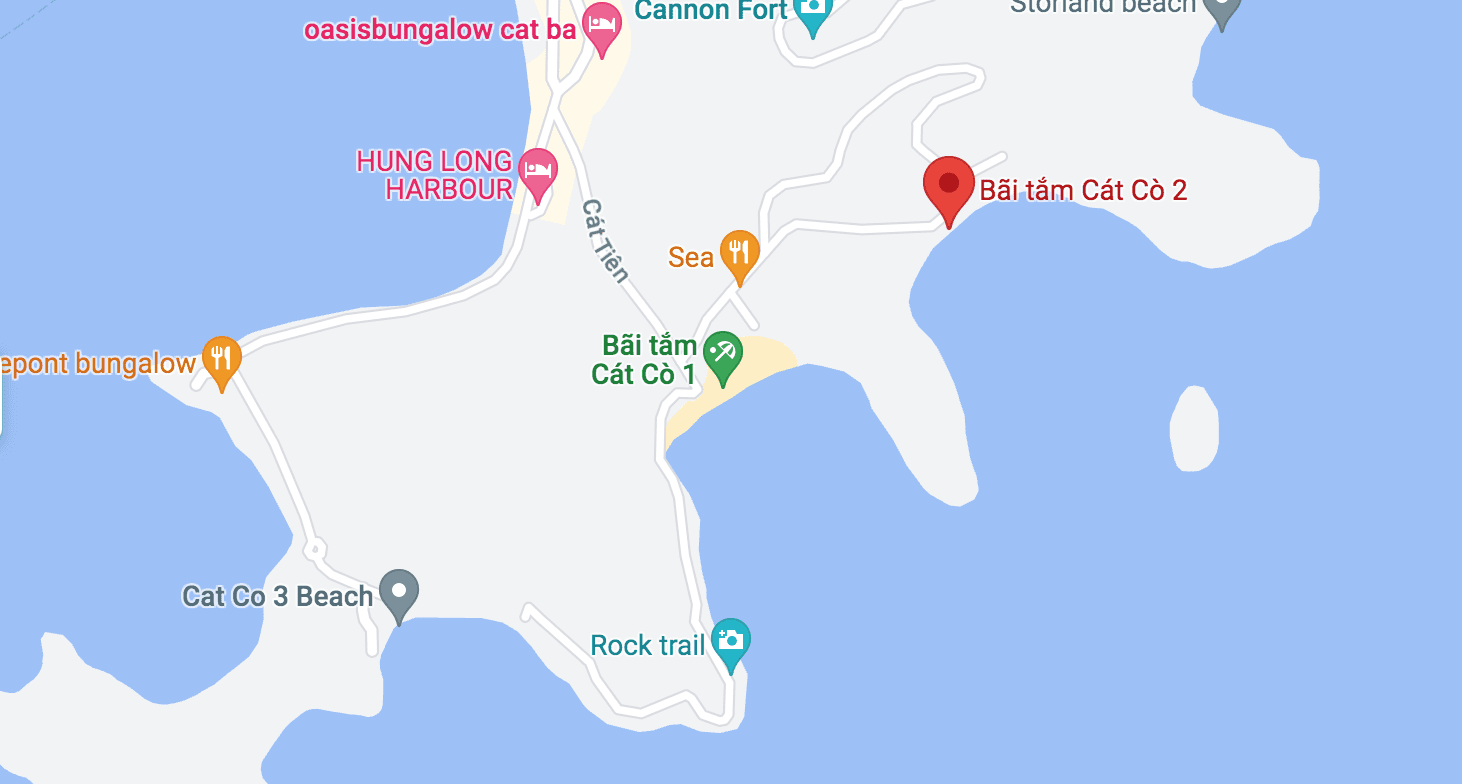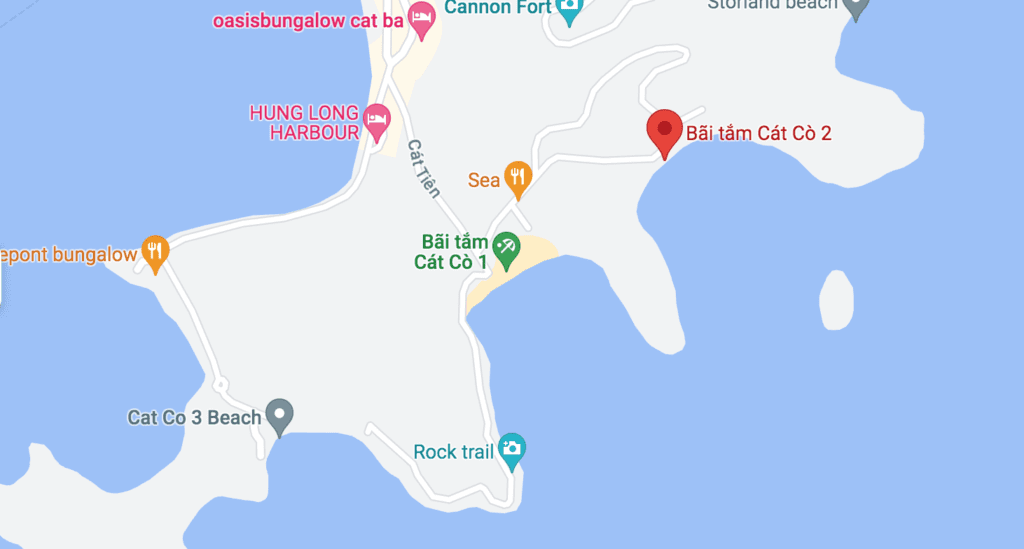 Cat Co beaches on the map 
Hue – Thuan An beach
Thuan An Beach is located near the historic city of Hue, overlooking the East Sea. Stretching for about 12 kilometers, it provides a beautiful getaway for travelers seeking to escape the stifling heat of Hue.
As evident from the numerous small fishing boats, this beach wasn't initially intended for tourism. It serves as a docking and mooring spot for fishermen. However, in recent years, Vietnamese people have learned to swim and overcome their fear of water, turning Thuan An into a lovely destination for swimming. Consequently, multiple small restaurants have opened, offering local seafood.
It may not be an idyllic beach or a place for an extended seaside stay, but it can be a good option if you want to take a dip after a tiring day of sightseeing. It is located approximately 15 kilometers from the citadel, about a 25-30 minute taxi ride.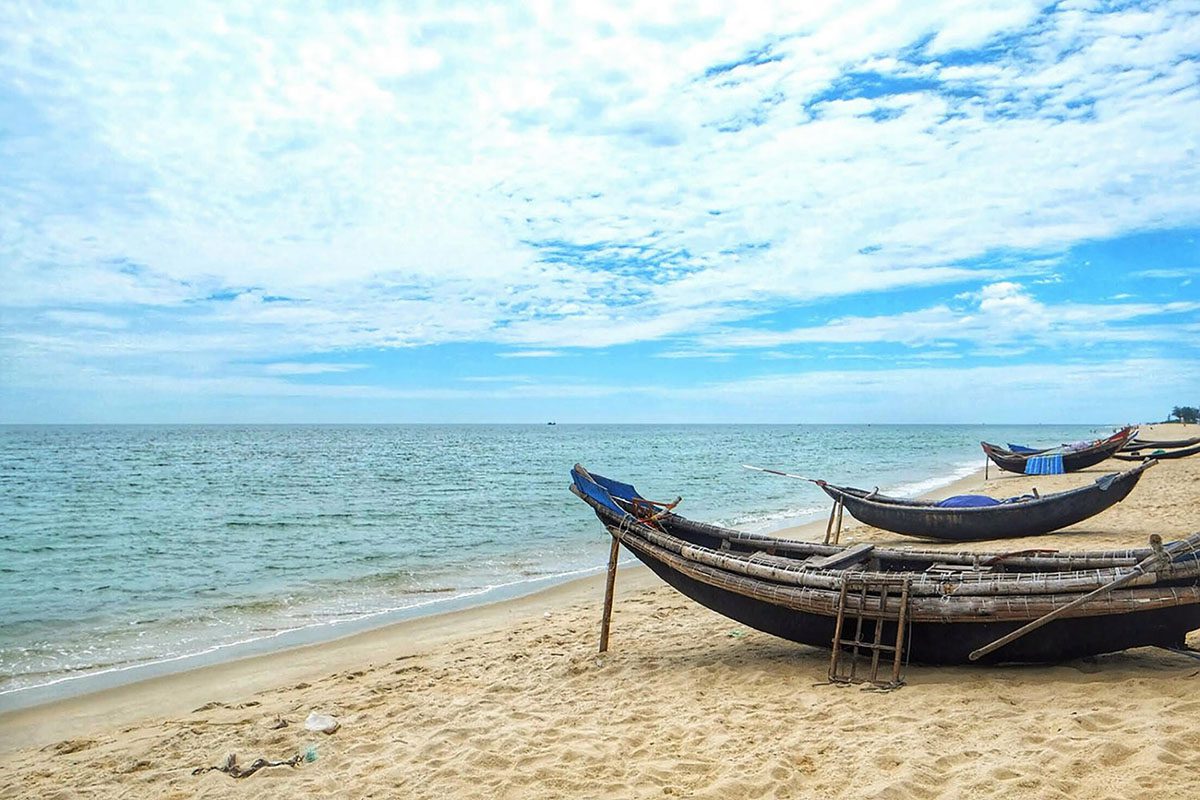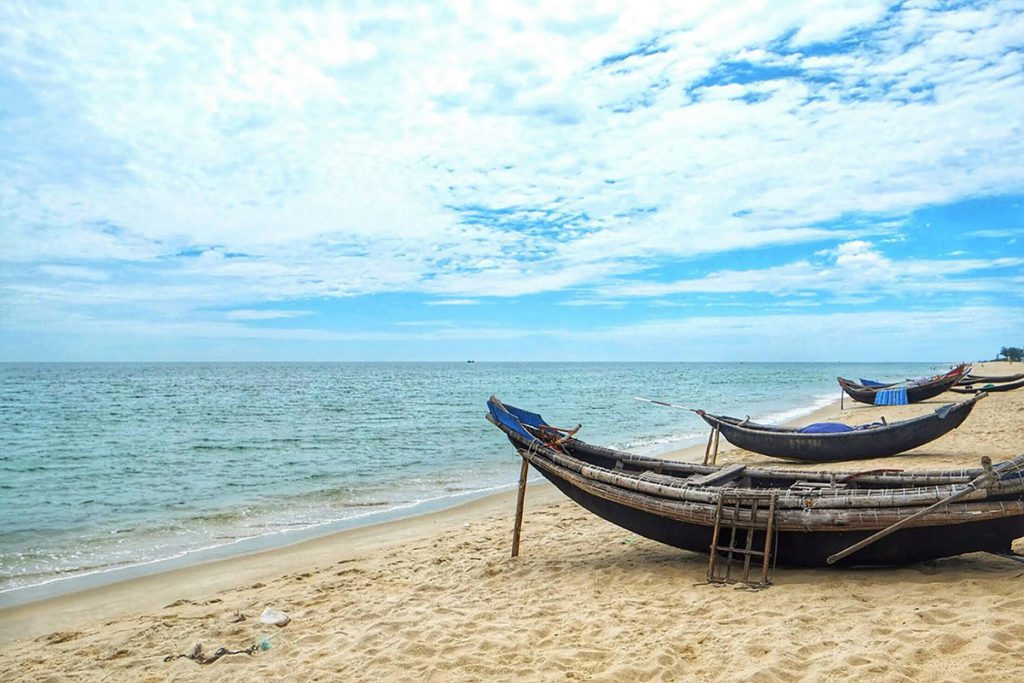 Thuan An beach in Hue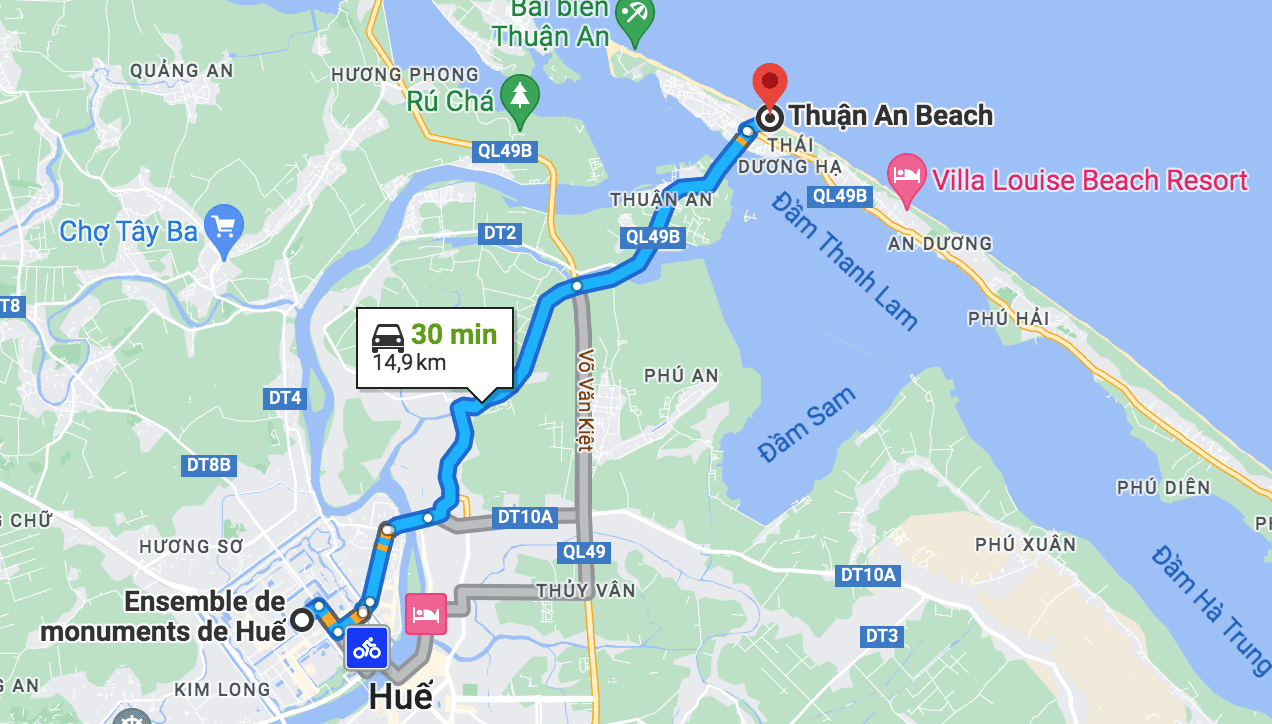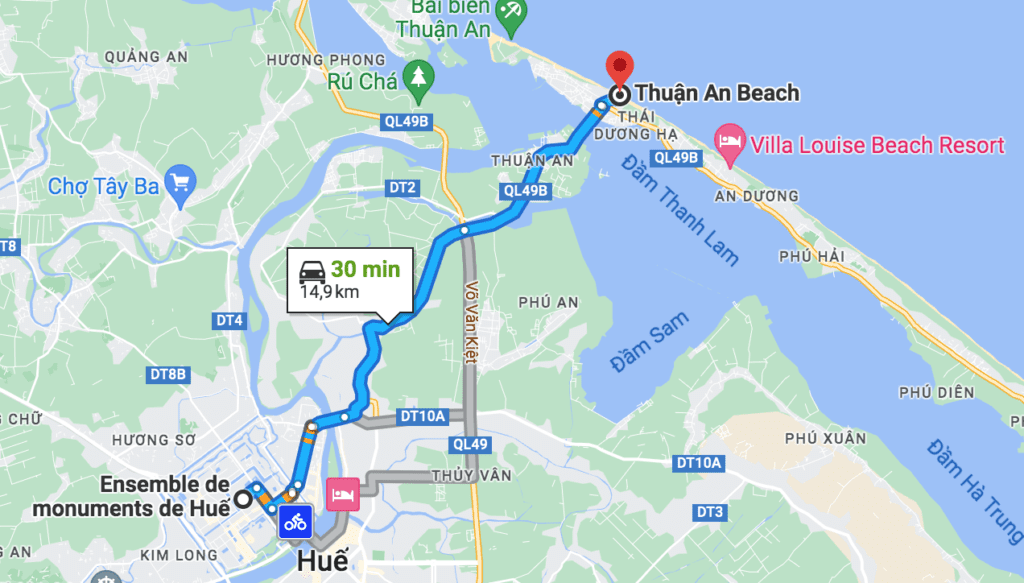 To each Thuan An beach from the Citadel
On this beach, you'll find a beautiful small resort: Villa Louise. Expect around 65 euros for a regular double room and a little over 100 euros for an ocean-view room. You'll enjoy relaxing by the superb pool.
Da Nang – My Khe beach 
My Khe Beach, located in Da Nang, is one of the most popular beaches in Vietnam. It is appreciated for its natural beauty, lively atmosphere, and strategic location, making it an ideal starting point for exploring the central region of the country.
My Khe Beach is a stretch of golden sand that extends for about 9 kilometers along the Da Nang coastline. Lined with palm trees and modern beachfront hotels, this beach is renowned for its cleanliness and fine sand. The ocean waters are generally calm and suitable for swimming, making it a favorite spot for families. The beach is also famous for its stunning sunrises, providing a spectacular backdrop for a relaxing morning.
In addition to beach relaxation, My Khe offers a myriad of activities. Water sports enthusiasts will appreciate the opportunity for jet skiing, windsurfing, surfing, and even paragliding. Seaside cafes and restaurants are perfect for savoring delicious local cuisine while enjoying ocean views.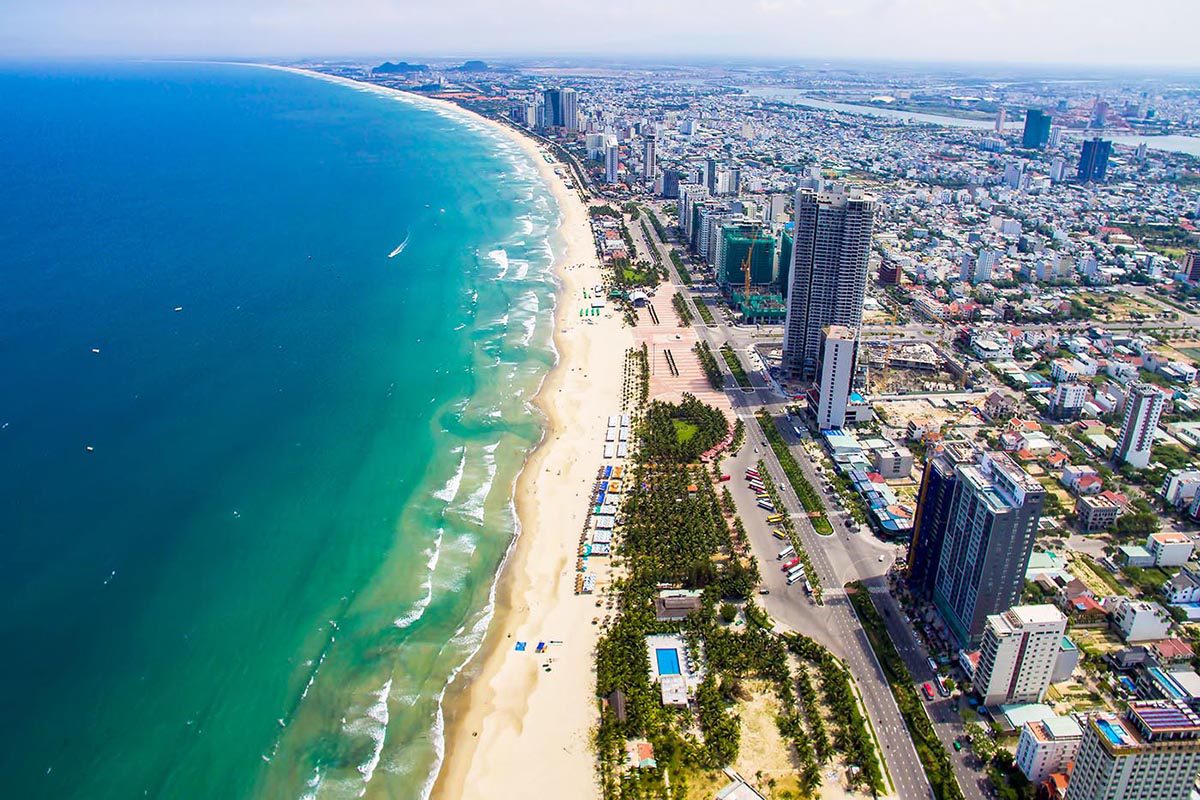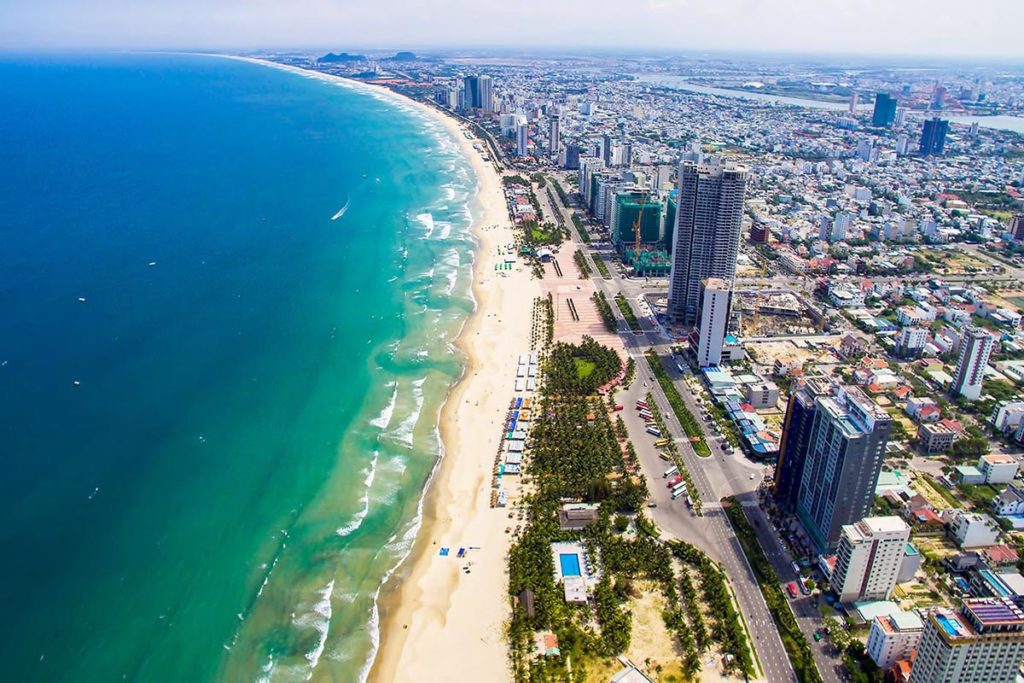 My Khe beach in Da Nang, Vietnam
Near My Khe Beach, you will find Marble Mountains (Ngu Hanh Son), a group of five marble mountains famous for their caves and Buddhist pagodas. You can climb these mountains to enjoy panoramic views of the beach and the city of Da Nang.
Hoi An – An Bang beach
An Bang Beach is renowned for its preserved natural beauty. This golden sandy beach stretches for several kilometers, providing visitors with a tranquil setting to relax. The calm and shallow waters of the East Sea make it an ideal spot for safe swimming. The coconut trees lining the beach add to its tropical charm.
What sets An Bang Beach apart is its tranquil and laid-back atmosphere. Unlike some overcrowded beaches, An Bang offers a peaceful getaway, perfect for travelers seeking serenity.
An Bang Beach offers a wide range of accommodation options, from luxury establishments to budget-friendly lodgings. Many visitors appreciate the opportunity to stay in beachfront bungalows or private villas for an authentic and relaxing experience.
Near An Bang Beach is the UNESCO World Heritage-listed town of Hoi An. You can easily travel from the beach to explore its cobblestone streets, ancient wooden houses, colorful lanterns, and artisan shops. Hoi An is also famous for its delicious cuisine, including street food, lively night markets, and cooking classes.
One of the major attractions nearby is the My Son Sanctuary, a Hindu archaeological site dating from the 4th to the 13th century. It is located about an hour's drive from An Bang Beach and provides a fascinating glimpse into Vietnam's history.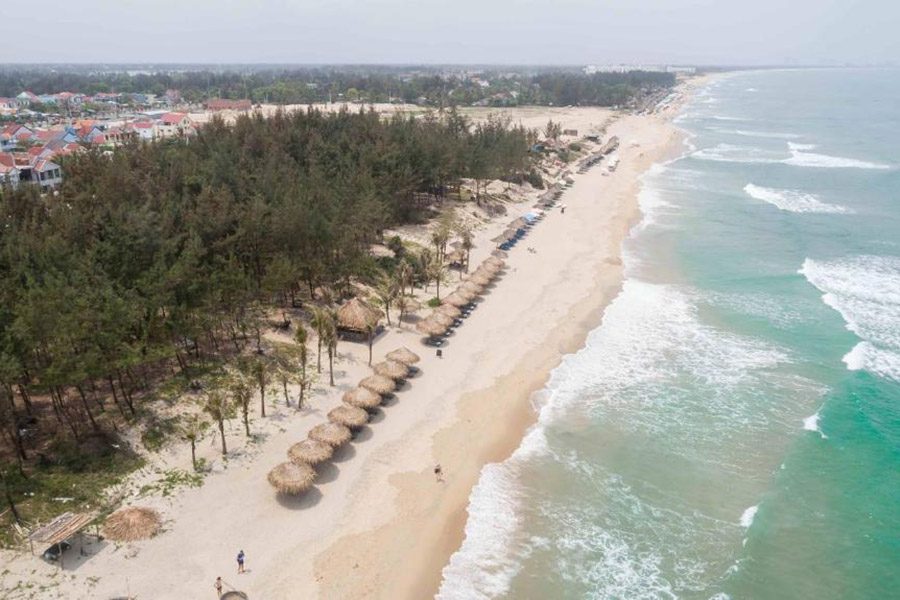 An Bang near Hoi An Ancient House
Quy Nhon – city beach  
We won't talk here about Ky Co Beach, which is the most well-known but unfortunately suffers from its popularity: paid access, crowded, and polluted beach…
Instead, we'd like to tell you about the public beach that borders the city of Quy Nhon. Quy Nhon Beach is directly accessible, beautifully maintained, and generally less crowded during the day. There is also an uninterrupted promenade along the 5-kilometer beach, perfect for a pleasant walk or bike ride.
The southern half of the beach promenade follows a series of parks with palm trees and traditionally styled statues. Along the beach, you'll find designated swimming areas with a lifeguard present during the day.
Come in the late afternoon and watch it come to life as locals play volleyball and exercise. At the north end of the beach is the Surf Bar (1 and 2), which provides the perfect spot to enjoy a drink of your choice while watching the sunset.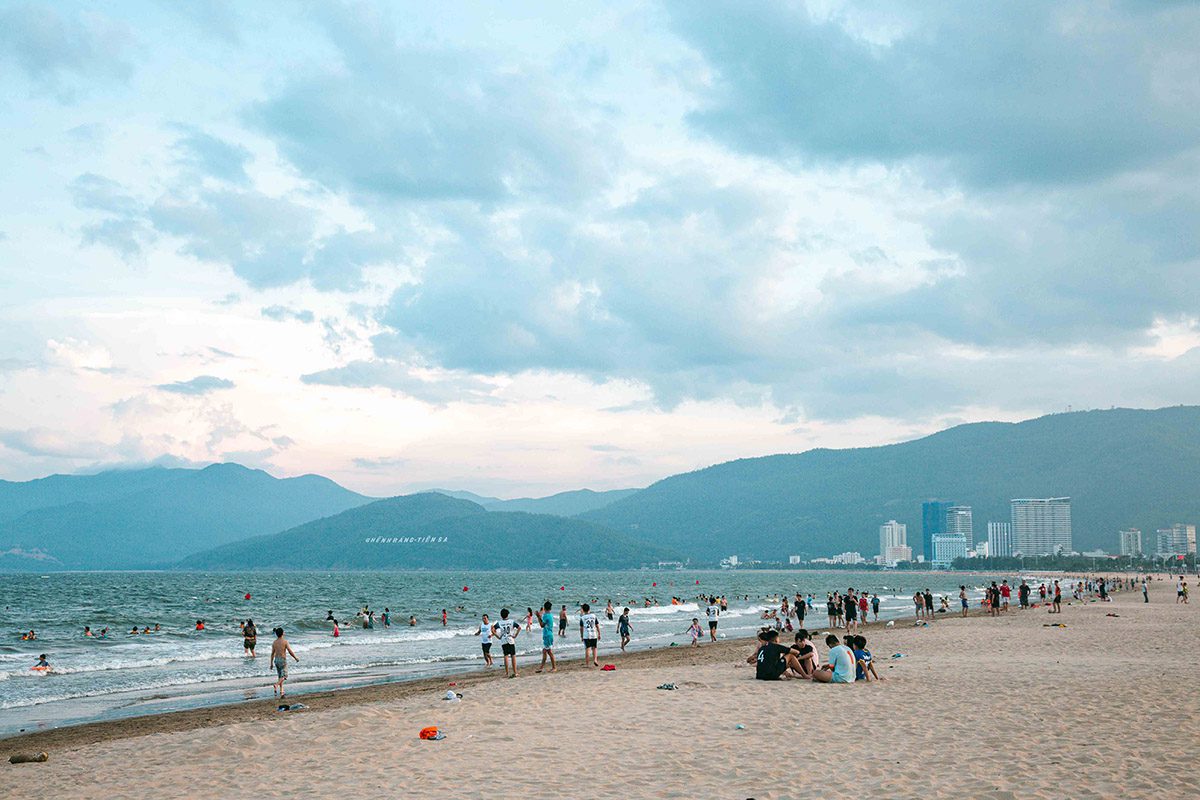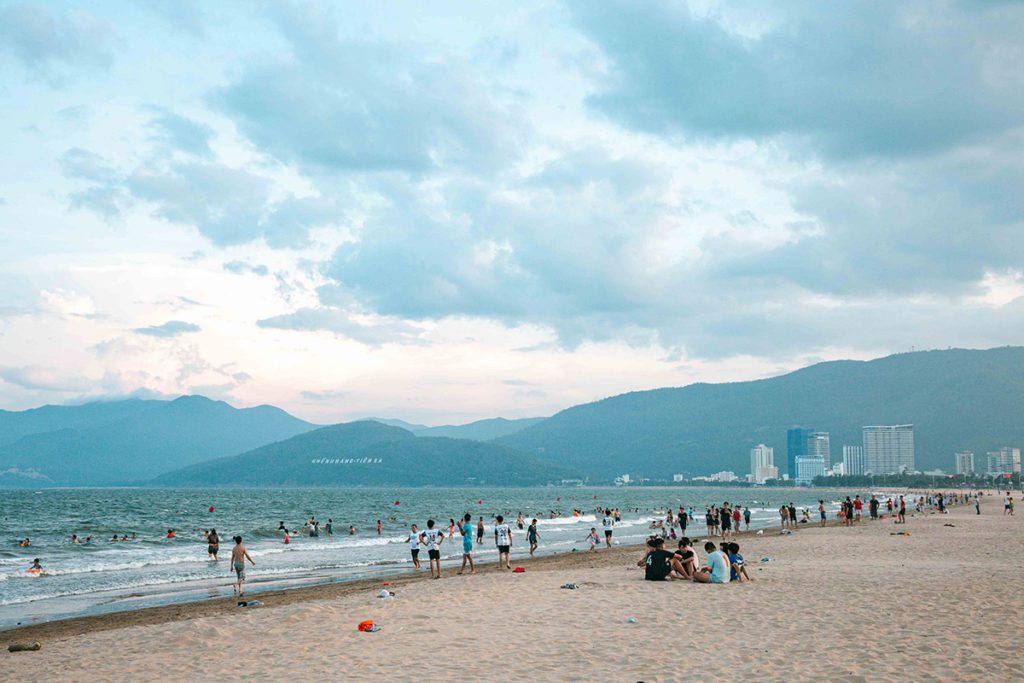 Public beach in Quy Nhon. Crédit : Mathieu Arnaudet 
Nha Trang – city beach 
Nha Trang is a popular beach destination in Vietnam, and Nha Trang Beach is at the heart of its appeal. Located on the south-central coast of the country, this beach stretches for nearly 6 kilometers along the stunning Nha Trang Bay. It is renowned for its fine sand and crystal-clear turquoise waters.
With its golden sand and palm-lined waterfront, the beach provides an ideal setting for sunbathing and swimming in warm and clear waters. Nha Trang Bay is surrounded by lush green mountains, adding to its natural charm. The beach is also famous for its stunning sunsets, offering visitors an unforgettable romantic experience.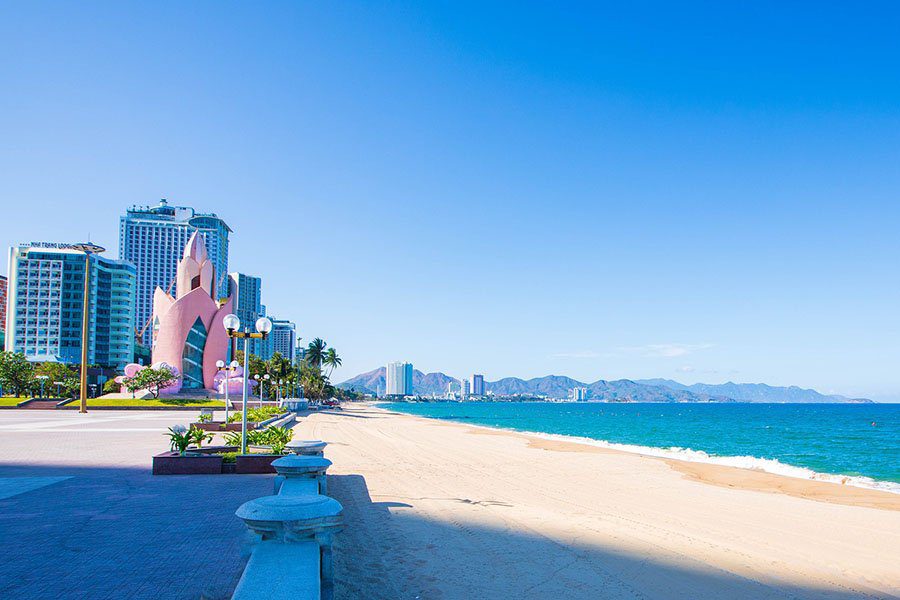 Nha Trang beach in the middle of the day, Vietnam
Nha Trang Beach is a paradise for water sports enthusiasts. You can indulge in scuba diving, snorkeling, water skiing, jet-skiing, or simply swim in the warm waters. The nearby coral reefs are teeming with marine life, providing incredible opportunities for underwater exploration.
Beyond the beach, Nha Trang offers a multitude of attractions. You can visit nearby islands, such as Hon Mun Island, known for its white sandy beaches and exceptional diving sites. The Vinpearl Water Park is also a popular destination, featuring water slides, an amusement park, and a panoramic cable car that provides breathtaking views of the bay.
Mui Ne – city beach
Mui Ne is known for its tranquil atmosphere and rustic charm. Unlike some touristy beaches, it maintains a strong fishing village character. The colorful boats and fishing nets lining the beach create a picturesque scene. The stretches of golden sand extend as far as the eye can see, inviting visitors to relax in the sun or take a leisurely stroll along the coastline. The warm waters of Mui Ne Beach are also conducive to swimming and other water activities, making it a versatile resort destination.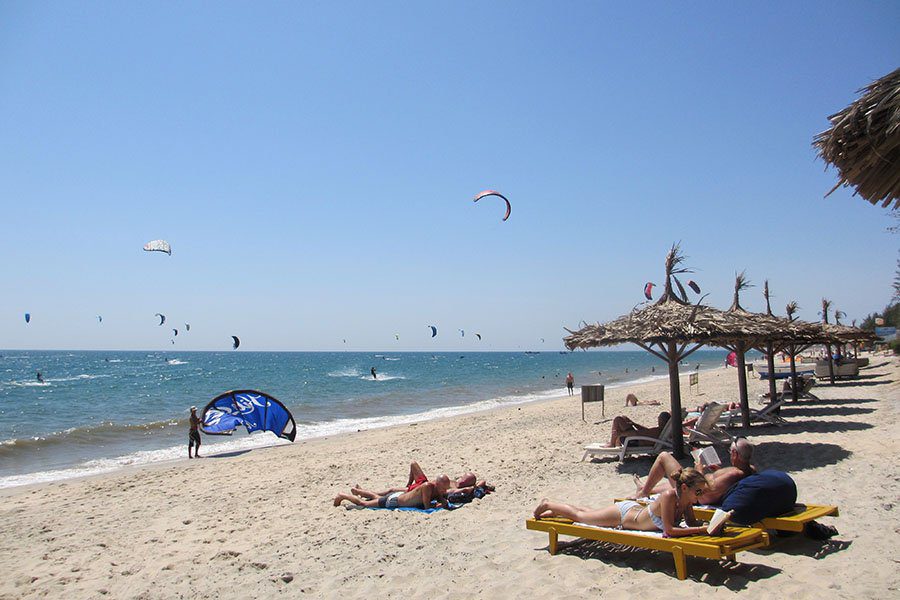 Kitesurf at Mui Ne beach, Vietnam
Mui Ne is renowned for its ideal conditions for water sports. Windsurfing and kitesurfing enthusiasts from around the world flock to Mui Ne to take advantage of the consistent winds and favorable waves for these activities. You can easily rent equipment on-site or take lessons if you're a beginner.
In addition to water sports, Mui Ne also offers jeep tours to the sand dunes, resembling a miniature desert. These white and red sand dunes provide a unique opportunity for sandboarding or simply enjoying spectacular views.
Local cuisine is also a highlight of Mui Ne. Seafood restaurants along the beach serve fresh and delicious dishes, ranging from grilled shrimp to crab curry. Don't forget to try the locally caught fresh fish.
Mui Ne is accessible from the city of Phan Thiet, which is connected to Ho Chi Minh City by a well-maintained road. You can take a bus or train from Ho Chi Minh City to Phan Thiet, and then a short taxi ride will take you to Mui Ne.
Vung Tau – Ho Tram beach
Ho Tram is located in the Ba Ria – Vung Tau province, approximately 125 km southeast of Ho Chi Minh City. Ho Tram is wonderfully preserved and pristine, featuring a palm-shaded beach and a lovely lagoon nearby.
Most people come here to relax by lying on the soft sand or taking a few swims in the refreshing seawater. From Ho Tram, after swimming in the sea, tourists can take a local excursion to the Binh Chau hot springs, renowned for their therapeutic mud baths and hot springs that can promote blood circulation and alleviate mental disorders. This area of Ho Tram is also home to tens of thousands of square kilometers of tropical forest, where tourists can observe many different species of birds, monkeys, and other wildlife. All these experiences combined will certainly make for a memorable trip.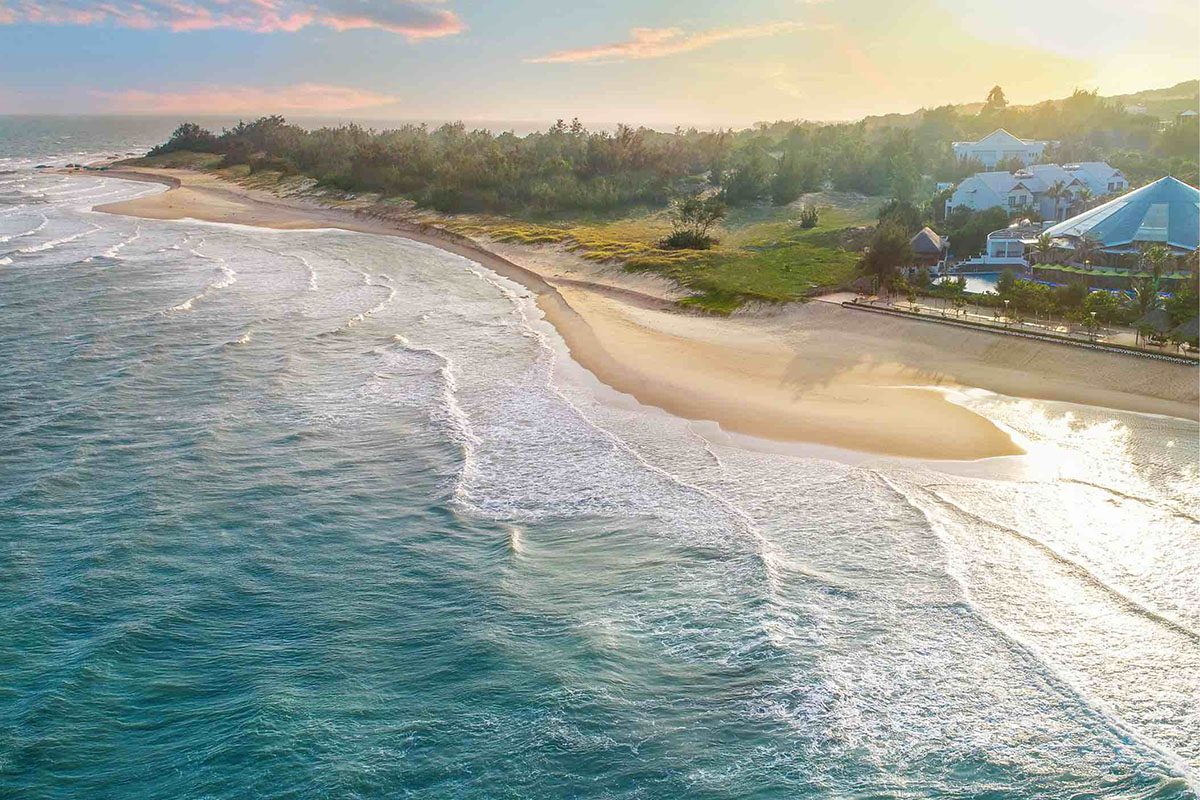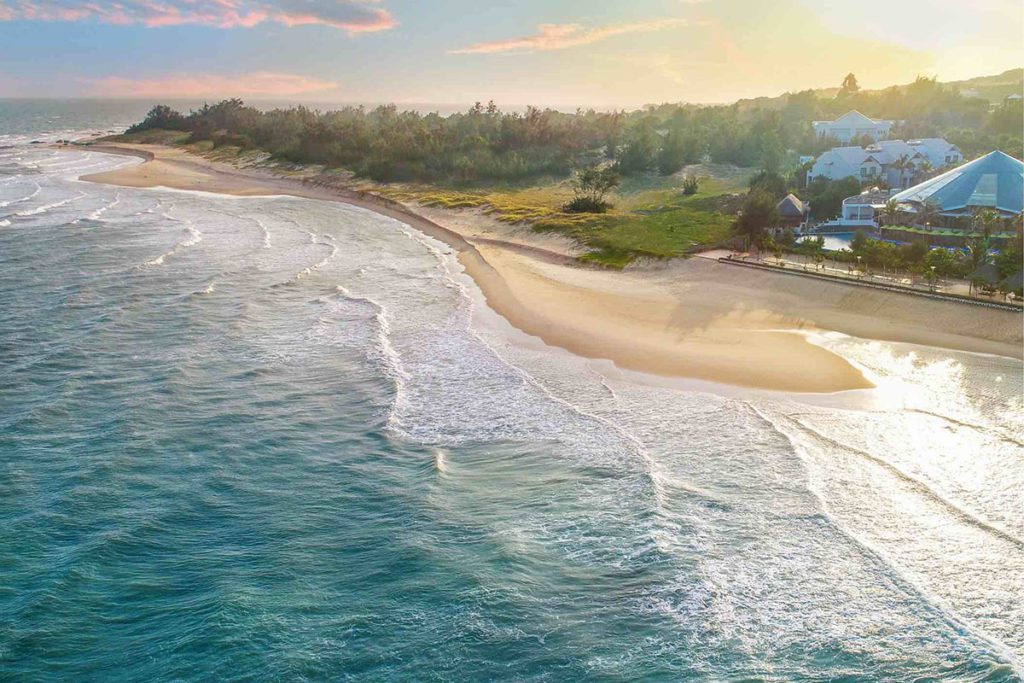 Ho Tram beach, Vung Tau
Most people visit the beach during the hottest months of the year, especially May, June, July, and August. During this period, the weather can be scorching, but thanks to the sea breeze, it will be a bit cooler than staying in the city. Some international tourists, however, cannot tolerate the heat and humidity and may choose to visit the beach during other months, which is entirely possible.
In fact, the other months of spring, from February to April, are also an excellent time to enjoy Ho Tram when the weather is perfect but not too hot. It is also possible to do some swimming in Ho Tram during the fall, from August to November. However, you will likely encounter a cool wind and rather strong waves.
Many hotels and resorts have set up shop there, so you will have plenty of choices. We recommend, for example, the Ho Tram Beach Boutique Resort, which has decided to renovate old buildings.
Phu Quoc – Sao beach
Sao Beach in Phu Quoc is a paradise destination that attracts travelers from around the world thanks to its exceptional natural beauty. Located on the southeast coast of Phu Quoc Island, Sao Beach is renowned for its crystal-clear waters, fine white sand, and tranquil atmosphere.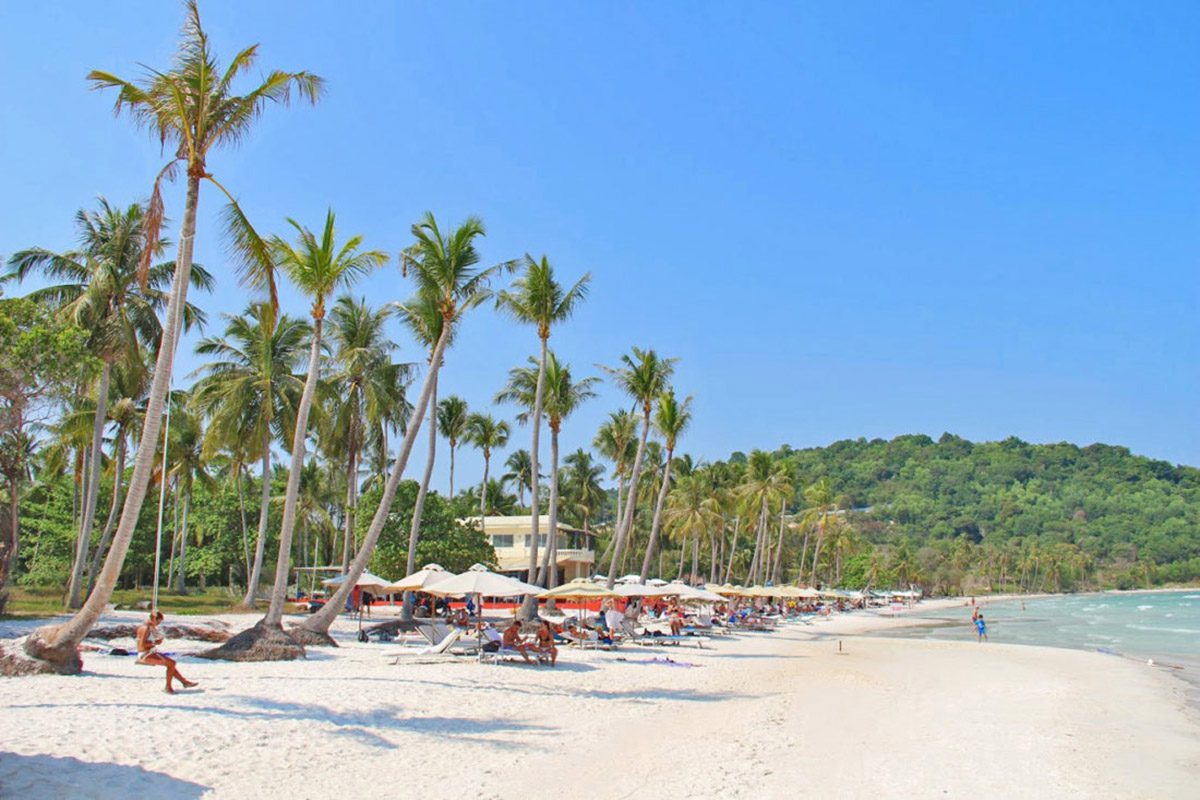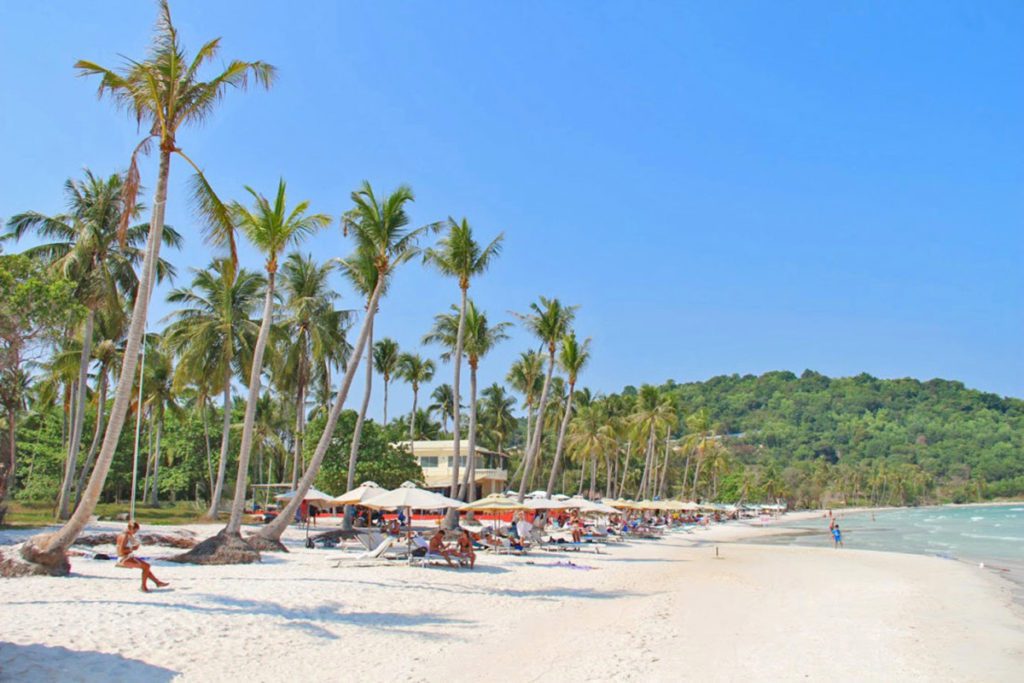 Sao beach in Phu Quoc, Vietnam
The beauty of Sao Beach is not limited to its crystal-clear waters and pristine sand. Nearby, you can explore the lush tropical forest of the island, where a variety of hiking trails will take you to discover exotic wildlife and flora. Water sports enthusiasts will find joy in jet skiing, kayaking, or windsurfing in the calm waters of the beach. The surroundings of Sao Beach are also filled with pearl farms, picturesque fishing villages, and local markets where you can savor authentic Vietnamese dishes.
Con Dao – Dam Trau beach
Dam Trau Beach is located on Con Dao Island, a destination that has long been preserved from mass tourism. The beach itself is an example of a tropical paradise, with pristine white sand and clear turquoise waters. Palm trees line the shore, adding to its tropical charm.
One of the most remarkable aspects of Dam Trau Beach is its peaceful atmosphere. Due to its secluded location, the beach provides a complete escape from the hustle and bustle of daily life, allowing you to enjoy the tranquility and serenity of this preserved place.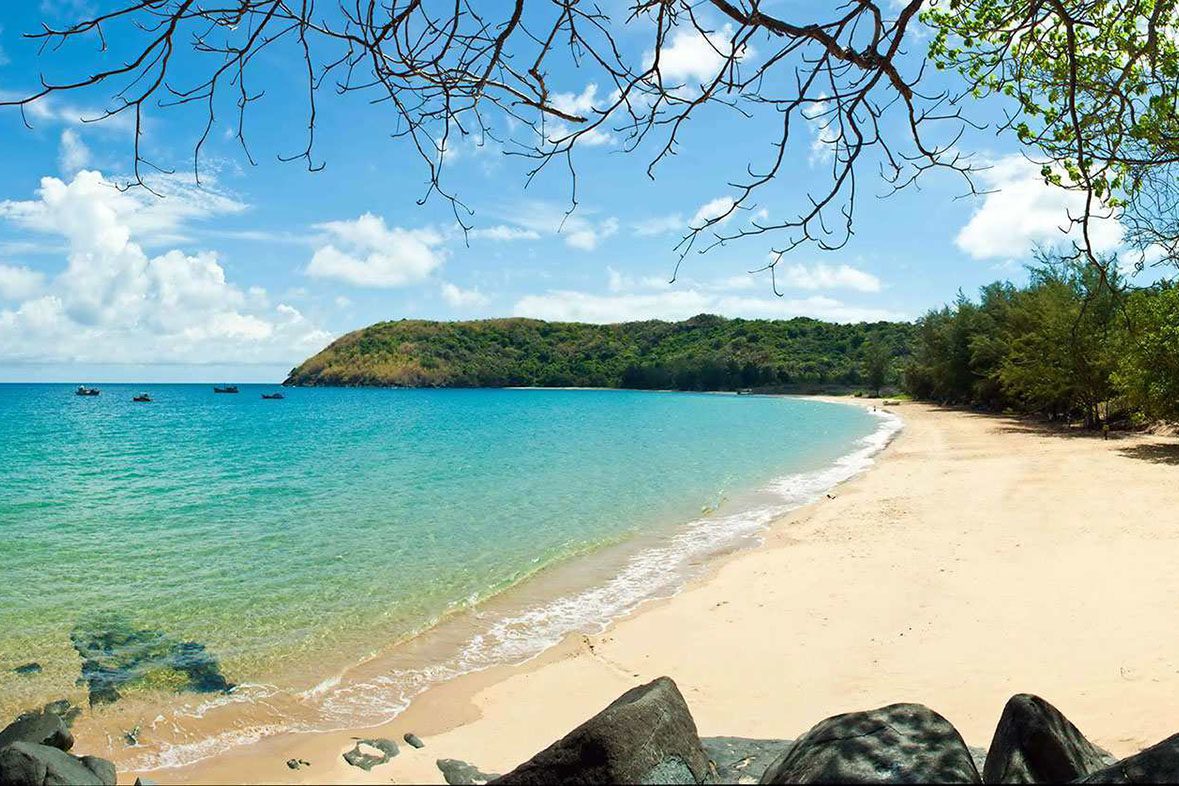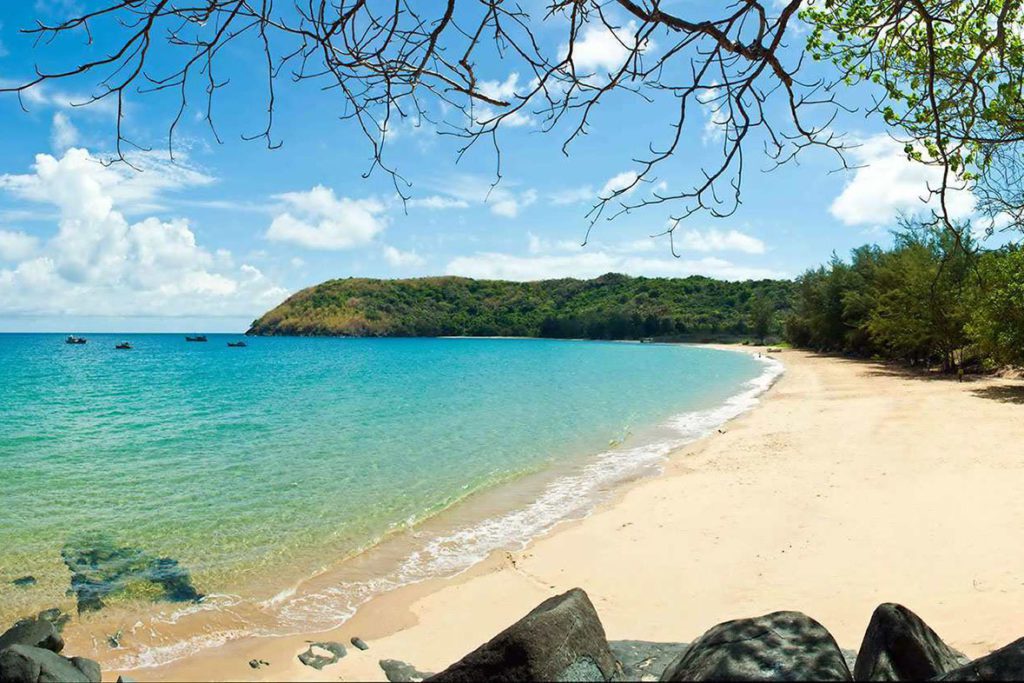 Dam Trau beach in Con Dau
The beach is located near a marine reserve, making it an ideal spot for snorkeling or scuba diving. The coral reefs are teeming with colorful marine life, and you may be fortunate enough to observe sea turtles or other rare marine species. Wildlife preservation is a priority in Con Dao, and numerous local initiatives aim to protect endangered species. You can learn more about these efforts and even participate in preservation programs if you wish.
Contact us for organizing your beach extension tour in Vietnam
Sorry, the comment form is closed at this time.