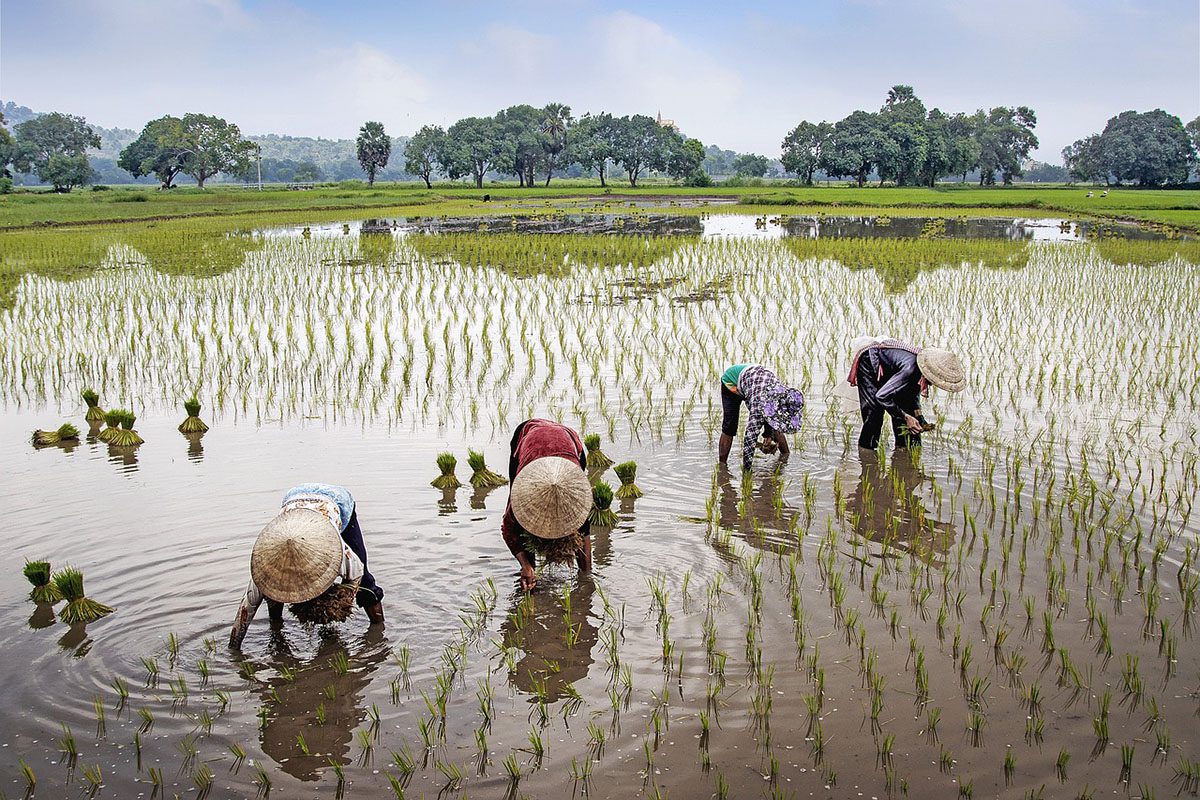 Weather in Northern Vietnam: everything you need to know
Northern Vietnam is a stunning region that offers an enchanting mosaic of landscapes, cultures, and unique experiences. This part of the country is renowned for its majestic mountains, terraced rice fields, vibrant ethnic markets, preserved traditional villages, and, of course, its historical capital, Hanoi. Travelers exploring Northern Vietnam are rewarded with immersion in a fascinating culture and breathtaking natural beauty.
Northern Vietnam is also home to numerous ethnic minorities, each with its own customs and traditions. Visitors have the unique opportunity to experience these rich cultures by sharing meals with local residents, participating in traditional festivals, and admiring local craftsmanship.
Choosing the ideal season for your trip to Northern Vietnam is essential to ensure a memorable experience. The climate varies significantly throughout the year, which can have a significant impact on your activities and comfort. Additionally, Vietnam is a vast country, and weather conditions can differ considerably between the North, Central, and South.
To fully enjoy your trip and avoid inconveniences related to unexpected weather conditions, it is imperative to plan according to the season. Each season has its advantages and disadvantages, and the choice will depend on your personal preferences regarding climate and activities.
Feel free to contact us to plan your trip.
Table des matières de l'article
North Vietnam has four seasons
Due to its diverse geography and long stretch from north to south, Vietnam experiences a variety of climates. Northern Vietnam, in particular, has four distinct seasons, each with its own characteristics:
Summer (Mid-May to late August): Summer in Northern Vietnam is characterized by high temperatures and marked humidity. Temperatures often exceed 35 degrees, making it a very hot season. However, it is also the ideal period to explore mountainous regions as hiking trails are accessible, and terraced rice fields are lush green. It is advisable to stay well-hydrated during this time.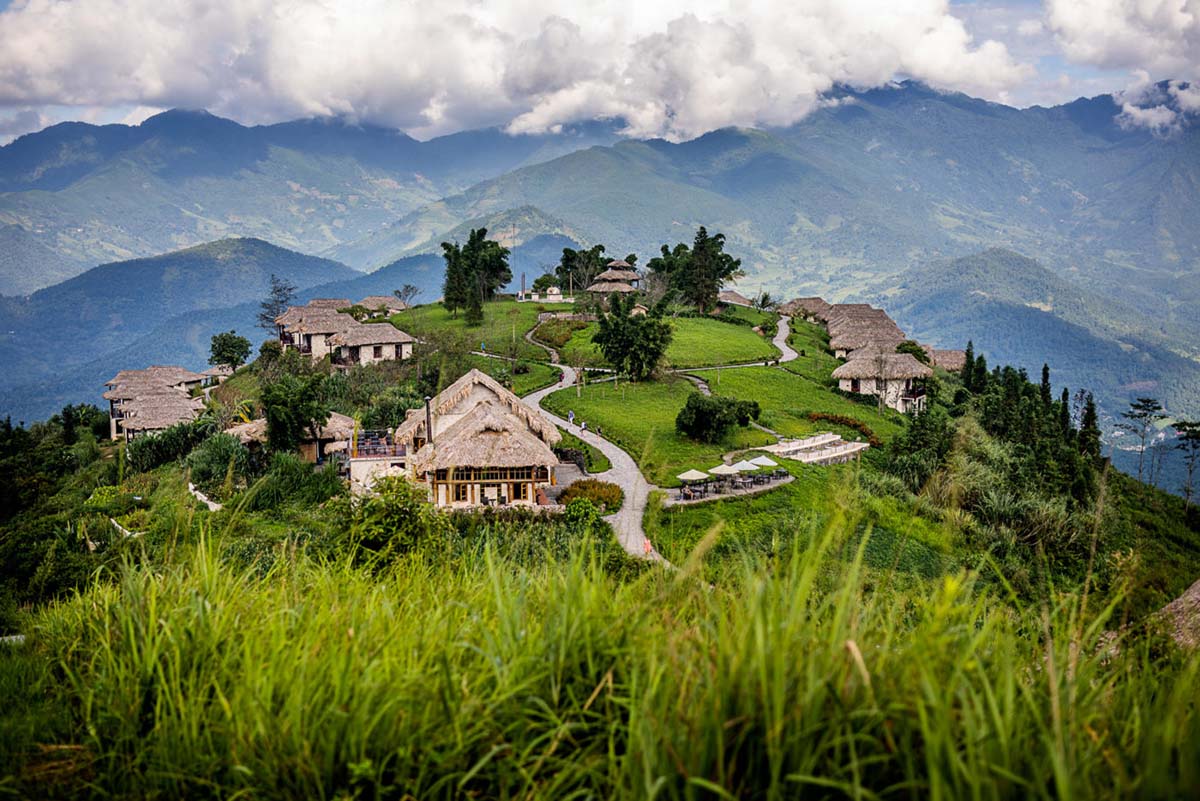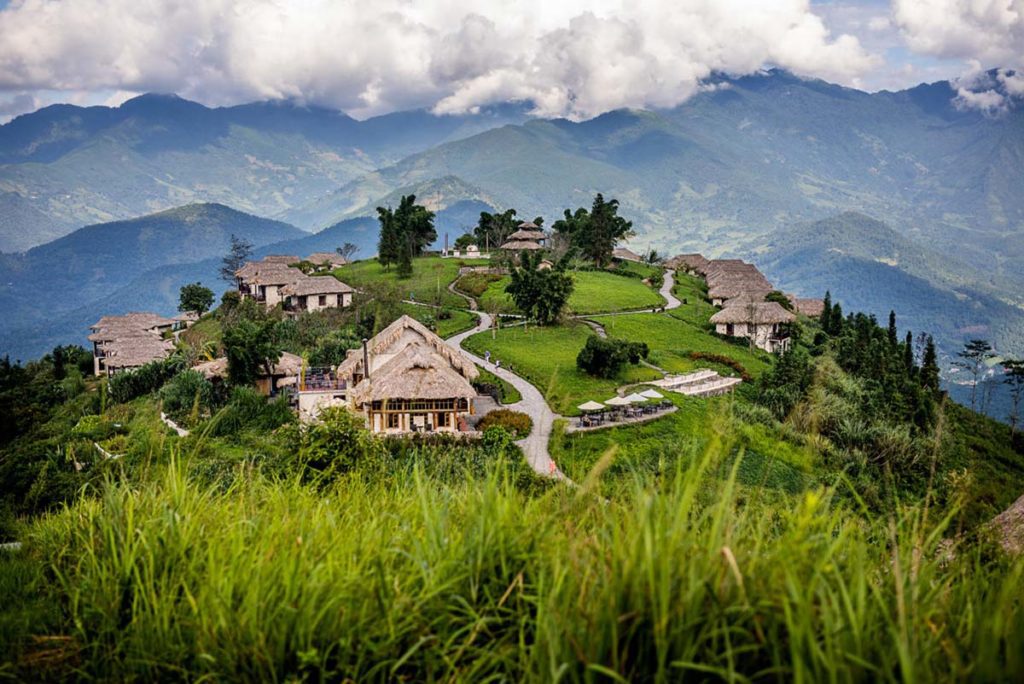 Rice fields in Sapa during summer.  
Fall (Mid September to late November): Autumn is often considered the best season to travel in Northern Vietnam. The temperatures are milder, with sunny days and cool nights. It is also the harvest season when terraced rice fields are at their peak of beauty, offering spectacular landscapes.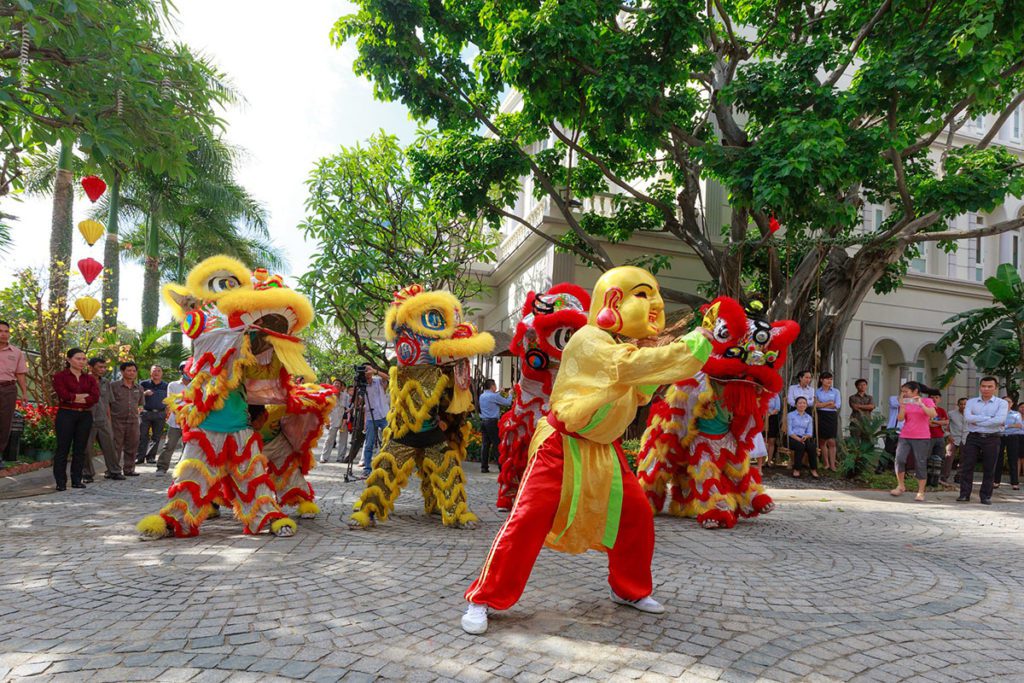 Mi-autumn festival celebration, Hanoi 
Winter (Early December to late February): Winter is a cool and dry season in Northern Vietnam. Temperatures can drop significantly, especially in the mountainous regions, where it may even snow. It is an ideal period for travelers who enjoy cooler temperatures and want to partake in traditional festivals.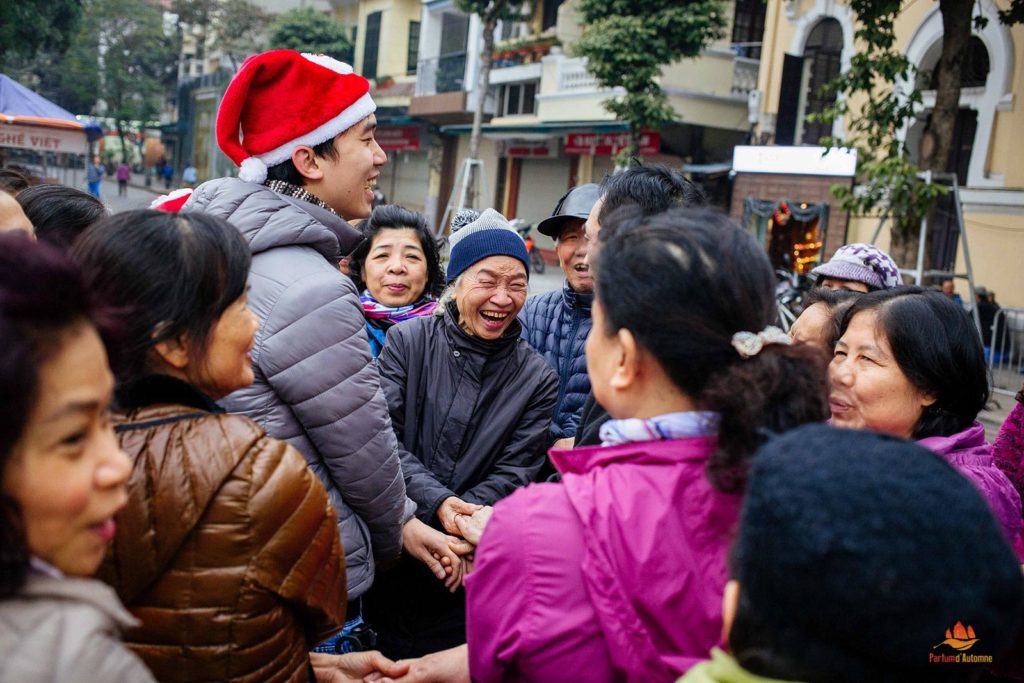 Yoga du rire en hiver à Hanoi, Vietnam. Crédit : Mathieu Arnaudet 
Spring (March to mid-May): Spring brings renewal to Northern Vietnam, with mild temperatures and lush vegetation. Cherry blossoms are a major attraction, and outdoor activities are very enjoyable during this time. It is the peak tourist season for Francophone visitors. However, the month of March is often rainy, which can somewhat affect vacation plans!
Climate variations in Northern Vietnam
Northern Vietnam is a vast and geographically diverse region, resulting in significant climate variations from one area to another. Here are some notable differences:
Coast and Red River Delta: Coastal areas, including Ha Long Bay, have a slightly milder climate due to the influence of the Gulf of Tonkin. Temperatures are generally cooler, but humidity can be high.
Northwest Mountainous Regions: The Northwest mountains, such as Sapa, are known for their cool temperatures, especially in winter. There can be significant temperature variations between day and night.
Hanoi: The capital, Hanoi, experiences a typical continental climate with hot and humid summers, cool and dry winters, and a pleasant transition during the fall and spring.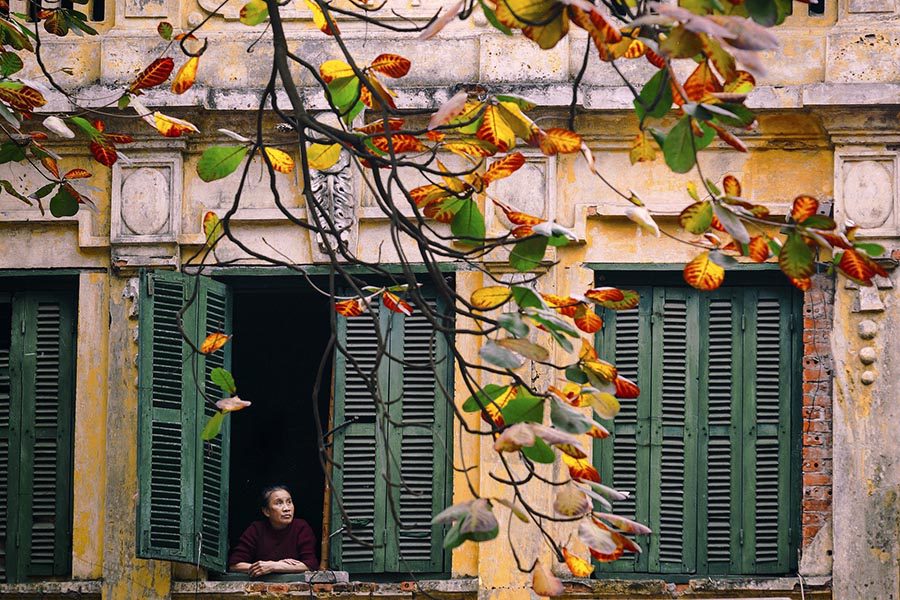 Autumn colors in Hanoi, Vietnam
Mountain and coastline areas
The mountainous regions of Northern Vietnam, such as Sapa and Mai Chau, offer unique travel experiences with picturesque landscapes, but they are cooler in winter. On the other hand, coastal regions, notably Ha Long Bay, have more moderate temperatures but may experience seasonal precipitation.
It is crucial to consider these climate variations when planning your trip to Northern Vietnam, as they will impact the activities you can plan and the clothing you'll need to bring. The choice of season and region to visit will depend on your personal preferences regarding climate and travel experiences.
Now, let's describe each season in Northern Vietnam one by one.
Summer in Northern Vietnam
From June to August : summer time characteristics 
Summer in northern Vietnam is a period marked by distinct climatic conditions.
Key features of this season:
Hot and humid climate: Temperatures soar, often reaching over 35 degrees Celsius. Humidity is also high, making the atmosphere stifling.
Seasonal rains: It is the rainy season in northern Vietnam, although the intensity of precipitation may vary across regions. Expect occasional, sometimes torrential, showers that refresh the air.
Advantages of summer for travelers 
Despite the weather conditions, summer in northern Vietnam offers several benefits to travelers:
Green terraced rice fields: Terraced rice fields are at their peak during the summer, creating spectacular landscapes and unique photography opportunities;
Mountain hiking: Mountainous areas such as Sapa and Ha Giang are accessible, allowing travelers to go hiking and explore ethnic villages;
Cruises in Ha Long Bay: If you plan to visit Ha Long Bay, summer is a suitable season for a cruise, as pleasant temperatures will allow you to fully enjoy this natural wonder.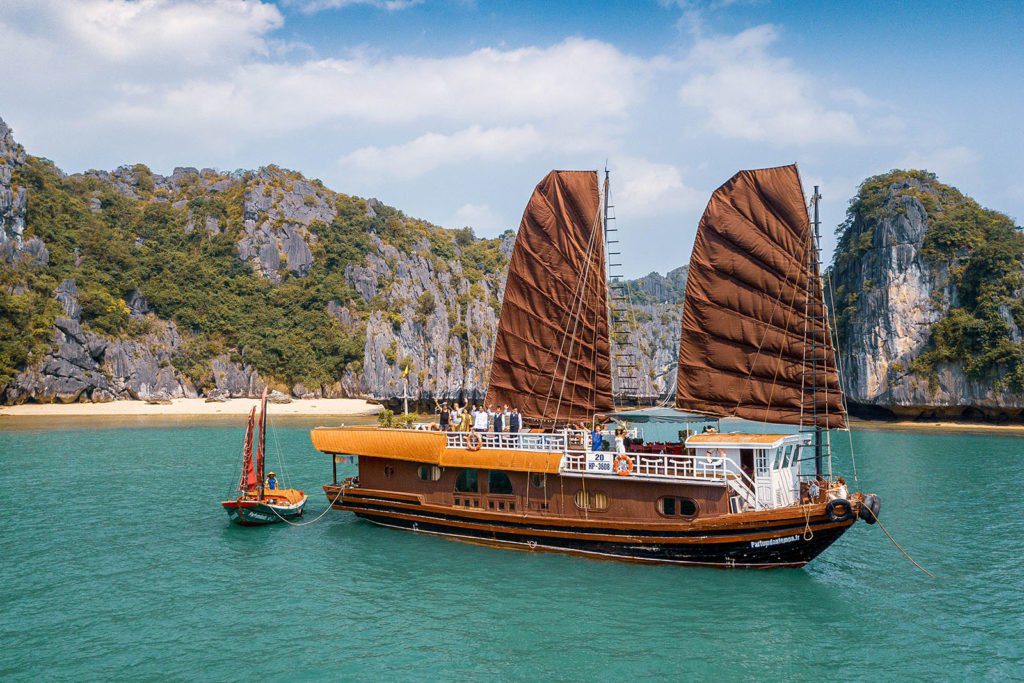 Our Four Seasons junk during summer. 
The disadvantages of summer in Northern Vietnam
It is important to consider the potential drawbacks of summer in northern Vietnam:
Heat and humidity: High temperatures and humidity can make days uncomfortable, especially for travelers not accustomed to the heat. It is essential to stay hydrated and protect oneself from the sun.
Sudden rains: Showers can be sudden and intense, sometimes causing temporary flooding. It is advisable to carry a raincoat or umbrella.
Tourist crowds: Summer is a peak tourist season, especially for Vietnamese travelers whose children are on vacation. This can lead to higher prices, early booking recommended, and more crowded tourist sites.
Fall in Northern Vietnam 
Autumn in Northern Vietnam extends from September to November, providing pleasant weather and unique experiences. Here's what you can expect from this season:
Mild climate: Temperatures are mild, with sunny days, cool nights and less pollution. It's an ideal time to enjoy the outdoors.
Less rain: The monsoon rains gradually subside, giving way to drier conditions.
The must-do activities during fall 
Autumn in Northern Vietnam offers many must-visit attractions, including:
Terraced rice fields: in some regions, autumn is the harvest season, providing beautiful landscapes with golden rice fields ready to be harvested. This creates truly special panoramas, where the rice fields shine under the gentle autumn sun.
Festivals: This season is marked by traditional festivals such as the Mid-Autumn Festival (Tết Trung Thu), offering a unique opportunity to experience Vietnamese culture.
Mountain hikes: Conditions are ideal for mountain hiking, with well-maintained trails and breathtaking panoramas.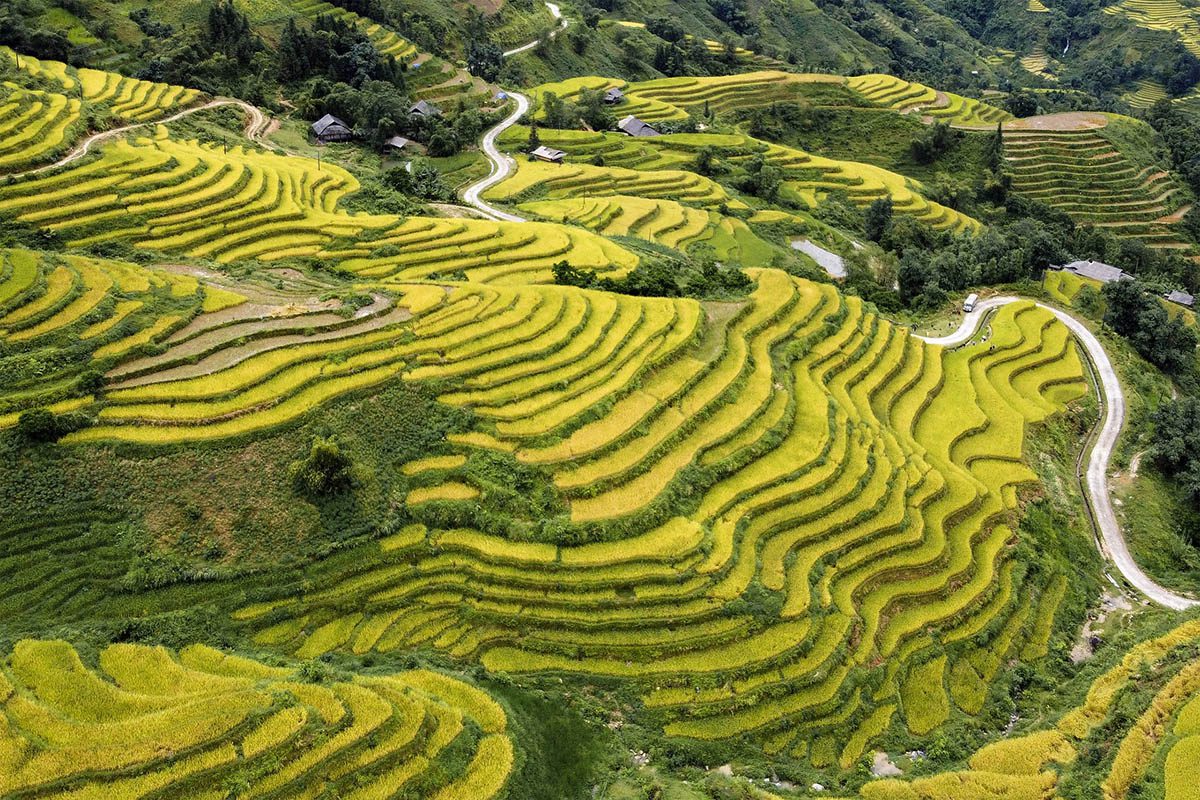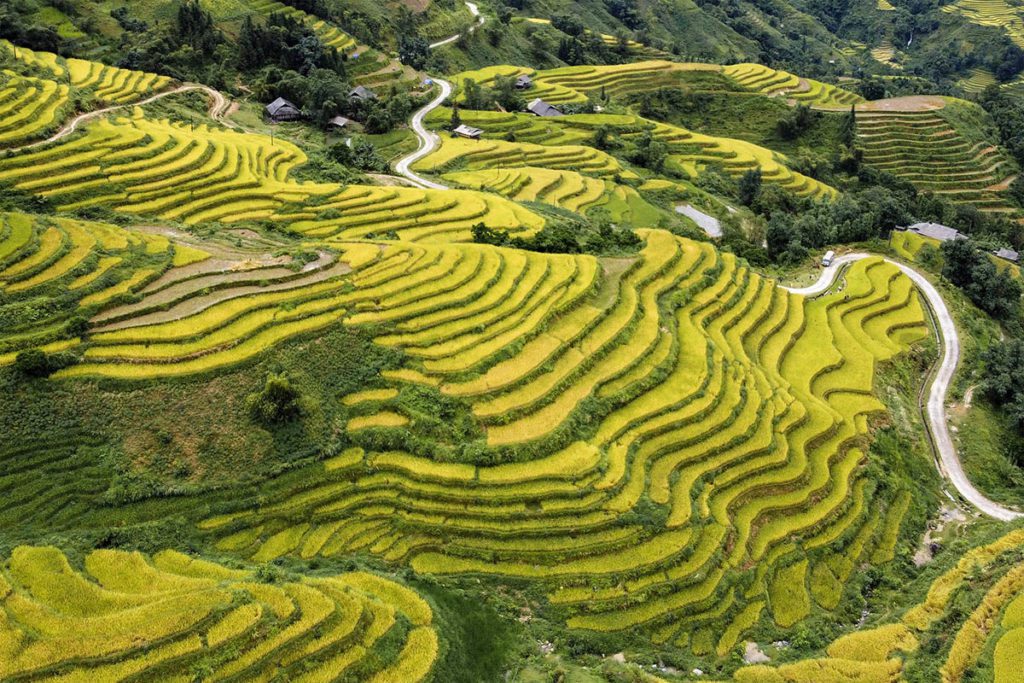 Rice fields in Hoang Su Phi early October. Crédit : Mathieu Arnaudet
Tips to make the most of autumn in the North
To fully enjoy autumn in Northern Vietnam, consider the following tips:
Book early: as autumn is a popular time, it is advisable to book your accommodations and tours in advance.
Bring lightweight and warm clothing: Days can be warm, but nights may be cool, so pack appropriate clothing.
Join festivals: If your trip coincides with a local festival, don't hesitate to attend for a unique cultural experience.
Winter in Northern Vietnam
From December to February : the charming time of winter 
Winter in Northern Vietnam, from December to February, brings a distinctive atmosphere with features that add a particular charm to the region:
Cool and dry climate: Temperatures drop significantly, with cold nights and cool days. The climate is generally dry.
Possibility of snow: In some mountainous regions, such as Sapa, it is possible to see snow, creating enchanting landscapes.
Winter festivals and events: The Lunar New Year, Tết, immediately comes to mind, which is often associated with the arrival of spring but is, in reality, often cool, even cold. It is an exceptional opportunity to explore Vietnamese culture. Many other local festivals take place in winter, providing travelers with the opportunity to participate in traditional celebrations. For example, the traditional New Year among the Hmong people usually occurs shortly after the Lunar New Year.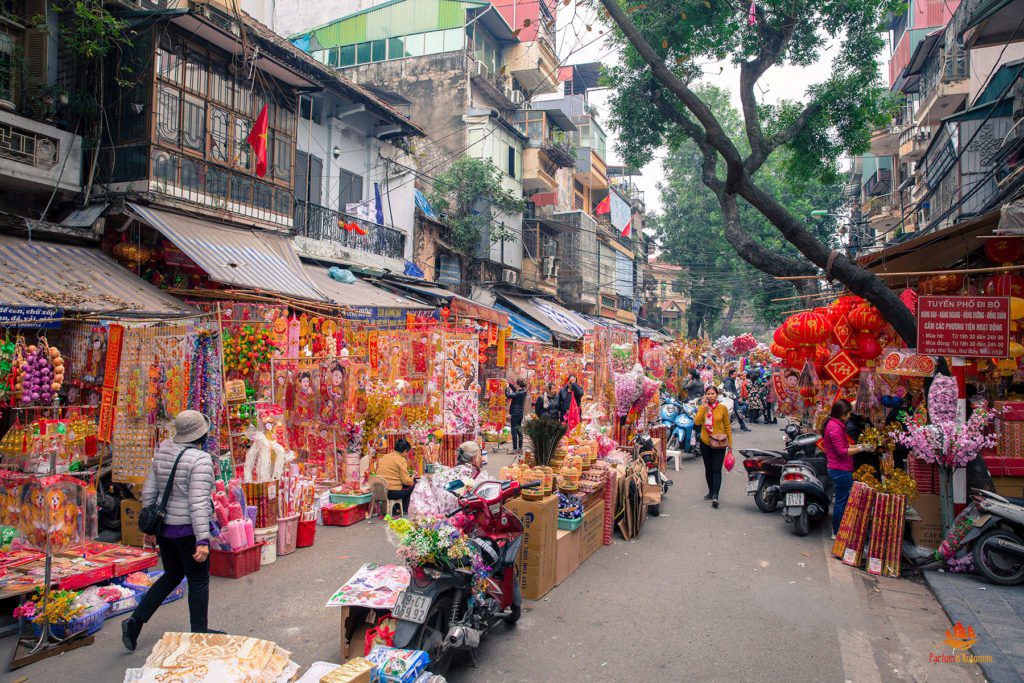 Colorful Hang Ma street in Hanoi before Têt holidays. Credit : Mathieu Arnaudet 
Get prepared for winter
If you're planning a trip to Northern Vietnam in winter, here are some tips to prepare:
Warm clothing: Make sure to bring warm clothing, including coats, scarves, and gloves, especially if you're visiting mountainous areas.
Book in advance: As winter is a popular travel season due to festivals, especially approaching Tết (mid-January to mid-February), it's advisable to book your accommodations and transportation in advance.
Participate in celebrations: Take advantage of local festivals for an authentic cultural experience.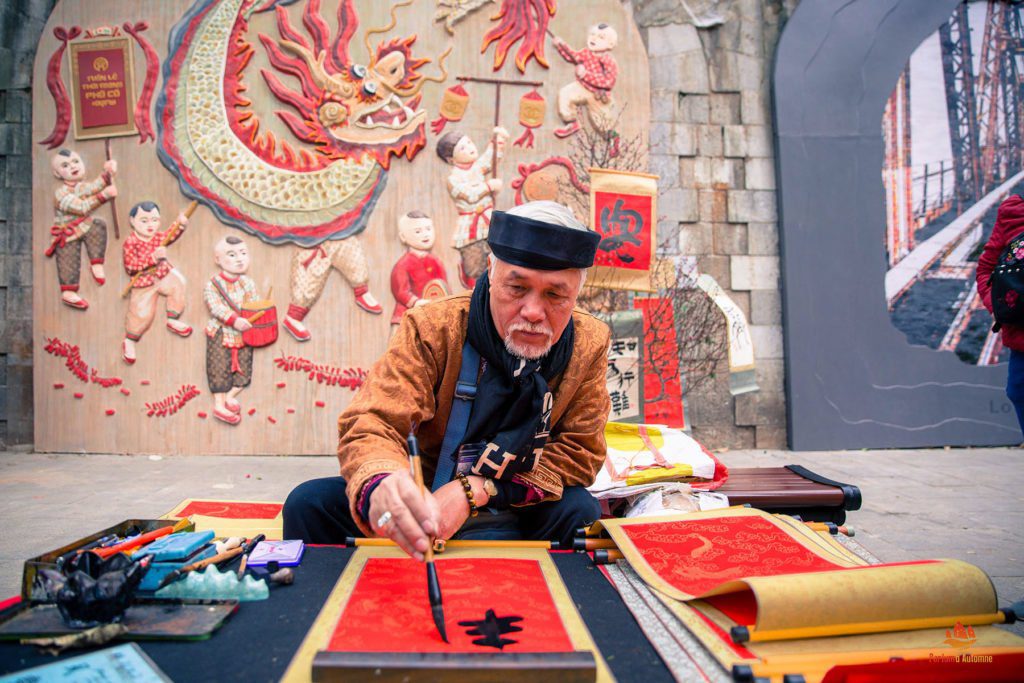 A calligrapher in the streets of Hanoi during Tết. Crédit : Mathieu Arnaudet
Spring in Northern Vietnam
From March to May : a renewal moment
Spring in Northern Vietnam, from March to May, is a season of renewal and natural beauty. Here's what you can expect:
Pleasant climate: Temperatures are mild, with sunny days and cool nights. The weather is ideal for outdoor activities.
Blooming fruit trees: Landscapes adorned with blooming fruit trees are a paradise for photographers, whether professional or amateur. The fleeting beauty of these blossoms creates opportunities for unforgettable shots, capturing the magic of spring in Vietnam.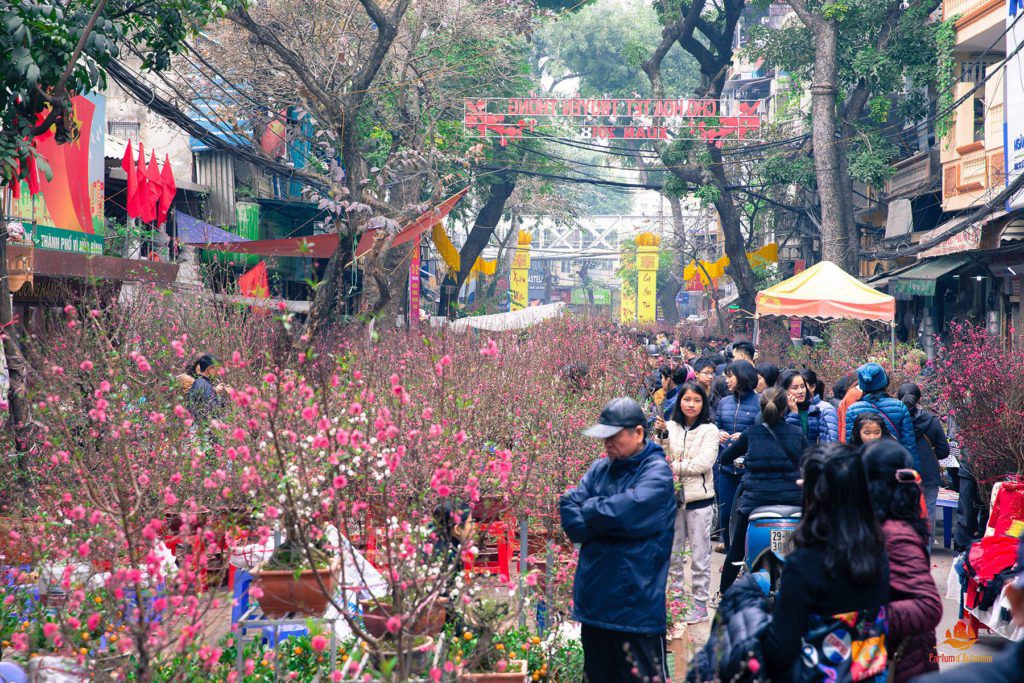 Peach blossoms for sale on the streets of Hanoi. Crédit : Mathieu Arnaudet 
Recommended outdoor activities
Spring is an ideal season for outdoor activities in Northern Vietnam:
Hiking: The pleasant weather makes mountain hikes and countryside explorations particularly appealing.
Visit local markets: Explore lively markets to discover seasonal produce and local crafts.
How to choose the best season for your trip in Northern Vietnam ?
Personal considerations : weather preference, tolerance to heat or cold
When choosing the best season for your trip to Northern Vietnam, it is essential to consider your personal climate preferences. Ask yourself the following questions:
Do you like heat, or do you prefer cooler temperatures? If you enjoy warm climates, summer may be an appealing option, but if you prefer milder temperatures, fall or spring might be more suitable.
Are you comfortable with humidity? Summer in Northern Vietnam is hot and humid, which can be uncomfortable for some people. If you struggle with humidity, consider traveling during fall or spring when the air is drier.
Can you tolerate the cold? If you are willing to endure the cold, winter can be a fascinating time to visit mountainous regions.
The activities you want to do 
The choice of the season also depends on the activities you plan to do during your trip:
Mountain hiking: If you are a hiking enthusiast, fall and spring offer ideal conditions with mild temperatures for exploring mountain trails.
Photography: If you are an amateur or professional photographer, summer and fall, with the terraced rice fields displaying vibrant colors, will likely be the best seasons.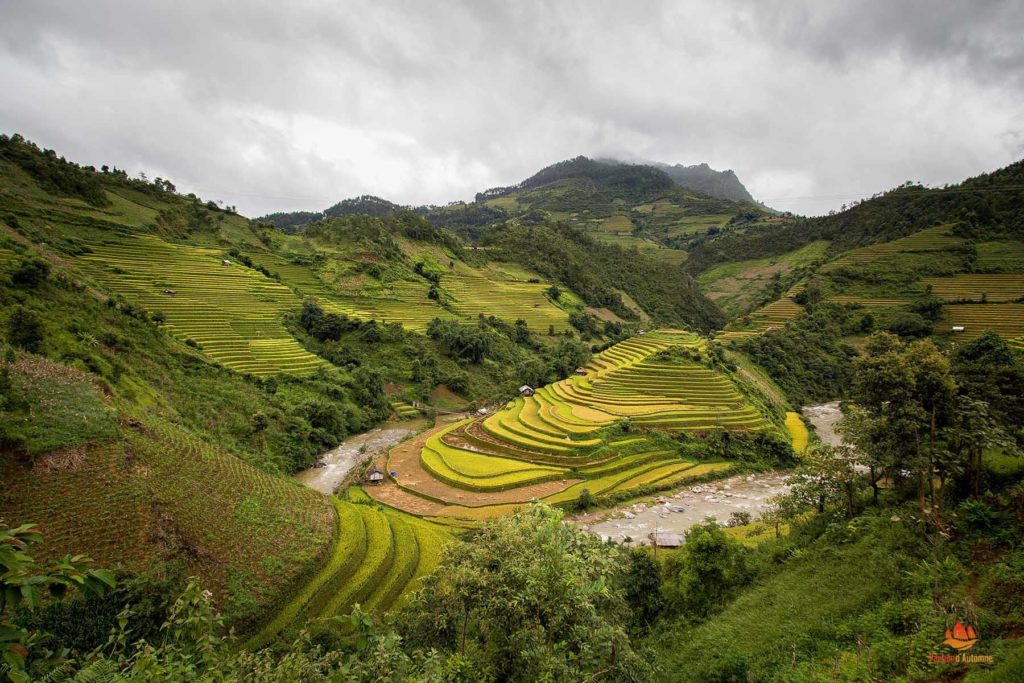 Rice fields in Mu Cang Chai before harvest. Crédit : Mathieu Arnaudet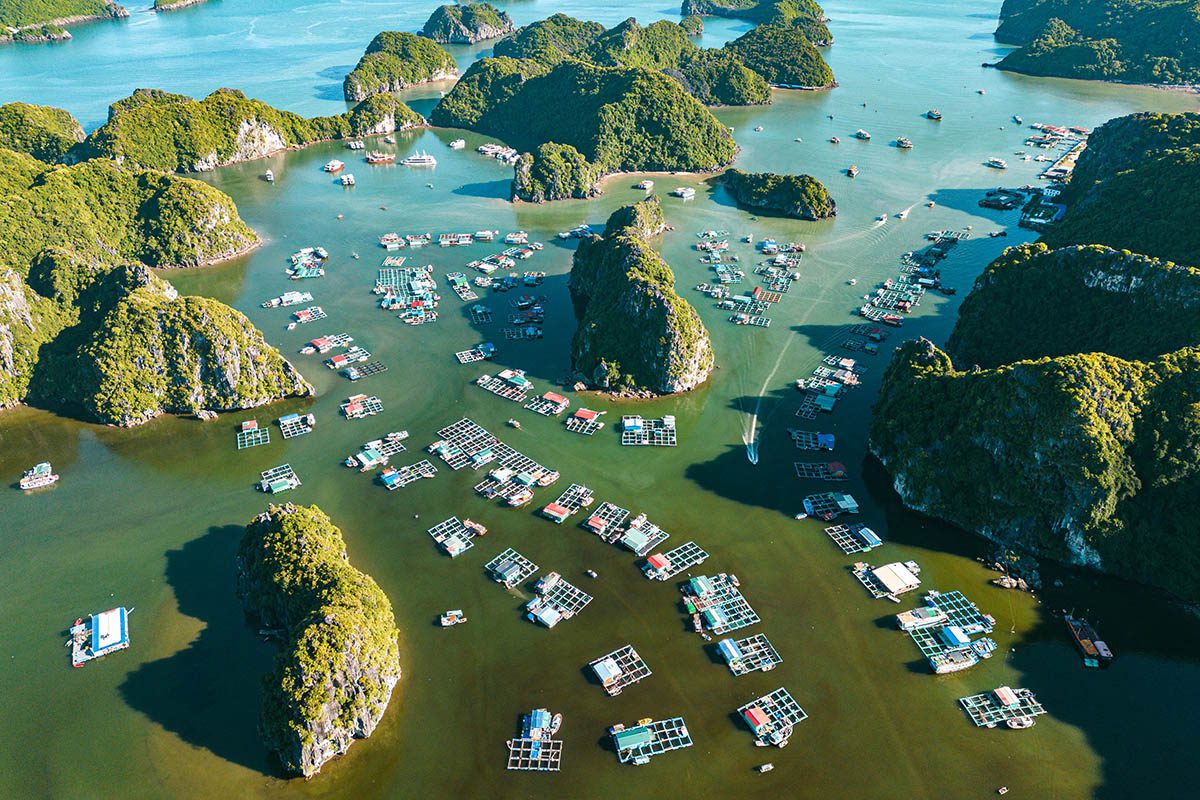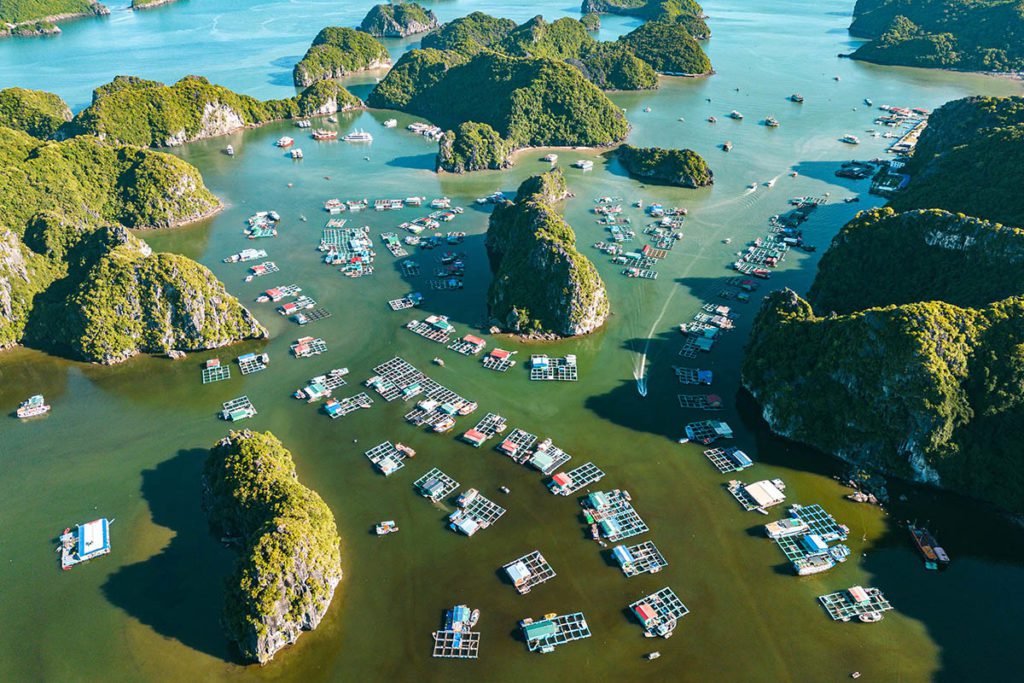 Lan Ha bay in autumn. Crédit : Mathieu Arnaudet 
Budget and touristic affluence 
Seasonal fluctuations in budget and tourist crowds can also influence your choice:
Budget: Generally, the high tourist season, often corresponding to summer and certain holiday periods, can be more expensive in terms of accommodation, airfare, and other expenses. If you have a limited budget, consider traveling during the low season (September and October).
Tourist Crowds: The high season attracts more tourists, which can lead to busier tourist sites and the need for early bookings. If you prefer a more peaceful experience, the low season may be a wise choice. To enjoy Ha Long Bay, we advise against summer, from June to the end of August.
Northern Vietnam is full of natural beauty, fascinating cultures, and unique experiences throughout the year. Whatever season you choose, exploring this region promises unforgettable memories. Whether it's mountain adventure, discovering local culture, or contemplating spectacular landscapes, there's always something exceptional to experience in northern Vietnam.
Remember that, regardless of the chosen season, good preparation is essential to ensure a pleasant and hassle-free trip. Be sure to consider your climate preferences, the activities you want to undertake, and your budget. Book your accommodations in advance if necessary, and be ready for a rewarding adventure in the heart of Northern Vietnam.
We hope this article has provided you with useful information to plan your trip and inspired you to discover this beautiful region in a way that suits your tastes and expectations.
Safe travels!
Don't hesitate to contact us for your trip in Northern Vietnam
Sorry, the comment form is closed at this time.