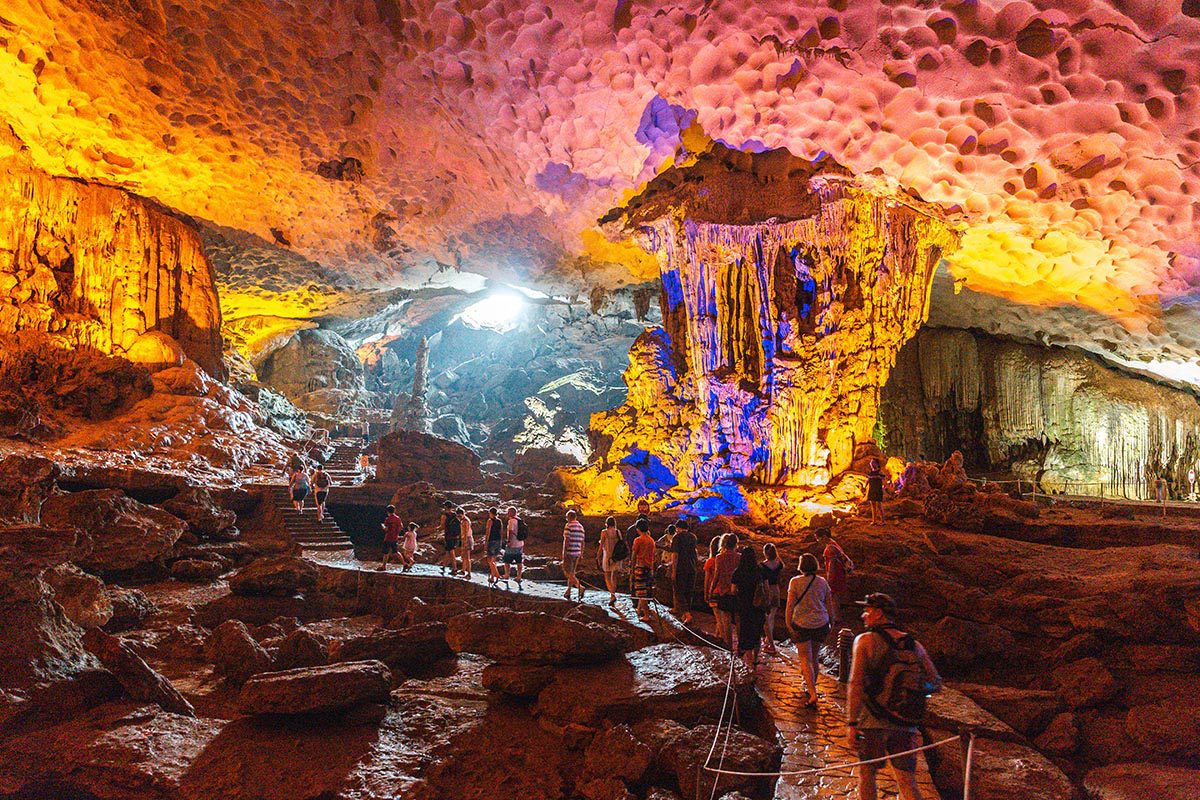 The must-see caves in Vietnam
Sung Sot cave (Halong bay)
Among the hidden gems of Halong Bay, Sung Sot Cave (or "Surprise Cave") stands out as a sparkling pearl to explore. Nestled in the heart of one of the world's most beautiful bays, this cave is renowned for its breathtaking rock formations and vast chambers naturally illuminated. It's a microcosm of geological beauty and a testament to the magic of nature.
Discovery and public opening 
Sung Sot Cave was discovered by the French in 1901, whom they named the 'Surprise Cave,' probably due to the awe-inspiring beauty they must have felt when they encountered it. It wasn't until 1993, just a year before UNESCO recognized the central area of Halong Bay as a World Natural Heritage Site, that the cave welcomed its first visitors. Since then, it has been repeatedly acknowledged and celebrated, even making it onto the list of Vietnam's most beautiful caves compiled by CNN's travel magazine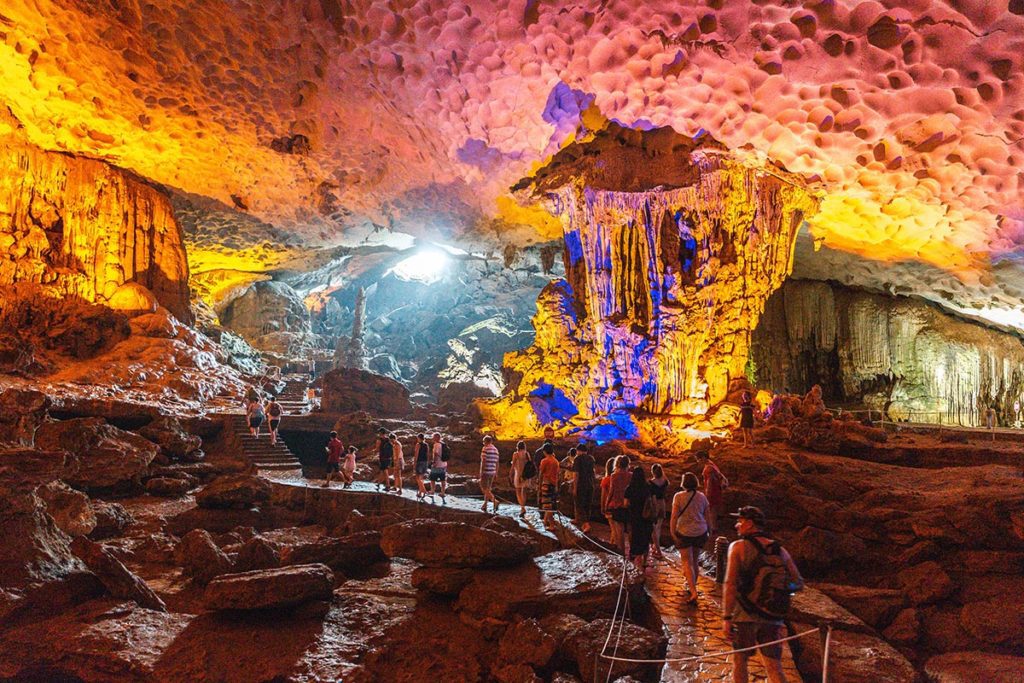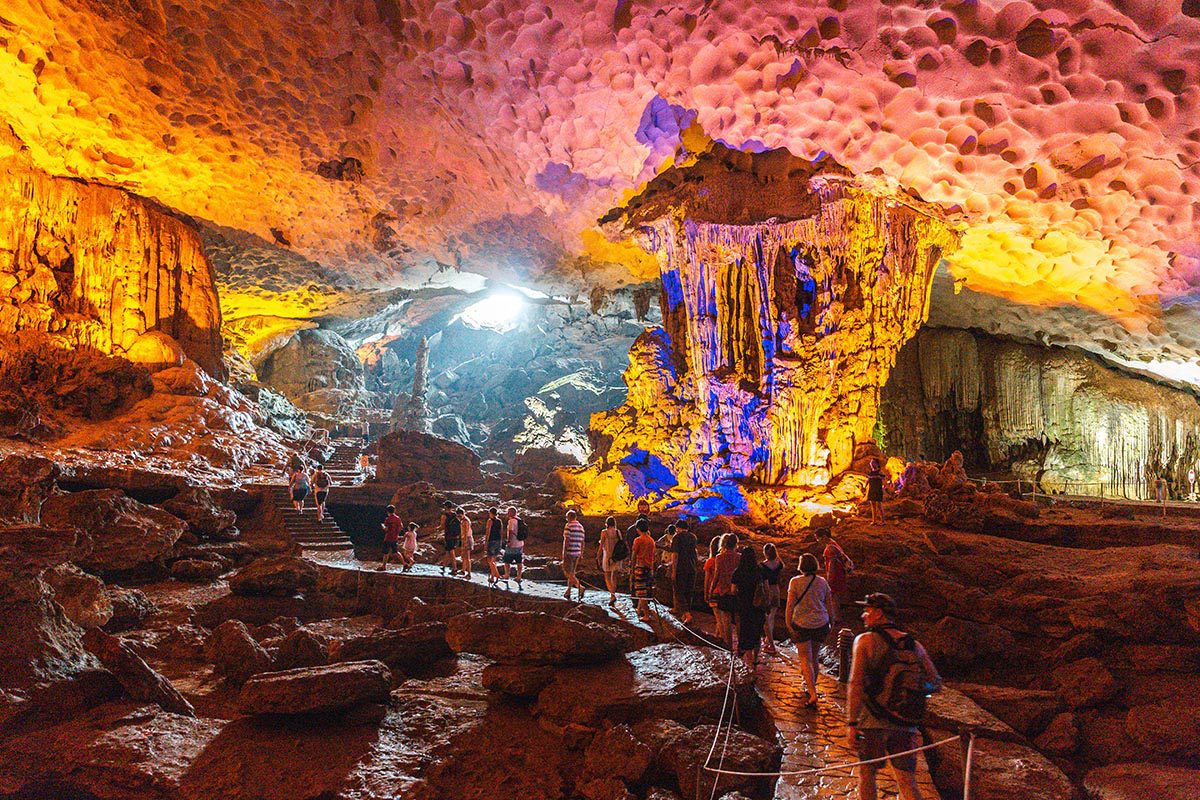 Sung Sot cave in Halong bay. Crédit : Mathieu Arnaudet
Location and what to see inside
The cave is located on Bo Hon Island, alongside another popular cave in Halong, Trinh Nu. From the pier, visitors must climb 50 steps to the cave entrance, which is 25 meters above sea level.
Sung Sot Cave is divided into two chambers; the first chamber, known as the 'Waiting Room,' is spacious, adorned with stalagmites and stalactites, and illuminated by multicolored lights strategically placed to highlight the structural beauty of the chamber.
To access the second chamber, visitors must traverse a narrow passage. The second chamber is called the 'Serene Castle.' This chamber is vast and majestic, with an extremely high ceiling and many interesting rock formations that locals identify by comparing them to animals due to their shapes.
How to get there ? 
There are two ways to visit Sung Sot Cave:
Option 1
For tourists with limited travel time who wish to include only Sung Sot Cave in their itinerary, the best option is to rent a speedboat. Most of them are docked at Tuan Chau and Hon Gai piers. The cost typically starts from $50 USD per hour for a 4 to 8-passenger boat.
Option 2
Alternatively, a more convenient and cost-effective option to visit Sung Sot Cave is to take a 6-hour day cruise.
Sung Sot Cave is part of the itinerary 2 for day cruises departing from the Tuan Chau International Port, visiting consecutively: Soi Sim Island – Titop Island – Sung Sot Cave – Bo Nau Cave – Luon Cave – Fairy Lake Cave – Trinh Nu Cave – Me Cung Cave. Visitors have the opportunity to explore the caves, swim, kayak, and enjoy the bay's scenery from the boat.
The price for this half-day tour is approximately 290,000 VND per person. In addition, tourists must pay a boat rental fee of 200,000 VND and 150,000 to 250,000 VND for lunch (optional). The total price will be in the range of 640,000 VND to 740,000 VND per person.
As you can see, Sung Sot Cave is just one of the many underground wonders that dot Halong Bay. Among these hidden treasures is also Trinh Nu Cave, which tells a timeless love legend through its delicate rock formations. Furthermore, Dong Thien Cung Cave amazes with its rooms adorned with fairy-like stalactites and stalagmites
Son Doong cave (Phong Nha Ke Bang)
Located in the heart of Phong Nha-Ke Bang National Park, Son Doong Cave is simply one of the most breathtaking underground wonders in the world. Its relatively recent discovery and status as the largest known cave on the planet make it a legendary destination for intrepid (and wealthy!) explorers.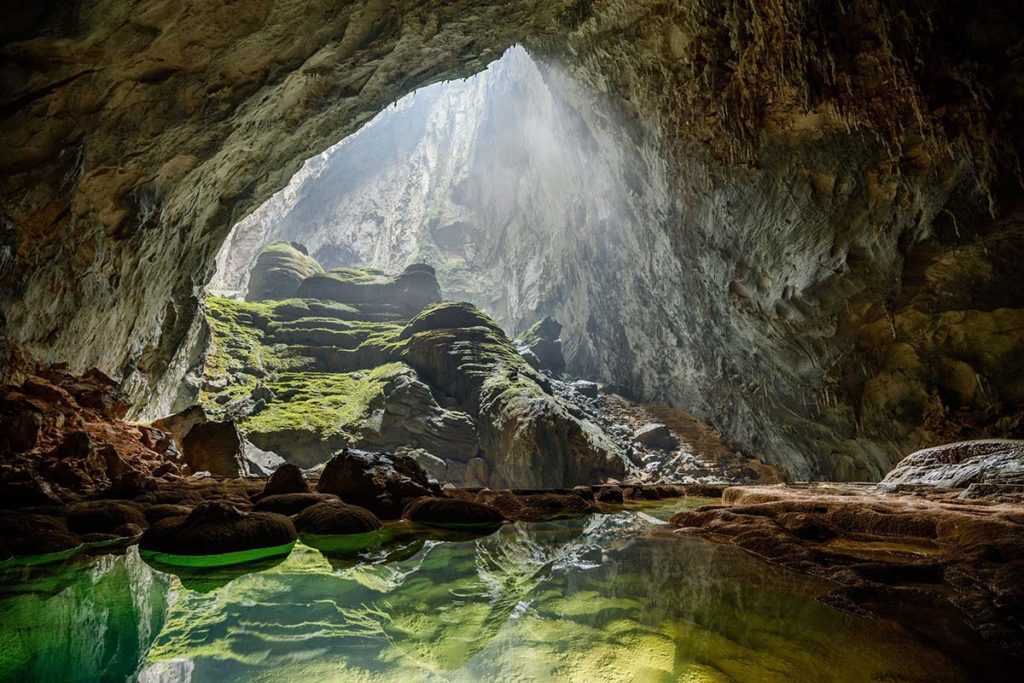 Iconic photo of Son Doong cave
Son Doong discovery
Imagine yourself venturing into the darkness of Son Doong, the soft glow of your headlamp gradually revealing breathtakingly vast caverns. These expansive underground spaces seem almost unreal, adorned with rock formations sculpted by time and the elements. Stalactites, hanging like mineral jewels, and stalagmites rising from the ground in mystical formations, evoke a fairy-tale world.
The experience of navigating through winding passages, admiring immense chambers, and hearing the murmur of the underground river provides a glimpse into the mysteries and hidden beauty of the Earth.
Visiting experience 
The accounts of travelers and experts who have had the privilege of treading the ground of Son Doong are unanimous: the experience is profoundly transformative. They share moments of wonder in the face of the cave's grandeur and complexity, moments of fascination in discovering unique mineral formations, and moments of connection with raw nature.
However, it's important to note that access to Son Doong is limited due to its ecological fragility. Additionally, the cost of the experience can be high. Yet, within this reality, an opportunity emerges: Phong Nha-Ke Bang National Park is home to a multitude of other exceptional caves that offer equally stunning experiences. Son Doong Cave is just one of the stars in a constellation of underground treasures.
As you consider venturing into these depths, remember that these caves are the result of millions of years of geological activity. They are a striking reminder that the Earth carries untold stories, accessible to those who dare to explore with respect and admiration.
Practical information: Only one agency organizes tours to Son Doong Cave, and that is Oxalis. Follow this link to check their availability for their multi-day cave tour. It typically requires about a year's advance booking and a budget of $3,000 per person.
Thien Duong cave (Paradise cave) – Phong Nha Ke Bang
Also located within Phong Nha-Ke Bang National Park, Paradise Cave bears an evocative name that anticipates the wonderful experience awaiting visitors. Renowned for its near-perfect beauty, this cave is a hidden treasure within the country's natural magnificence.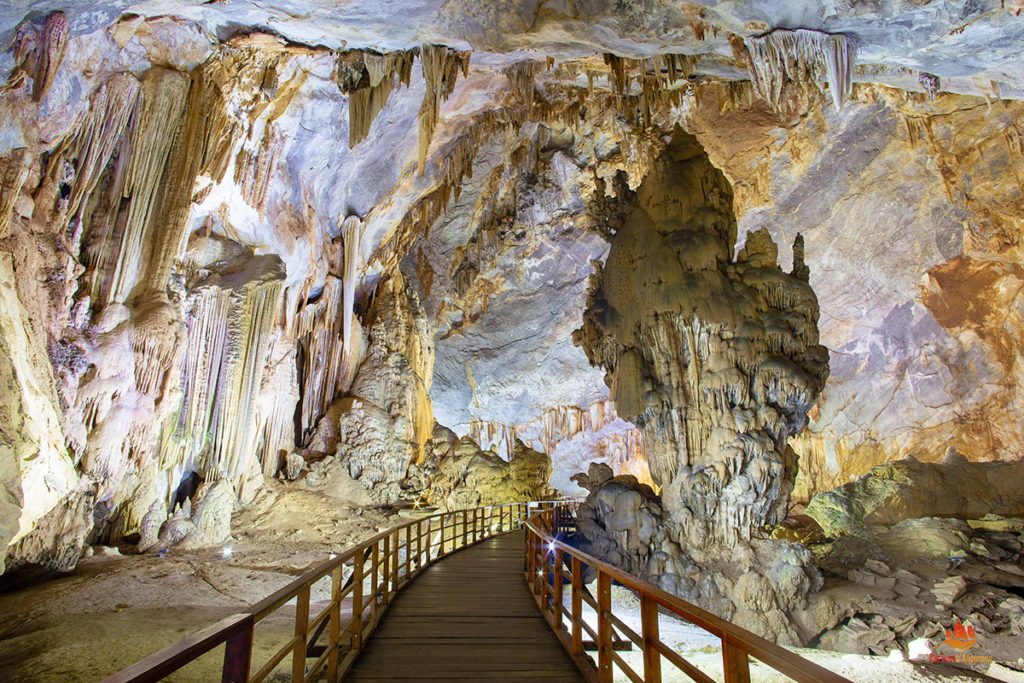 Paradise cave in Phong Nha. Crédit : Mathieu Arnaudet 
Information about the cave 
This cave is considered the longest and most beautiful cave in Phong Nha Ke Bang National Park. It stretches for over 31 kilometers and houses numerous spectacular stalactite formations. Visitors can walk through narrow passages and admire the rock formations, stalactites, and stalagmites while learning about the cave's history and geology. Thien Duong Cave also offers a unique visitor experience with a colorful lighting system that highlights the different rock formations. If you enjoy exploring caves and marveling at the wonders of nature, Thien Duong Cave is an excellent choice for your first visit to Phong Nha Ke Bang.
Visiting experience
The experience of visiting Paradise Cave is both inspiring and unforgettable. Following the carefully designed path, travelers have the opportunity to discover the most remarkable points of interest within the cave. Each turn reveals a new wonder, each chamber offers a unique perspective on the natural beauty that characterizes Paradise Cave.
For photography enthusiasts, capturing the magic of the cave can be a rewarding challenge. Playing with natural and artificial lights to highlight the details of the rock formations, capturing reflections in the calm water, and creating unique compositions allows you to capture the essence of this magical place.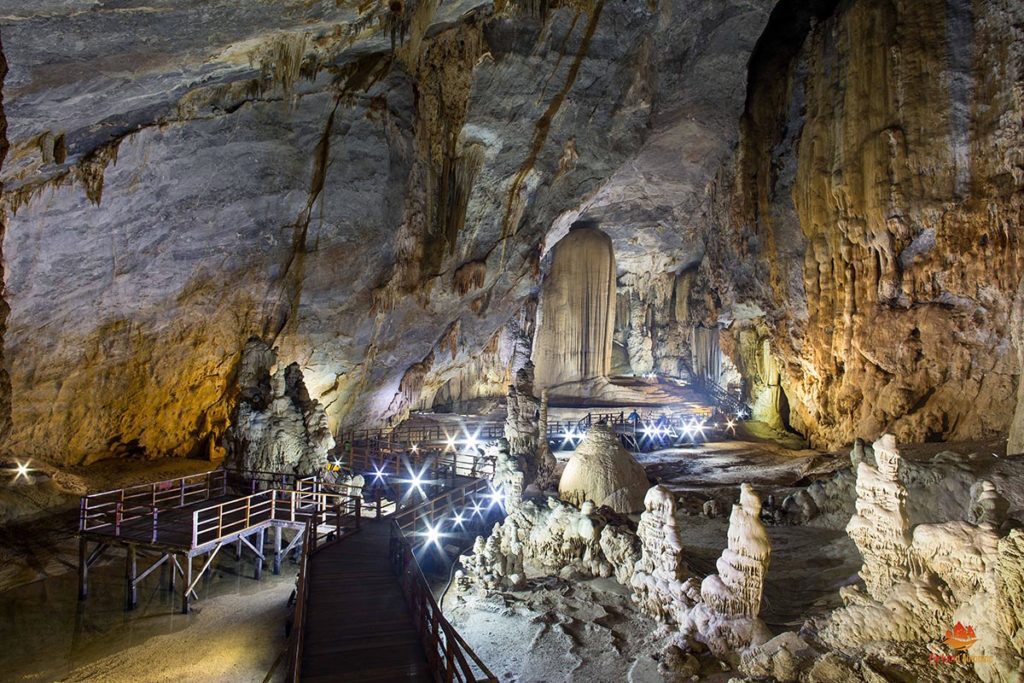 Thien Duong (Paradise) cave. Crédit : Mathieu Arnaudet 
Enjoy every moment of this experience. Take the time to contemplate the perfection sculpted by nature in Phong Nha-Ke Bang National Park and allow yourself to be imbued with the tranquility of these places. Paradise Cave offers a precious opportunity to reconnect with the Earth and lose yourself in the contemplation of its own elegance.
Phong Nha cave – Phong Nha Ke Bang 
This cave is named after the national park and is its emblem. It is over 7 km long and houses numerous stalactite and stalagmite formations. Access to it is by boat. It is possible to combine Phong Nha Cave with Tien Son Cave, which is also a popular snorkeling site. If you enjoy adventure and the discovery of new worlds, Tien Son Cave is a must-visit during your trip to Phong Nha Ke Bang.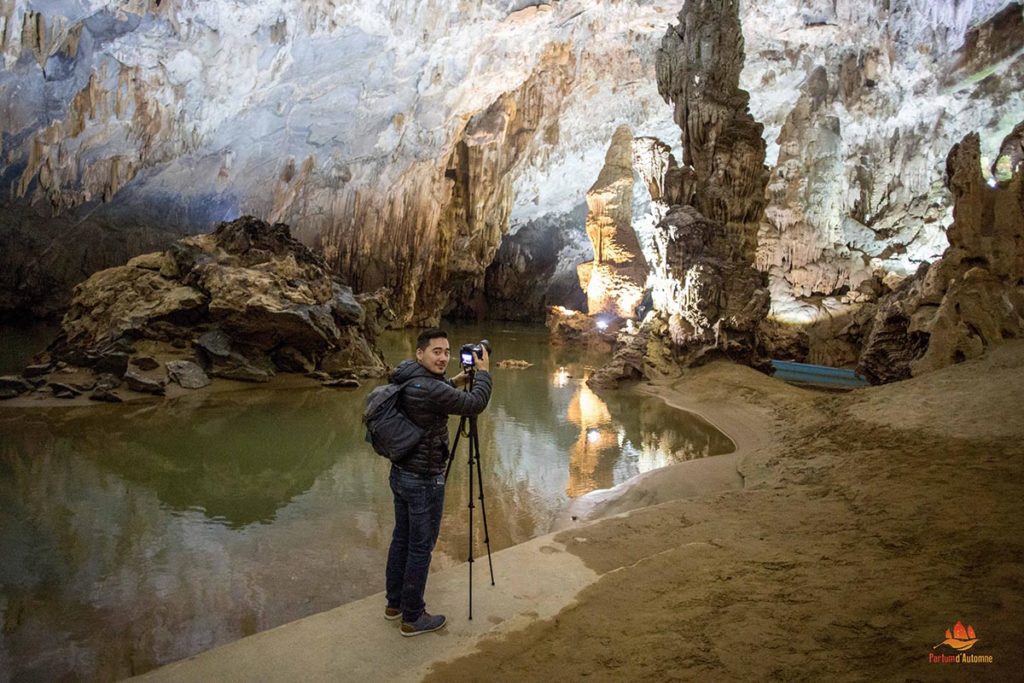 Photographing Phong Nha cave. Crédit : Mathieu Arnaudet 
Cave size 
Phong Nha Cave is 7,729 meters long, and the cave entrance has a width of 20 to 25 meters, a height of 10 meters, and a depth of 83 meters. It comprises 12 main caves and numerous connecting branches. The cave entrance widens up to 20-25 meters in width and has a height of 10 meters, resembling a large overturned bowl on the water, making it easy for boats to pass through.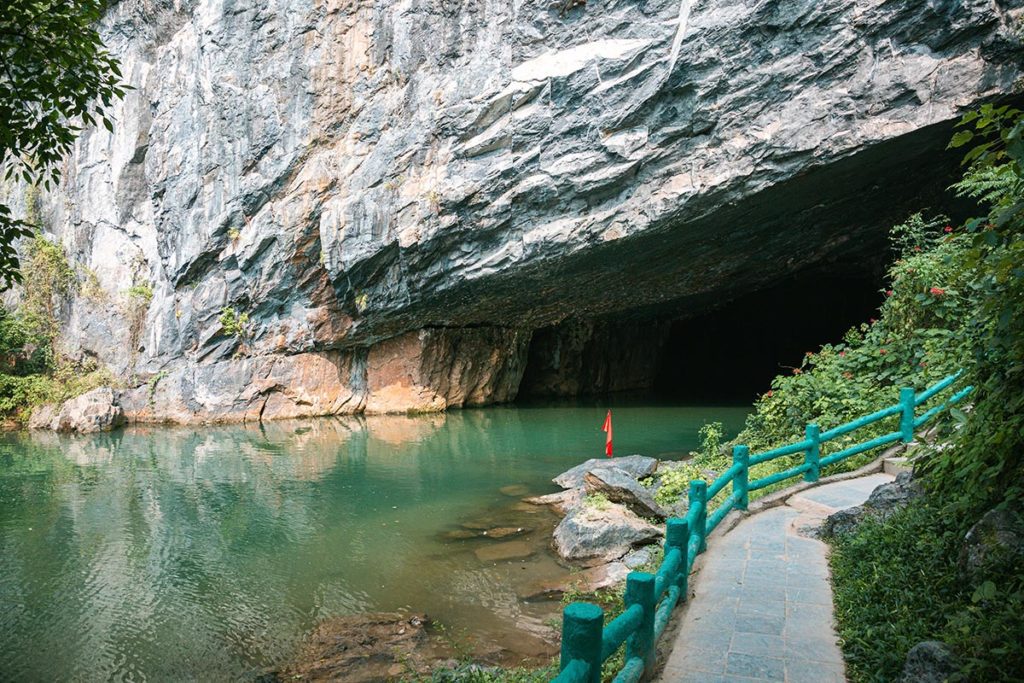 Entrance of Phong Nha cave. Credit : Mathieu Arnaudet 
Practical information
The Phong Nha Cave typically opens to tourists from 7:30 AM and closes at 5:00 PM, so it's important for visitors to be mindful of their time management.
As for tickets, you'll need to pay for both the boat and the cave entrance.
For adults, it costs 150,000 VND (approximately 7.5 USD) per person. Children with a height of 1.1 meters to less than 1.3 meters cost 60,000 VND per child (approximately 3 USD). Children under 1.1 meters in height are free.
The cost of the boat for Phong Nha Cave is 550,000 VND per boat, including life vests, and can accommodate up to 12 people, including children.
Nguom Ngao cave (tiger cave) – Cao Bang 
Located just 4 kilometers from Ban Gioc Waterfalls, Nguom Ngao Cave is one of the most impressive underground wonders in Cao Bang Province.
Discovered in 1921 by French and Vietnamese administrators, it was nicknamed the "Tiger Cave" in the language of the Tay ethnic group because, according to legend, tigers used to live there.
The cave is quite large, and you'll need to walk 2 kilometers to complete the circuit. You'll be impressed by the height and grandeur of the cave. However, the cave has relatively limited lighting, especially compared to caves like those in Phong Nha Ke Bang, mainly in yellow hues. The province is still in the early stages of promoting tourism, especially to Western tourists, and it's likely that hospitality and presentation will improve in the future.
Entrance fee: 35,000 VND per person.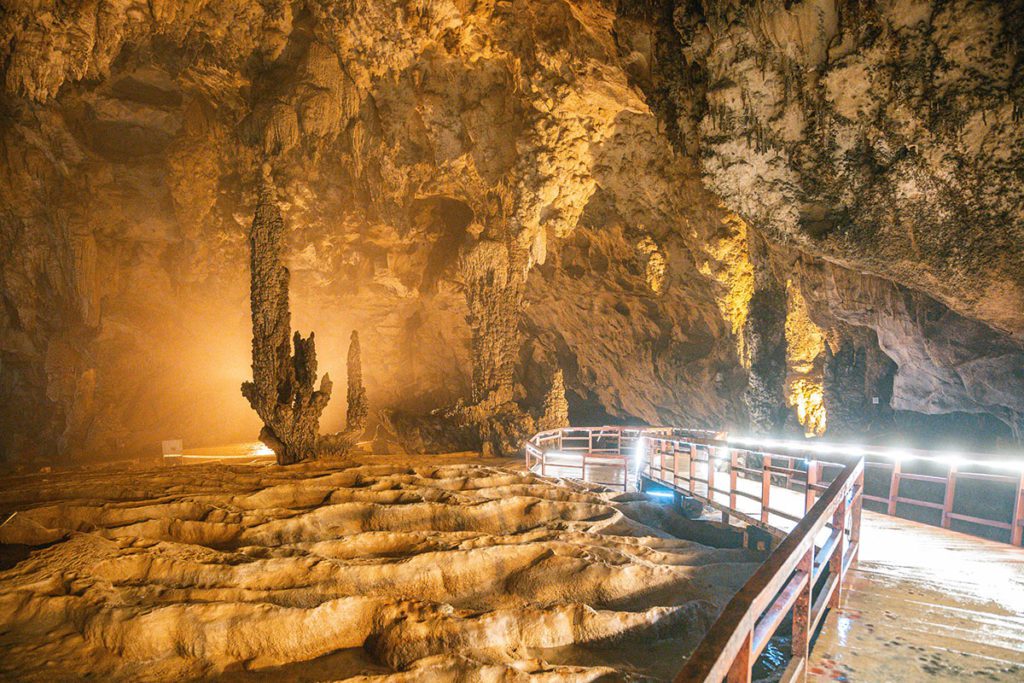 Tiger cave in Cao Bang. Crédit : Mathieu Arnaudet 
Beyond its iconic landscapes, Vietnam hides wonders beneath its surface. These five unique caves have transported us to a mysterious and enchanting universe. From the grandeur of Son Doong to the elegance of Paradise Cave, and the intimacy of the Tiger Cave, each cave tells a millennia-old story.
These underground treasures are more than just geological curiosities. They are gateways to a hidden world, an invitation to wonder and discovery. Exploring these caves is entering a realm where time stands still, and nature reveals itself in all its splendor.
Vietnam reminds us that exploration is an inner as well as an outer journey. These caves, with their natural beauty and cultural heritage, are a poignant reminder of the magic emanating from our planet. Let yourself be enchanted by the depths of Vietnam and create memories that will last a lifetime.