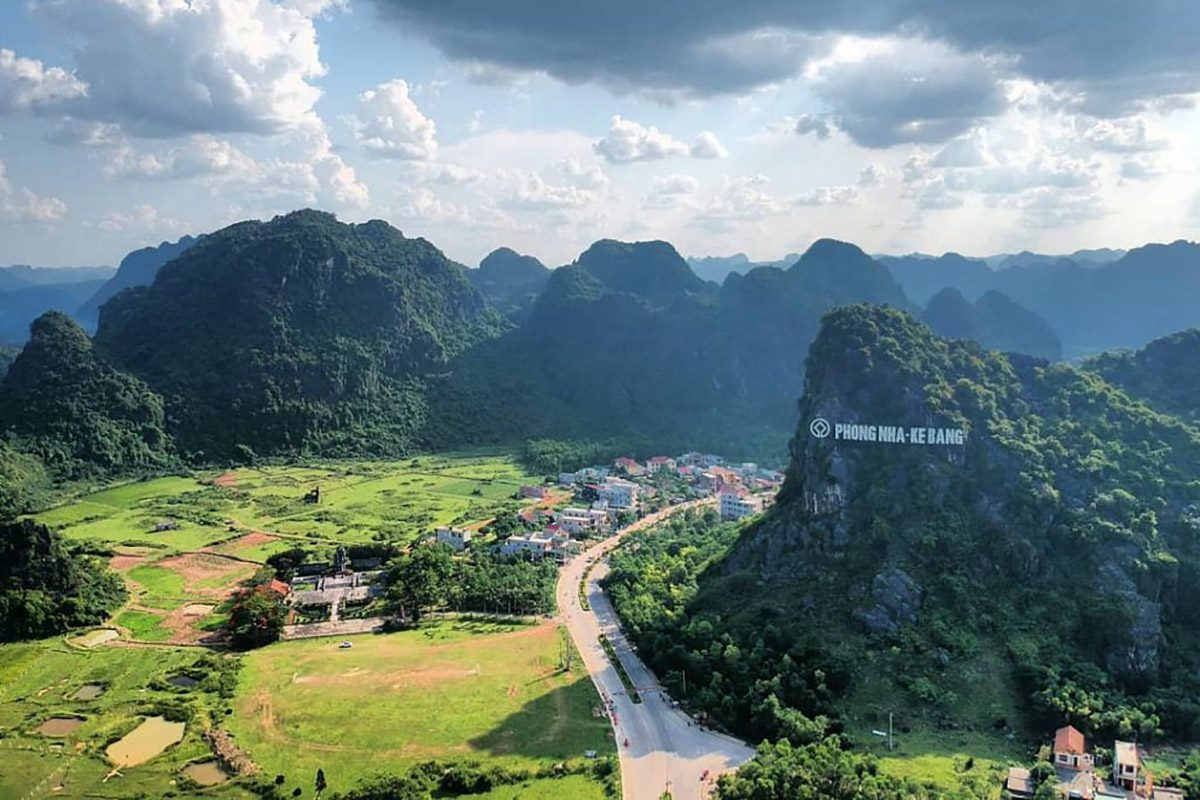 The most beautiful national parks in Vietnam
Vietnam is home to a total of 33 national parks, each hosting a wide biological diversity. Some also offer spectacular landscapes, and those are the ones we will talk about in this article by listing our favorite national parks in Vietnam.
From north to south, these parks provide a variety of fascinating experiences, from spectacular mountain landscapes to preserved marine ecosystems and lush tropical forests. Get ready to be amazed by the preserved beauty of Vietnam through these exceptional national parks.
Contact us to include a visit to a park in your trip to Vietnam.
Table des matières de l'article
Ba Be national park – a serene place
Nestled in the mountains of northern Vietnam, Ba Be National Park is a hidden gem, renowned for its picturesque mountain lakes, lush forests, and unique biodiversity. Covering an area of over 7,000 hectares, this park provides an unparalleled natural experience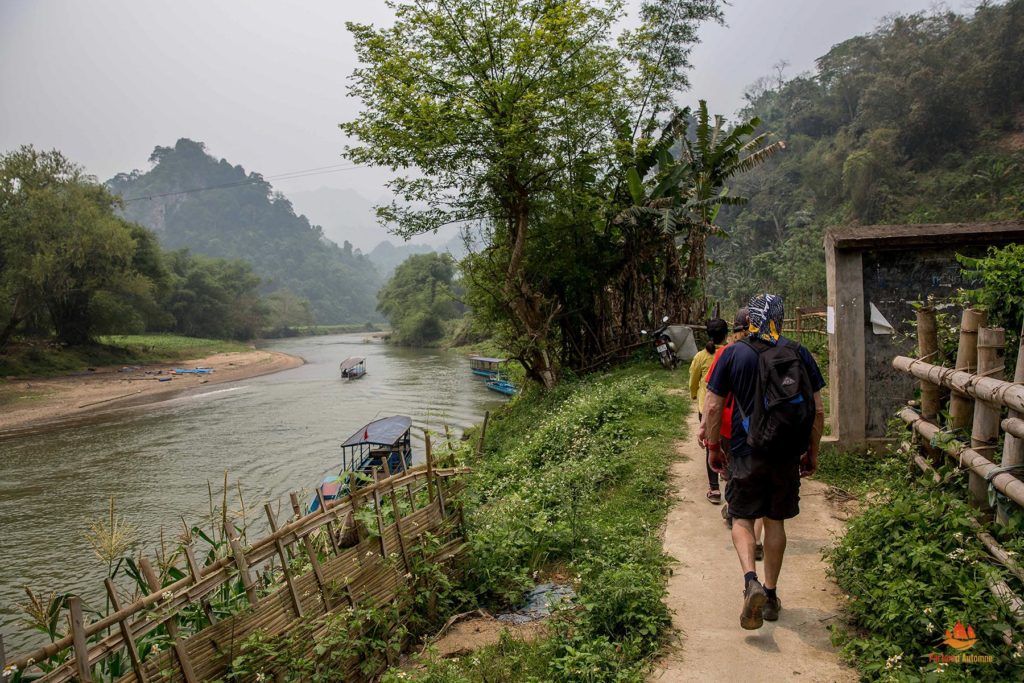 Hiking in Ba Be national park. Crédit : Mathieu Arnaudet 
How to get to Ba Be ?
Located approximately 240 kilometers from the capital, Hanoi, Ba Be National Park is accessible by car from Hanoi or by bus from the city of Bac Kan. The journey to this natural paradise will already provide you with a glimpse of the stunning mountain landscapes of the region.
Accommodation in Ba Be
Once on-site, visitors have the opportunity to stay in guesthouses managed by local families. This accommodation option not only provides simple yet authentic comfort but also allows travelers to immerse themselves in the local culture and share the lifestyle and ancestral customs of the Tay, Nung, and Dao ethnic minorities.
What to do in Ba Be ?
The central point of the park is Ba Be Lake, the largest natural freshwater lake in Vietnam. Surrounded by forest-covered mountains, this lake creates a spectacular landscape, perfect for peaceful boat rides and picturesque hikes along its shores. You will be amazed by the serene beauty of this place. Exploring the lake's surroundings, you can discover majestic waterfalls, mysterious caves, and traditional villages, offering a variety of activities for nature lovers and adventurers.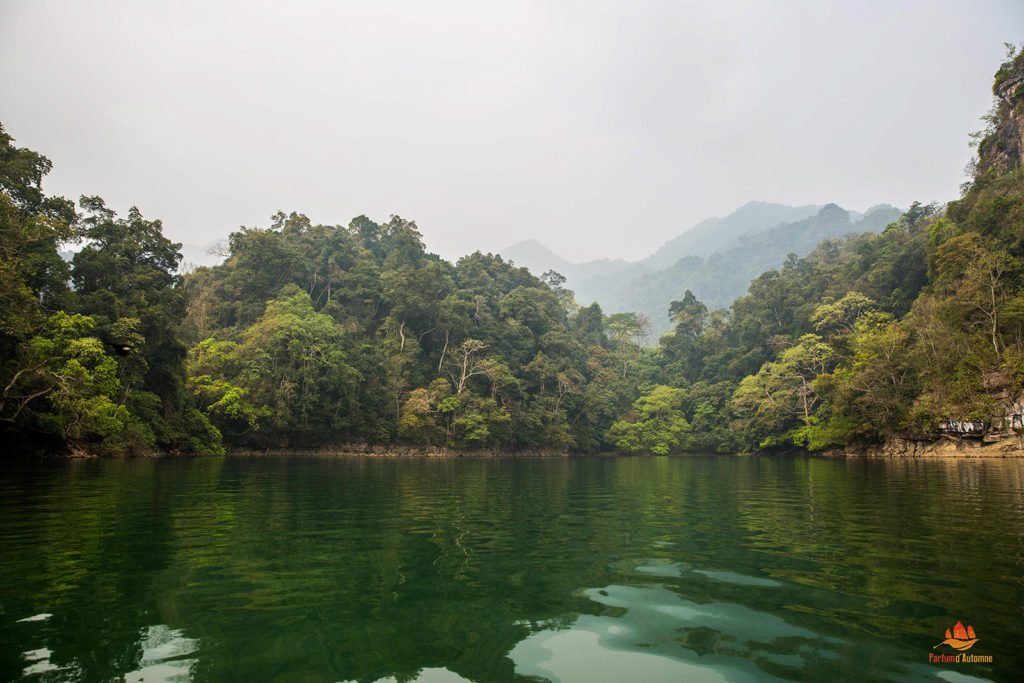 Ba Be lake. Crédit : Mathieu Arnaudet
The Ba Be National Park is truly a natural gem worth discovering. With its stunning mountain lake, lush green forests, and welcoming local communities, this place provides a unique and unforgettable experience for travelers seeking adventure and connection with Vietnamese nature and culture. A visit to Ba Be National Park will undoubtedly be marked by moments of serenity and discovery in the heart of the splendor of the northern Vietnamese mountains
Cuc Phuong national park – a biodiversity sanctuary 
Located in the Ninh Binh province, Cuc Phuong National Park was the first national park in the country and remains one of the most important in terms of biodiversity. Spanning over 22,000 hectares, Cuc Phuong is home to dense vegetation, diverse wildlife, and mysterious caves.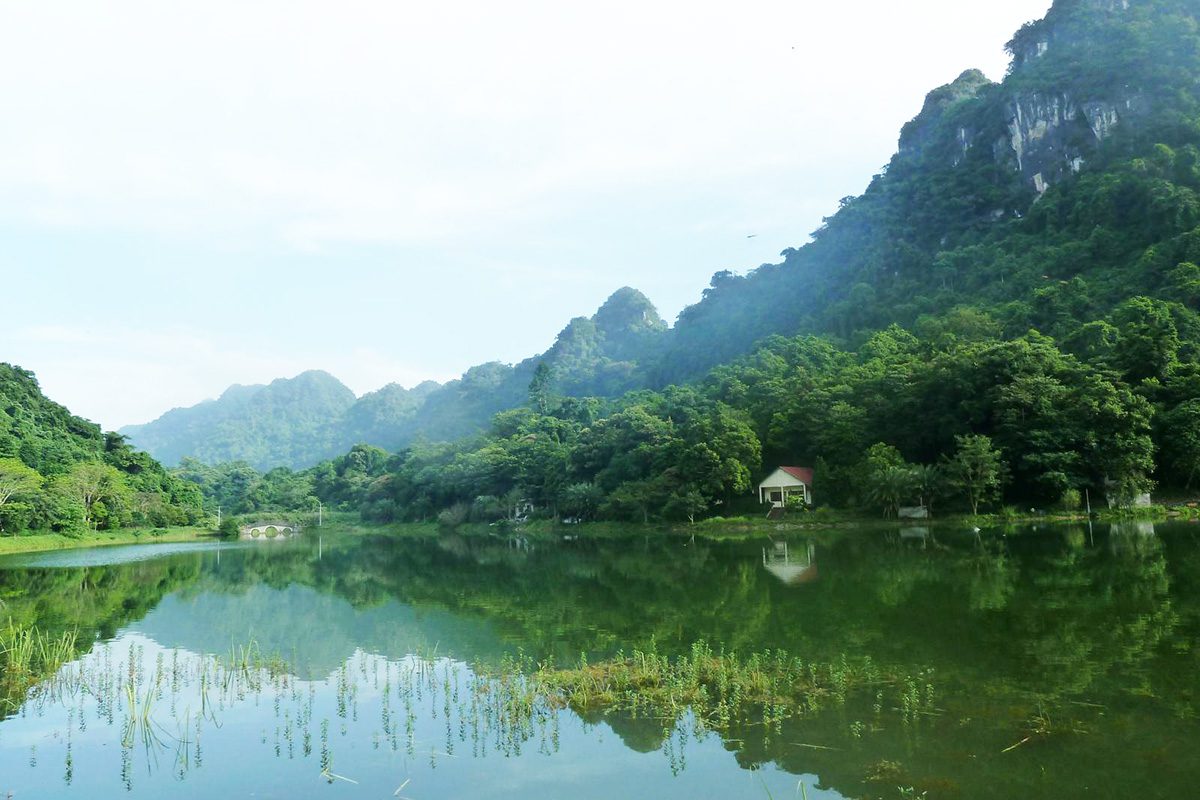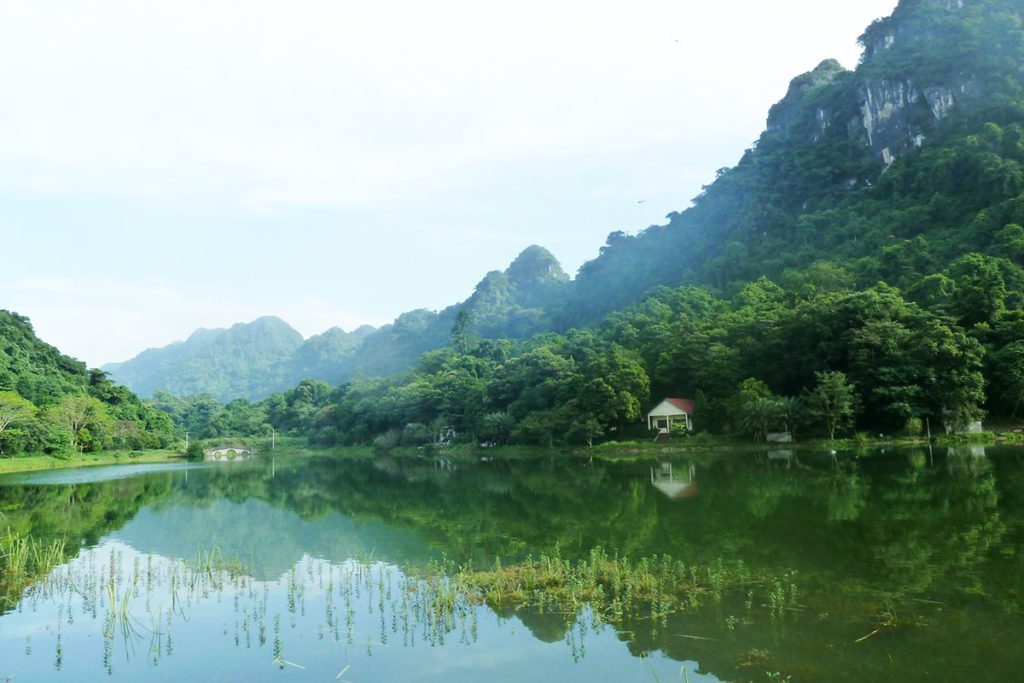 Cuc Phuong national park. 
How to get to Cuc Phuong ?
To reach Cuc Phuong National Park from Hanoi, it takes about a 2-hour drive by car. Many tour operators also offer organized excursions to the park, including transportation from Hanoi. We recommend planning a 3-day, 2-night stay coupled with the main sites of Ninh Binh (Tam Coc-Bich Dong, Trang An).
Accommodation in Cuc Phuong 
As for accommodations, the park offers different options for visitors. You can stay in bungalows or guesthouses within the park, providing an immersive experience in the heart of nature. These simple yet comfortable accommodations allow you to wake up to the sounds of birds and enjoy the tranquility of the forest.
Additionally, it's also possible to find hotels and lodges in the surrounding villages of the park, especially in the villages of Cuc Phuong, Nho Quan, or Tam Coc. These accommodation options offer more comfort and are ideal for those who want to explore the surrounding area, including the picturesque Tam Coc region.
What to do in Cuc Phuong ?
Hiking is certainly the flagship activity to engage in at the park! The park indeed features several well-marked hiking trails, suitable for all levels, allowing you to explore the various facets of this exceptional nature reserve. Local guides can be hired for guided hikes to learn more about the park's fauna and flora. However, we recommend starting from Hanoi with a French-speaking guide, who can enlist the help of a local guide if needed.
In addition to hiking, birdwatching enthusiasts will find joy in observing the numerous bird species present in the park. Cuc Phuong is indeed a true paradise for amateur ornithologists, with over 300 bird species recorded, some of which are endemic to the region.
Phong Nha-Ke Bang – the amazing caves 
The Phong Nha-Ke Bang National Park is a must-visit destination for nature and adventure enthusiasts in Vietnam. Located in the Quang Binh province, this park is a true natural gem designated as a UNESCO World Heritage Site. Its fame is built on its spectacular caves, impressive karst formations, and unique biodiversity.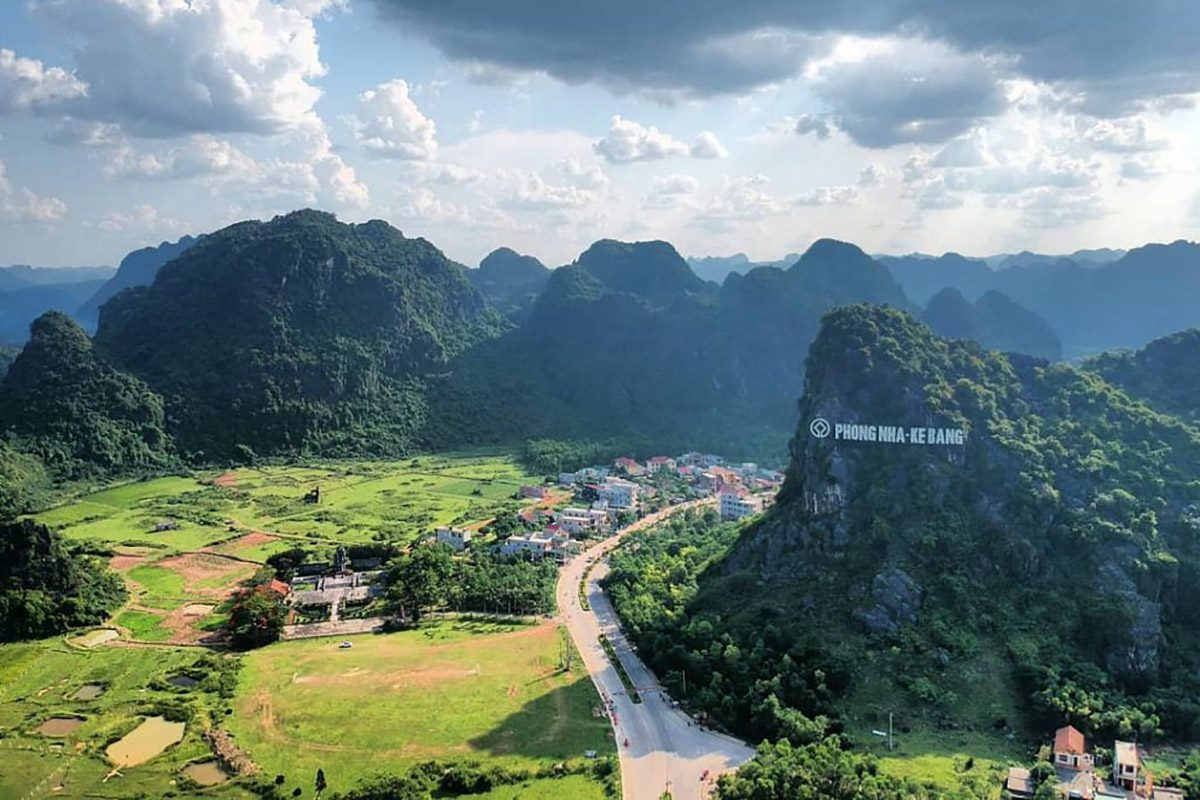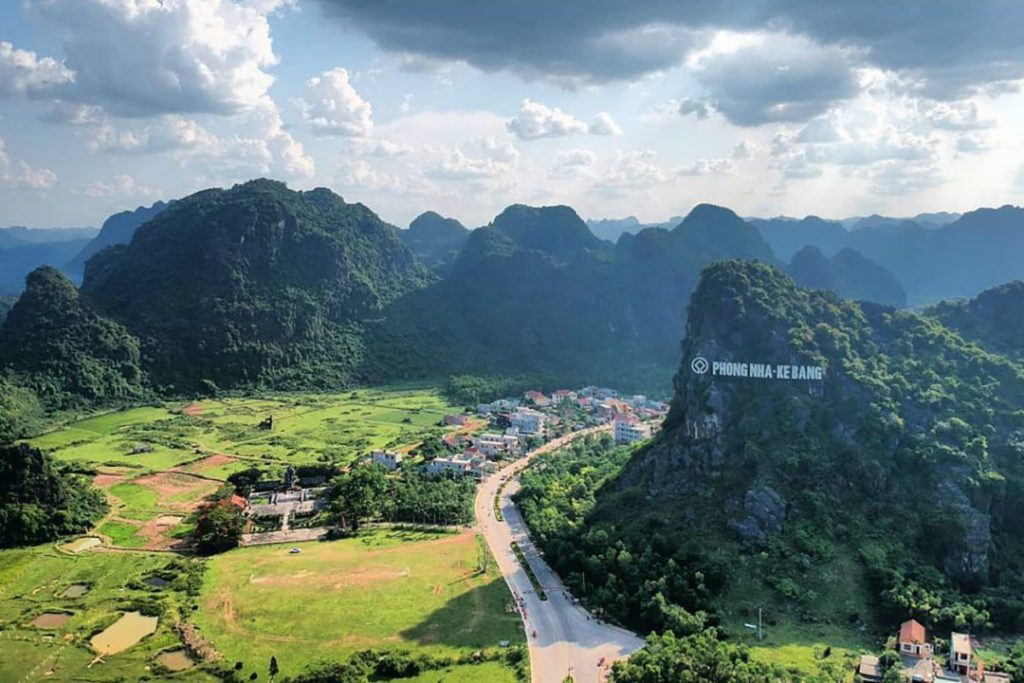 Phong Nha Ke Bang vue du ciel
How to get to Phong Nha Ke Bang ? 
The Phong Nha-Ke Bang National Park is accessible from various cities in Vietnam. To reach Dong Hoi, the nearest city to the park, you can take a flight from Hanoi or Ho Chi Minh City. From Dong Hoi, ground transportation services are available to reach the park, located approximately 50 kilometers northwest of the city. Taxis, minibusses, and motorbike taxis are also available to ease your journey to the park. If you're coming from Hanoi or Ninh Binh, you can also take the train – expect an overnight journey. We recommend the Lotus company for a comfortable transport experience.
Accommodations in Phong Nha Ke Bang 
In the vicinity of the park, you will find several accommodation options catering to all budgets. Simple and friendly guesthouses, hostels, and charming hotels provide comfortable lodging solutions for travelers. Some establishments are located near the caves and hiking trails, allowing you to further immerse yourself in the surrounding nature. For a more authentic experience, it's also possible to stay with local residents in the nearby villages of the park.
What to do in Phong Nha Ke Bang ?
The main attraction of the park is undoubtedly the exploration of caves. Although the Son Doong Cave is reserved for experienced spelunkers, other fascinating caves can be visited by tourists. Phong Nha Cave, accessible by boat and then on foot, offers a breathtaking natural spectacle with its majestic stalactites and stalagmites. Paradise Cave is also grandiose and is a must-see attraction.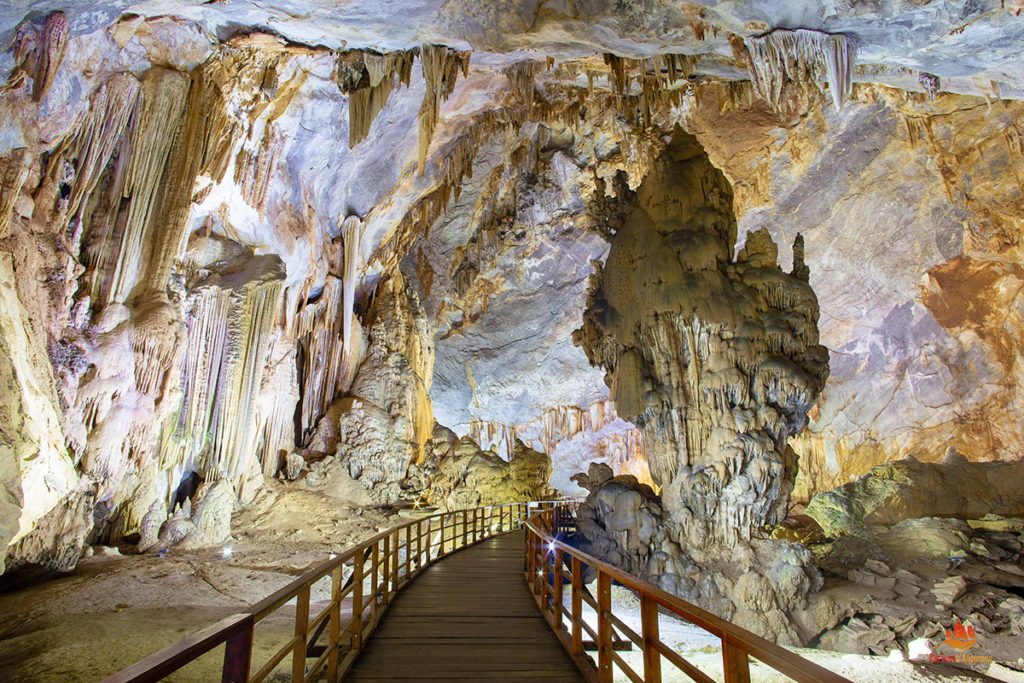 Paradise cave in Phong Nha. Crédit : Mathieu Arnaudet 
For hiking enthusiasts, numerous trails wind through the lush forest of the park, providing a unique opportunity to admire the local biodiversity. Don't forget to explore the beautiful rivers that flow through the park by kayak or boat for an unforgettable experience.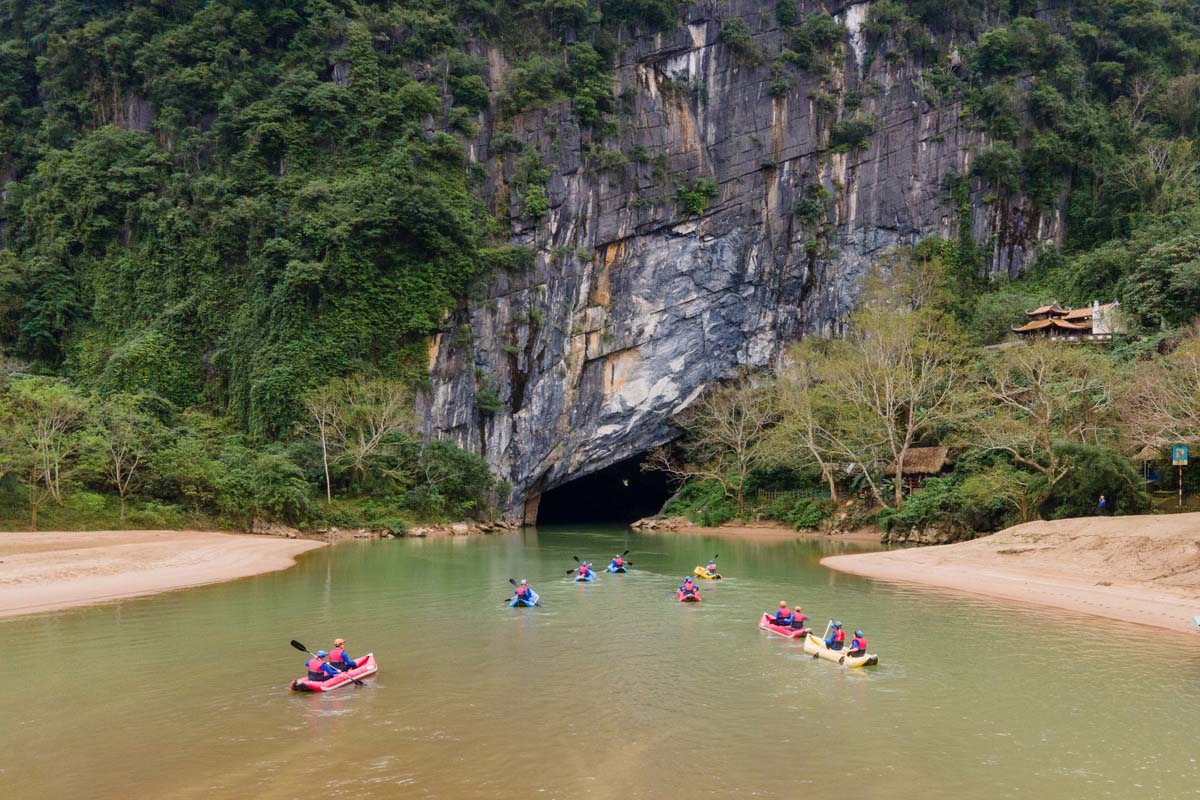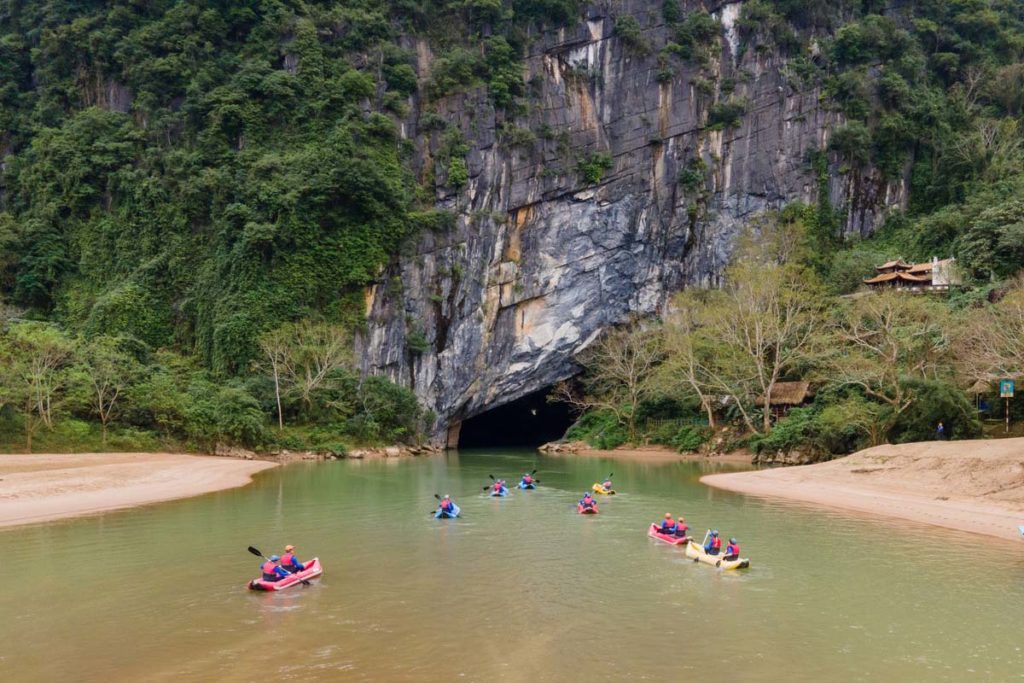 Kayaking in Phong Nha Ke Bang
Culture enthusiasts won't be disappointed either, as the villages on the outskirts of the park provide an immersion into traditional Vietnamese way of life. You can interact with the locals, taste their local cuisine, and learn more about their customs and traditions.
Yok Don – in the heart of the Highlands 
The Yok Don National Park, located in the Dak Lak province at the heart of the Central Highlands, is a natural and cultural treasure of exceptional beauty. Covering over 115,000 hectares, the park provides a unique experience where visitors can explore vast grasslands, lush forests, and majestic rivers.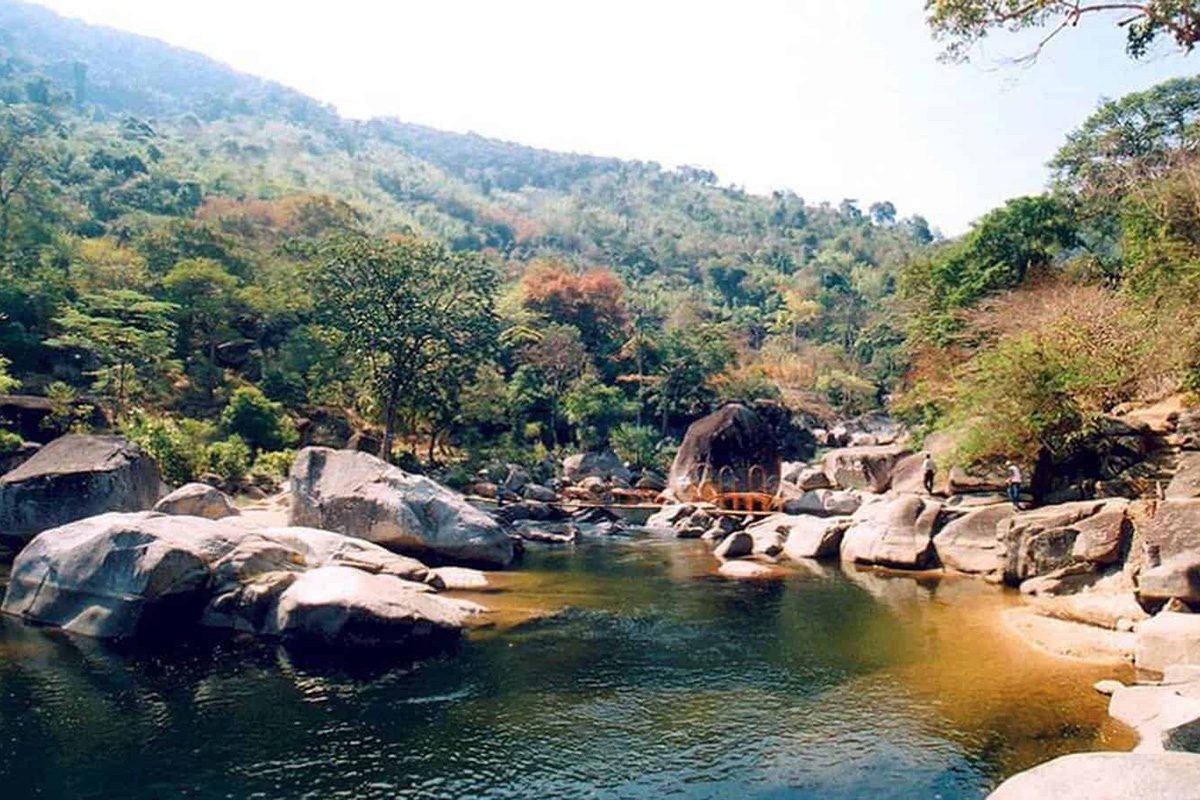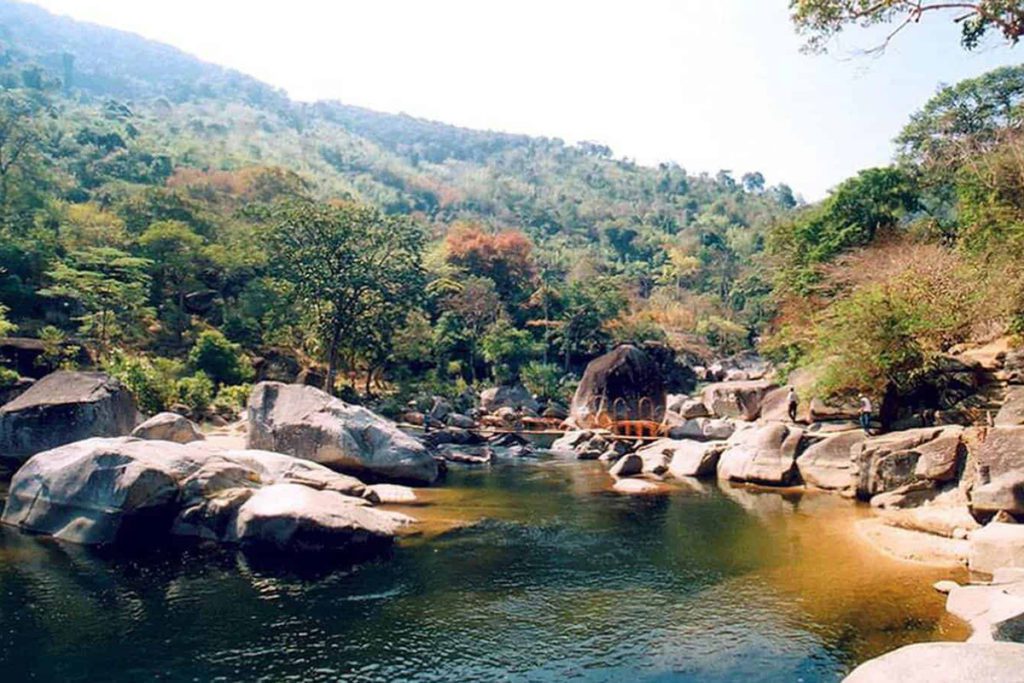 Yok Don national park. 
How to get to Yok Don ?
Travelers can take a flight to Buon Ma Thuot Airport and then travel by road to reach the park, providing a pleasant journey through the picturesque landscapes of the Central Highlands.
Accommodation in Yok Don
Yok Don offers a variety of options, ranging from lodges and eco-lodges nestled in the heart of nature to traditional camps with local communities, providing an authentic and immersive experience.
What to do in Parc National de Yok Don
Eco-tourism enthusiasts can venture on jeep safaris or elephant-back rides to get up close to Vietnam's largest population of Asian elephants. These expeditions also provide a unique opportunity to learn about conservation efforts aimed at protecting these majestic animals.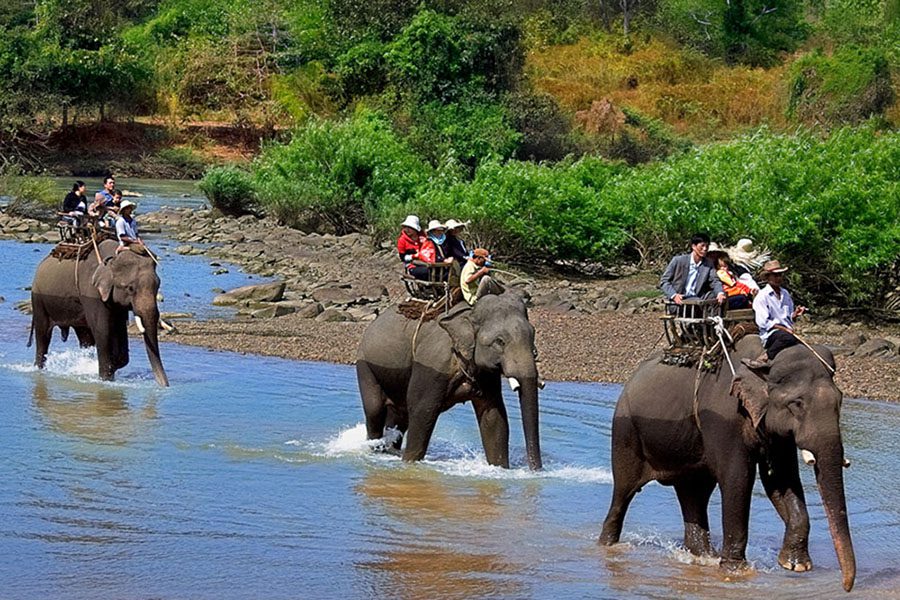 Elephant ride in Yok Don National Park
Beyond safaris, visitors will have the opportunity to meet local ethnic communities such as the Ede and Mnong. They can participate in enriching cultural activities, such as traditional dances and ritual ceremonies, providing a fascinating insight into the life and culture of these indigenous peoples.
Yok Don National Park is a hidden gem in Vietnam, offering an exceptional experience where nature and culture blend harmoniously. A visit to this park is an opportunity to immerse oneself in a preserved environment, meet fascinating local communities, and discover the unique beauty of the Central Highlands.
Cat Tien national park – a biodiversity reserve in the South
Nestled between the provinces of Dong Nai, Lam Dong, and Binh Phuoc in southern Vietnam, this park is a true sanctuary for wildlife and flora. With its tropical forests, winding rivers, and floodplains, Cat Tien is a unique and preserved ecosystem that provides visitors with an unforgettable natural experience.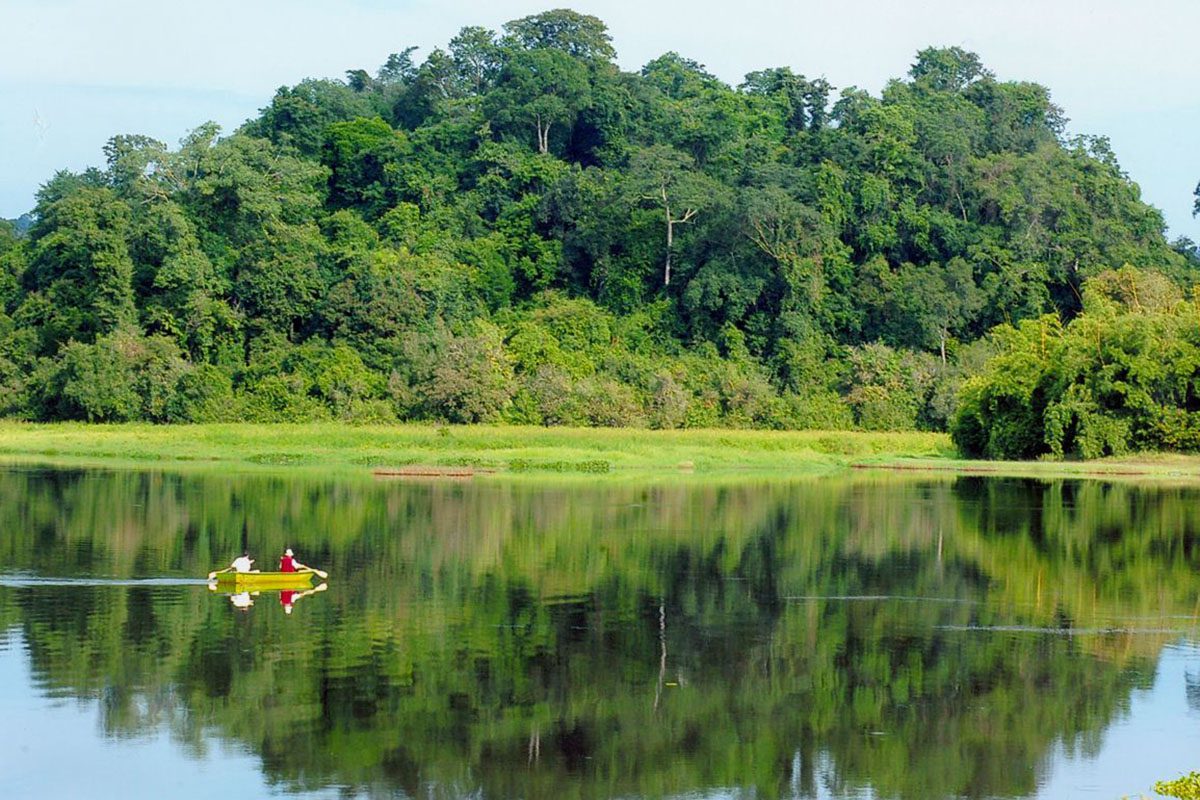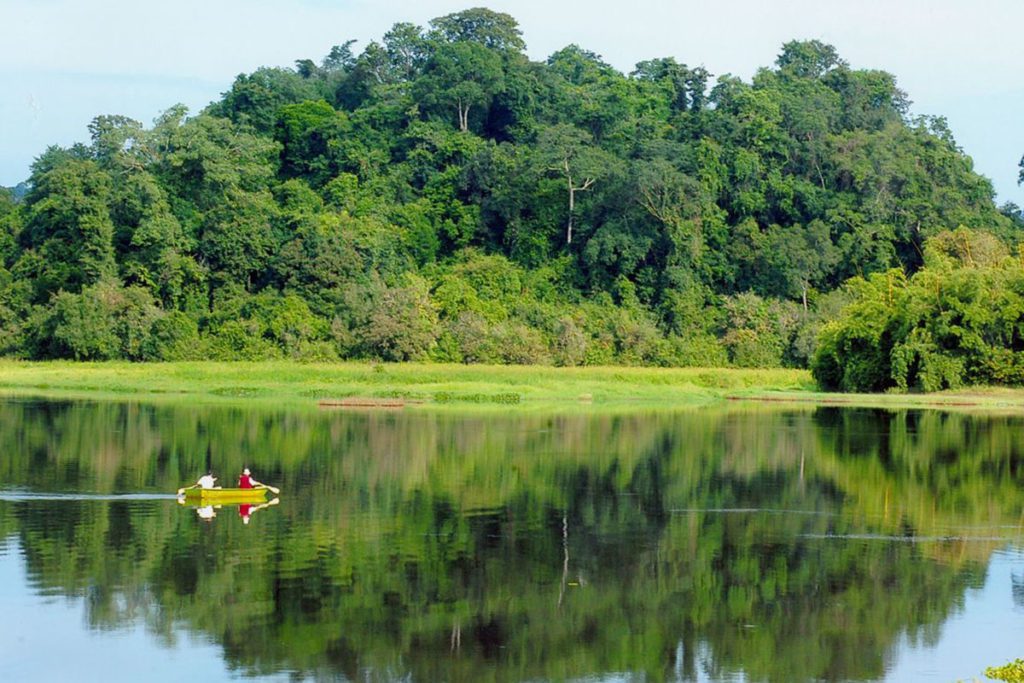 Cat Tien National Park
How to get to Cat Tien ?
To reach Cat Tien National Park, several options are available to travelers. From Ho Chi Minh City, it is possible to take a bus or taxi to reach the park in about 4 to 5 hours. Travelers who prefer a more comfortable option can choose organized tours with local travel agencies. Regardless of the chosen method, the journey to Cat Tien already offers a glimpse of the natural beauty that awaits visitors.
Accommodation in Cat Tien 
At Cat Tien, accommodation options are diverse, catering to all types of travelers and budgets. For those who want to experience nature up close, the park offers accommodations in bungalows or lodges, allowing you to fall asleep to the sounds of nocturnal wildlife and wake up to the songs of birds. These accommodations in the heart of the forest provide an authentic connection with the surrounding nature.
For travelers preferring more comfort, it is also possible to find hotels and guesthouses in the vicinity of the park. The neighboring villages offer a variety of accommodation options, ranging from budget accommodations to more luxurious establishments.
What to do in Cat Tien ?
The Cat Tien National Park offers a myriad of activities to satisfy nature enthusiasts, adventure lovers, and those curious about culture.
Wildlife and Flora Observation: Elephant safaris are one of the most popular experiences in the park, giving visitors the opportunity to see Asian elephants up close in their natural habitat. Hiking trails through the forest also provide a chance to encounter other iconic animals, such as the black-shanked douc langur and a variety of colorful birds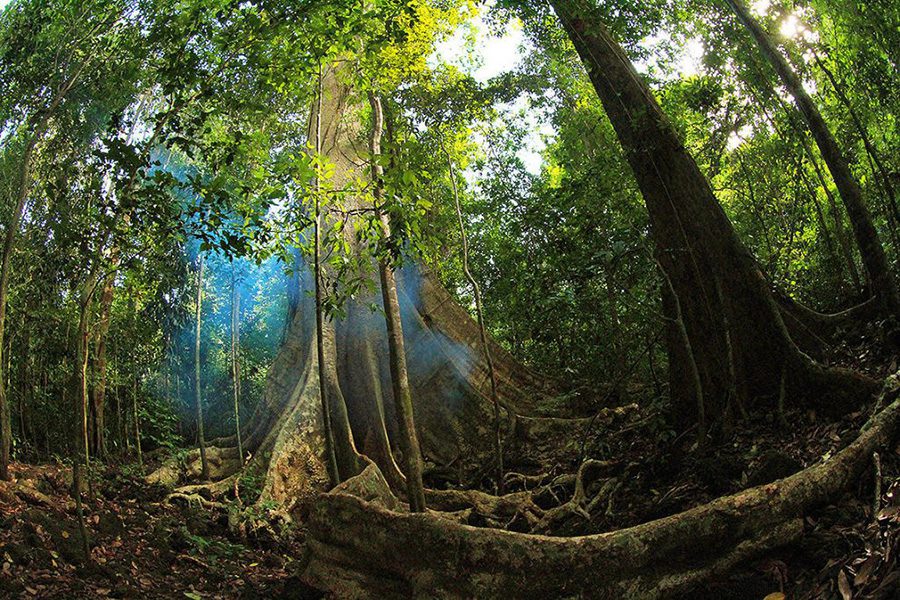 L'arbre géant Tung dans le parc de Cat Tien. 
2. Bird Watching: Cat Tien is a true paradise for amateur ornithologists. Rare and migratory birds find refuge in the park, providing unique bird-watching opportunities for enthusiasts.
3. Boat Excursions: A boat ride along the Dong Nai River is a peaceful way to discover the beauty of the floodplains and catch glimpses of animals such as crocodiles and monkeys in their natural habitat.
4. Cultural Tours: For those interested in local culture, tours of ethnic villages are available, offering insights into the traditional lifestyle of local communities. Traditional Vietnamese music performances are also organized to entertain and delight visitors.
Cat Tien National Park is a must-visit destination for nature lovers and adventure enthusiasts seeking an authentic experience in the heart of Vietnamese biodiversity. With its rare fauna, diverse flora, picturesque landscapes, and cultural activities, Cat Tien offers a true communion with nature and immersion in the cultural richness of southern Vietnam. For those aspiring to explore the wonders of wildlife, Cat Tien promises unforgettable memories in a preserved and enchanting setting."
The national parks of Vietnam offer an astonishing diversity of natural landscapes, wildlife, and flora, as well as unique opportunities to connect with the culture and local communities. Whether you are passionate about bird-watching, hiking, ecotourism, or exploring spectacular caves, these five national parks promise you an unforgettable experience in the heart of Vietnam's preserved nature.
Remember to respect and protect these fragile environments so that future generations can also enjoy them. Have a great trip!