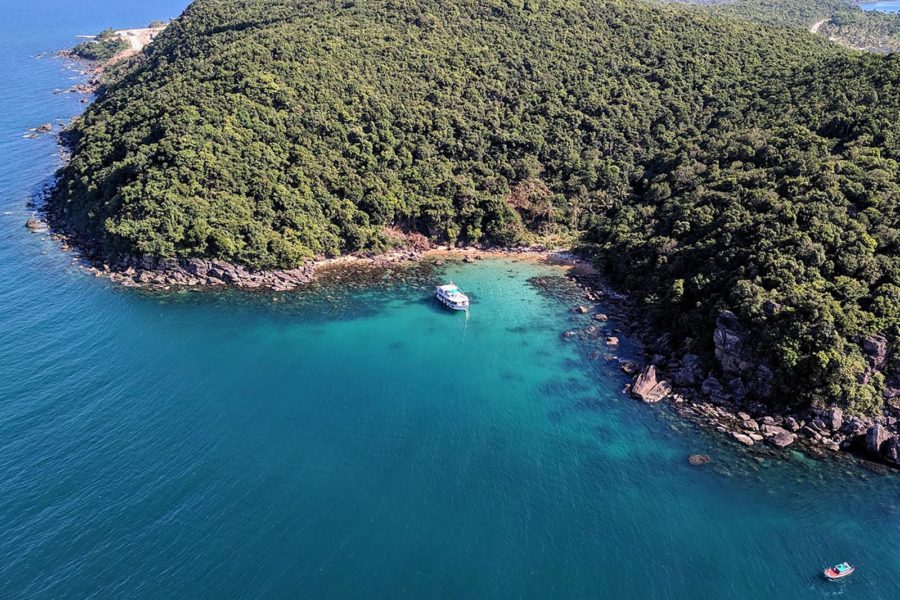 Top 5 most beautiful islands in Vietnam
Are you considering a beach extension for your trip to Vietnam?
You're in the right place, as we provide information here about the most beautiful islands in Vietnam.
Feel free to contact us to organize your relaxing itinerary.
Vietnam is a country blessed with a magnificent coastline that is home to a number of spectacular islands, each offering breathtaking landscapes, pristine beaches, and a unique island experience.
In this article, we will introduce our selection of the most beautiful islands in Vietnam, which are natural gems not to be missed during your visit. From the famous beaches of Phu Quoc to the karst formations of Cat Ba and the pristine tranquility of Con Dao, these islands promise unforgettable adventures in idyllic settings. Get ready to dive into turquoise waters, relax on white sands, and explore fascinating marine ecosystems. Let us guide you through this enchanting journey to discover the most beautiful islands of Vietnam.
Table des matières de l'article
Cat Ba – the biggest island
Cat Ba, the island nestled in the heart of the magnificent Lan Ha Bay, is a true paradise for nature lovers. Lan Ha Bay is a renowned extension of the famous Ha Long Bay, located in northern Vietnam.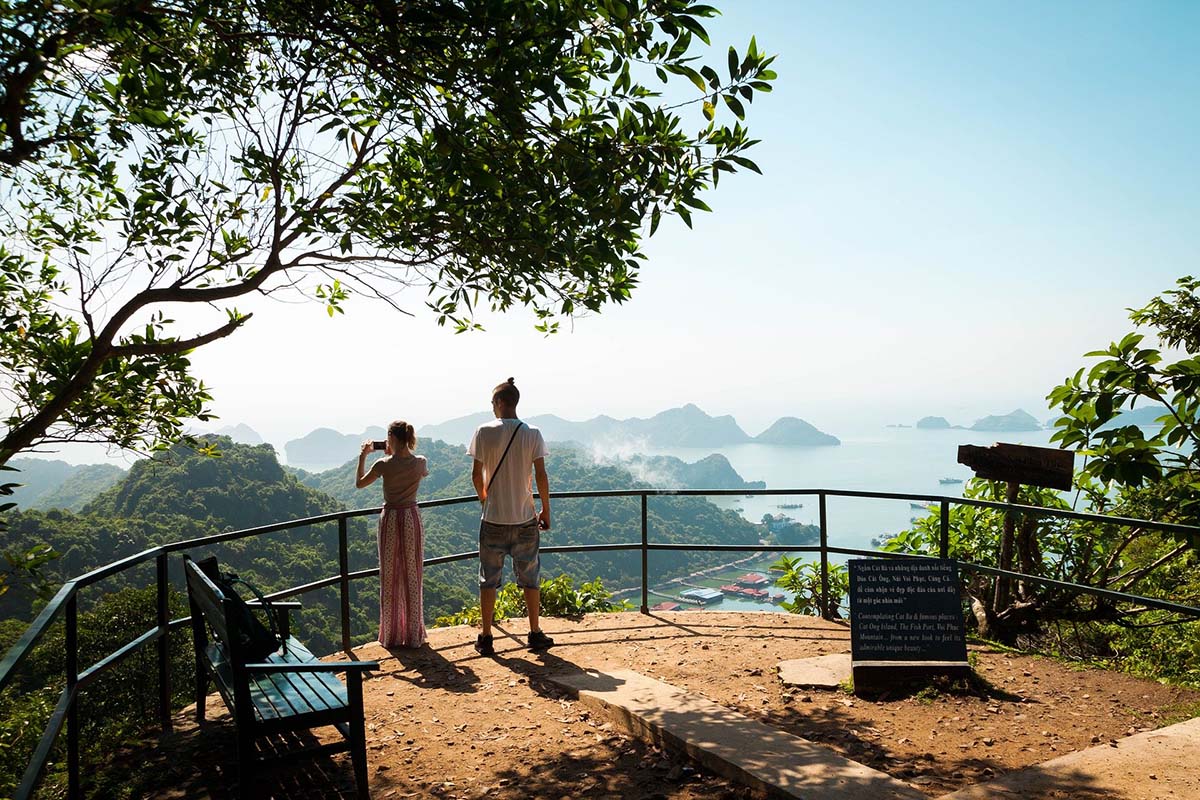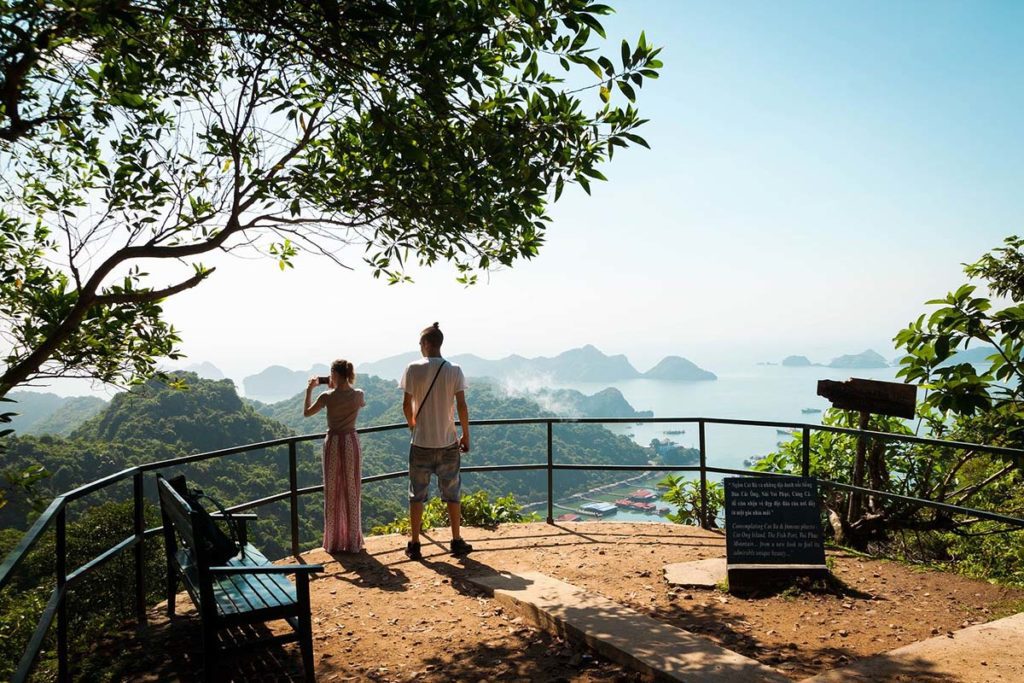 View from Cannon fort, Cat Ba. 
How to get to Cat Ba island ? 
Cat Ba is accessible from Hanoi by road and then by sea. From Hanoi, you can take a bus to Hai Phong, and then a fast ferry/boat to reach Cat Ba Island. Another popular option is to book a boat tour from Ha Long Bay, which includes a visit to Cat Ba Island. Ferry crossings are regular and well-organized, providing a pleasant experience for visitors.
What to do in Cat Ba island ?
Once on Cat Ba Island, you'll have a multitude of activities at your disposal to explore the preserved natural beauty of the island. Cat Ba National Park is a must-visit, offering well-marked hiking trails through lush forest where you can encounter unique flora and fauna, including the Cat Ba Langur, a rare and endangered monkey species.
The crystal-clear waters of Lan Ha Bay invite various water activities. You can rent a kayak to explore hidden coves and caves or opt for a cruise on traditional junks to discover the spectacular landscapes of the bay. Swim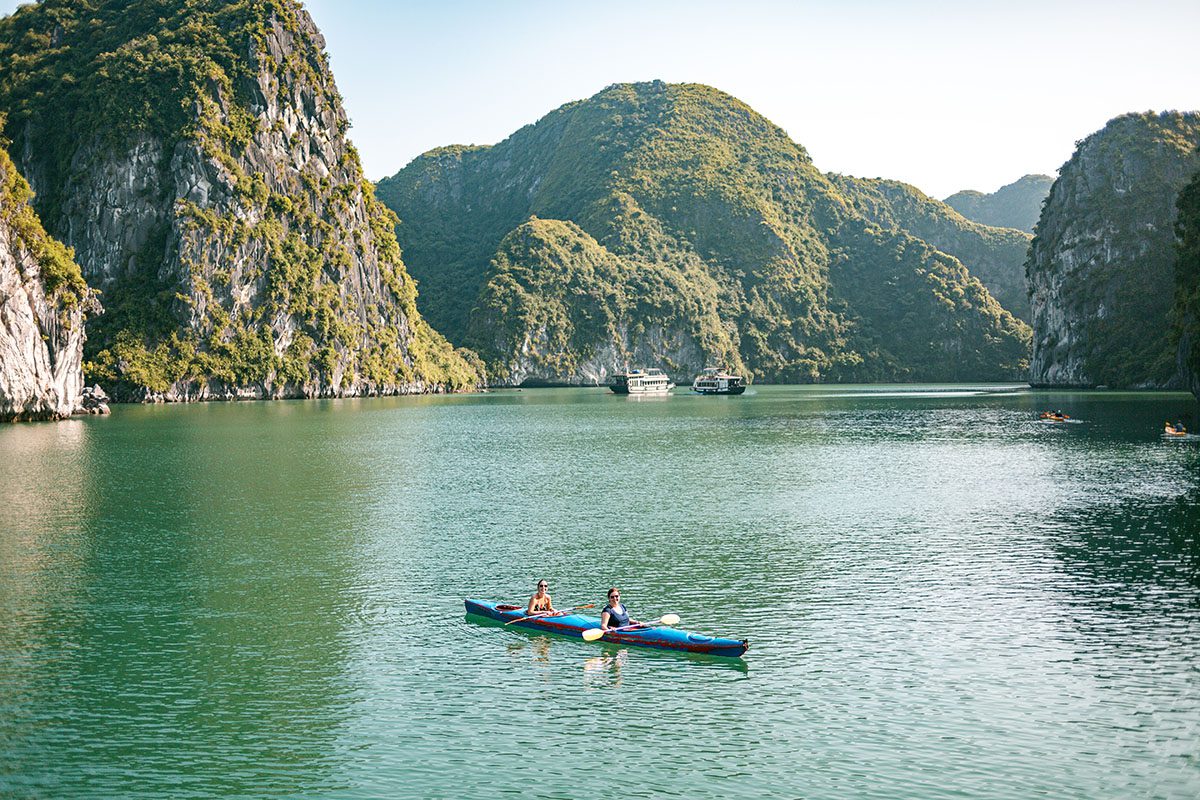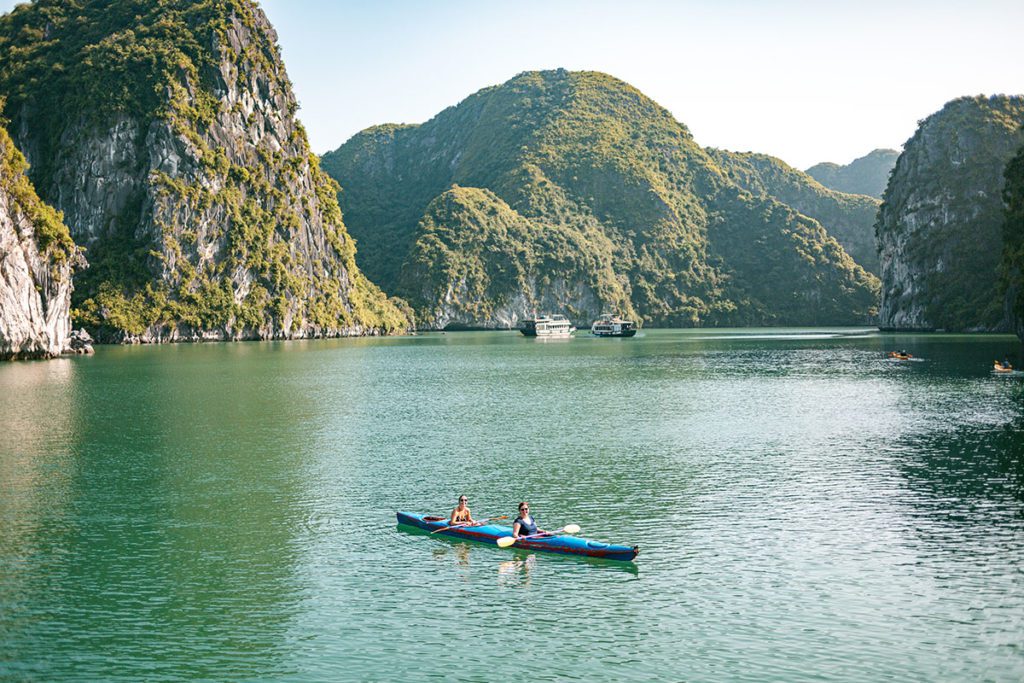 Kayaking in Lan Ha bay. Photo : Mathieu Arnaudet
Accommodation and food
Cat Ba offers a range of accommodation options for all budgets, including hotels, hostels, bungalows, and even homestays. The lodging facilities provide comfortable services and modern amenities to ensure a pleasant stay for visitors.
Cat Ba is renowned for its fresh and flavorful seafood cuisine. Don't miss the famous "cha ca" of Cat Ba, a grilled fish dish served with fresh herbs and rice noodles. Seafood is also featured in delicious dishes such as crab curry, garlic sautéed shrimp, and fried calamari.
Best time for visiting Cat Ba island
We recommend two seasons:
Summer, from May to September: It's the hot and humid season. Yes, there may be thunderstorms (especially in July and August), but you will appreciate the coolness of the bay, which is not found in the country's major cities. Expect to see more people during this season, which coincides with the school holidays.
Autumn, from late September to December: This is the best time to enjoy both Cat Ba Island and Halong Bay. Temperatures have dropped compared to summer, and there is still significant sunshine. Moreover, you will enjoy the gentle sea breeze.
Cat Ba Island offers a unique experience blending natural beauty, water activities, and cultural immersion. From hiking in Cat Ba National Park to exploring the crystal-clear waters of Lan Ha Bay, to savoring delicious local seafood, Cat Ba is sure to charm you. Get ready to be amazed by the spectacular karst landscapes and immerse yourself in the lively atmosphere of this harmonious island. Regardless of the time of year you choose to visit, Cat Ba promises an unforgettable experience in the heart of Lan Ha Bay.
Cham island (Cu Lao Cham) – from Hoi An
The Cham Island, also known as Cu Lao Cham, is an idyllic destination located off the coast of Hoi An in Central Vietnam. This wonderful island oasis is made up of eight small islands and has been designated a biosphere reserve by UNESCO.

Panorama from Cham island, Vietnam
How to get to Cham island ?
To reach Cham Island, travelers can take a boat from the city of Hoi An, located on the central coast of Vietnam. Hoi An is a well-known tourist destination and is accessible from several major cities in the country. Once in Hoi An, there are boat crossing options to Cham Island, usually offered by local travel agencies or directly at the port. The boat journey also provides an additional opportunity to enjoy the picturesque coastal landscapes and the natural beauty of the region.
What to do on Cham island ?
Cham Island offers a plethora of activities for nature and sea lovers. Scuba diving and snorkeling are a must here, allowing visitors to explore the stunning marine ecosystem composed of colorful coral reefs and a variety of fascinating marine species. The crystal-clear waters provide exceptional visibility, making each dive unforgettable. Travelers can swim alongside brightly colored tropical fish.
In addition to water activities, Cham Island also offers hiking opportunities through its picturesque trails, allowing visitors to explore the natural beauty and terrestrial fauna of the island. Moreover, history and culture enthusiasts can visit the temples and historical sites on the island, bearing witness to the rich heritage of this region.
Accommodation and food
While Cham Island is relatively small and unspoiled, it still offers accommodation options for travelers. There are bungalows and small guesthouses that provide a simple yet comfortable stay. Accommodations often have an ecological character, respecting the fragile ecosystem of the island.
Regarding dining, visitors will have the opportunity to taste the delights of Vietnamese cuisine, with a particular emphasis on fresh seafood. Local eateries offer delicious dishes made from locally caught fish and seafood, as well as traditional Vietnamese dishes. Visitors can also savor typical Vietnamese dishes such as "Cao Lau," a specialty of Hoi An, which is a tasty blend of thick noodles, pork, and vegetables.
Best time to visit Cham island
The best time to visit Cham Island and fully enjoy its marine activities is during the dry season, which typically extends from February to August. During these months, the waters are calmer, providing ideal conditions for scuba diving and snorkeling. It is advisable to avoid the rainy season, which occurs from October to January, as the waves can make marine activities more challenging and restrict access to certain parts of the island.
In summary, Cham Island is a true gem for travelers seeking marine adventures, relaxation on secluded beaches, and exploration of Vietnam's pristine nature. With its stunning marine ecosystem, diverse activities, delicious cuisine, and opportunities to connect with the local culture, Cham Island offers a memorable experience for curious travelers.
Ly Son – the volcanic beauty 
Discover the volcanic beauty of Ly Son, a tranquil island located off the coast of Vietnam. With its unique landscapes, impressive rock formations, and authentic island culture, Ly Son is the perfect place for an unforgettable getaway.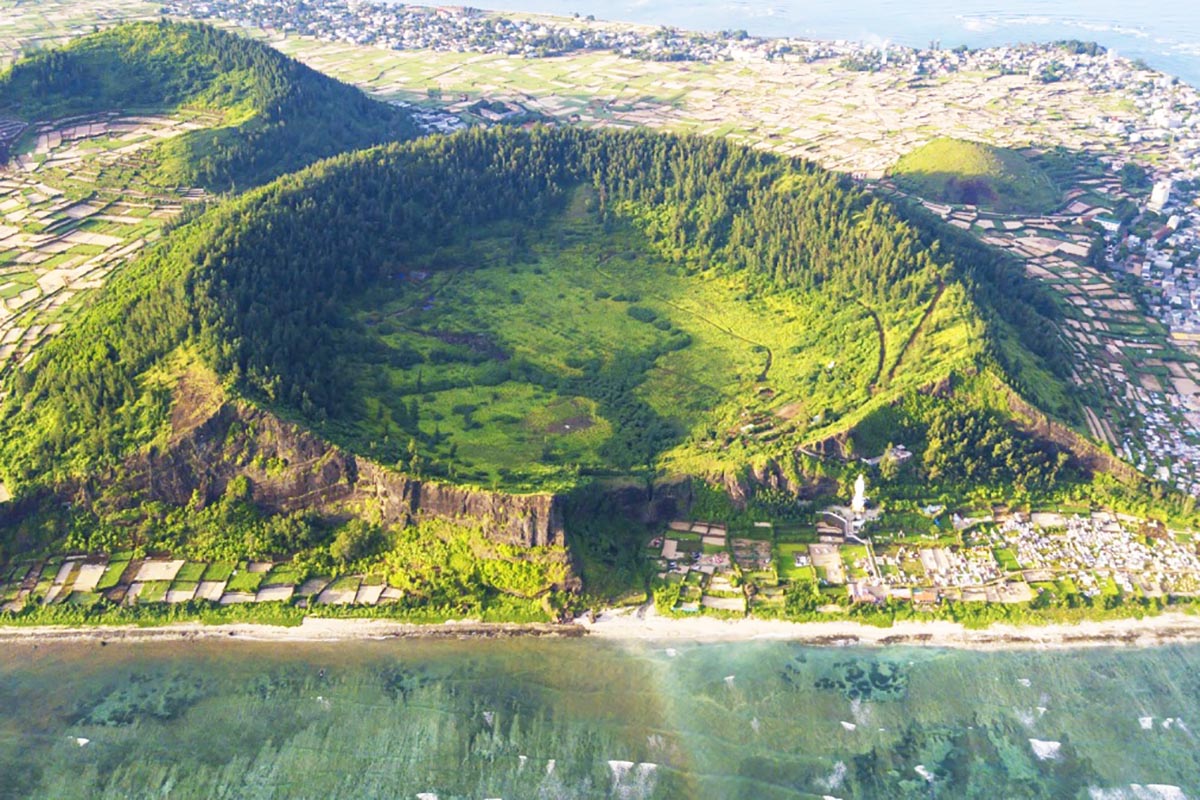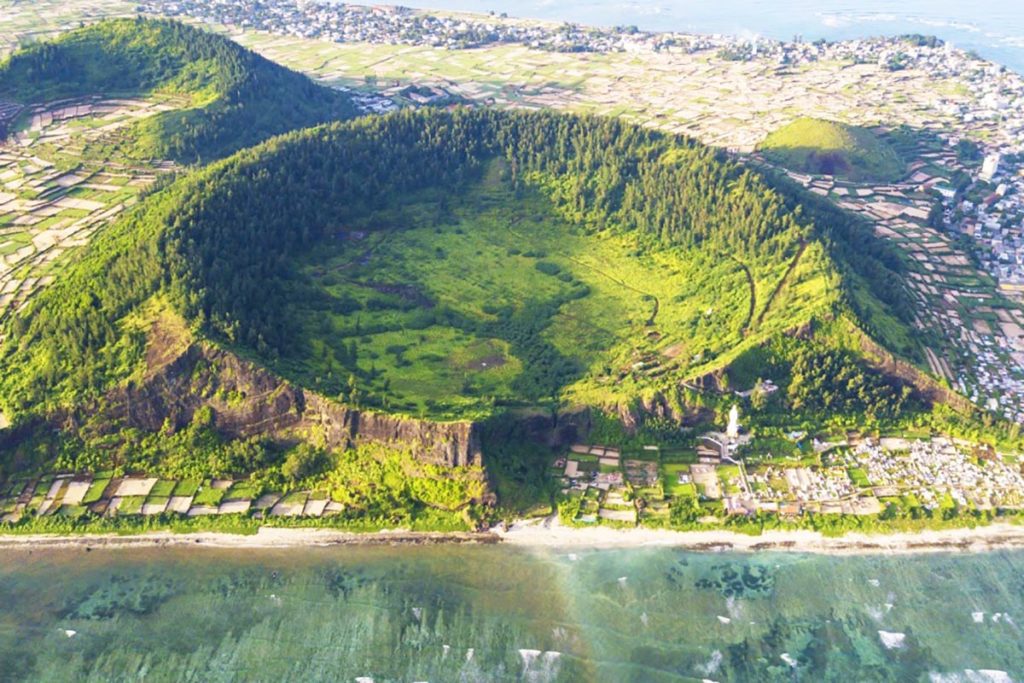 Volcan de l'île Lý Sơn
How to get to Ly Son ?
To reach Ly Son, visitors can take a flight to Da Nang International Airport and then travel by land to Quang Ngai. From there, it is possible to take a ferry to reach Ly Son Island. The ferries operate regularly, providing relatively easy accessibility to this picturesque small island.
What to do on Ly Son island ?
Once in Ly Son, travelers can engage in a variety of exciting activities. They can start by exploring the lava fields, astonishing rock formations, and volcanic caves that bear witness to the island's unique geological history. History enthusiasts will appreciate visits to historical temples and pagodas that narrate ancient tales. The tranquil beaches, with crystal-clear waters, provide a serene atmosphere for relaxation and to admire the stunning sunsets over the ocean.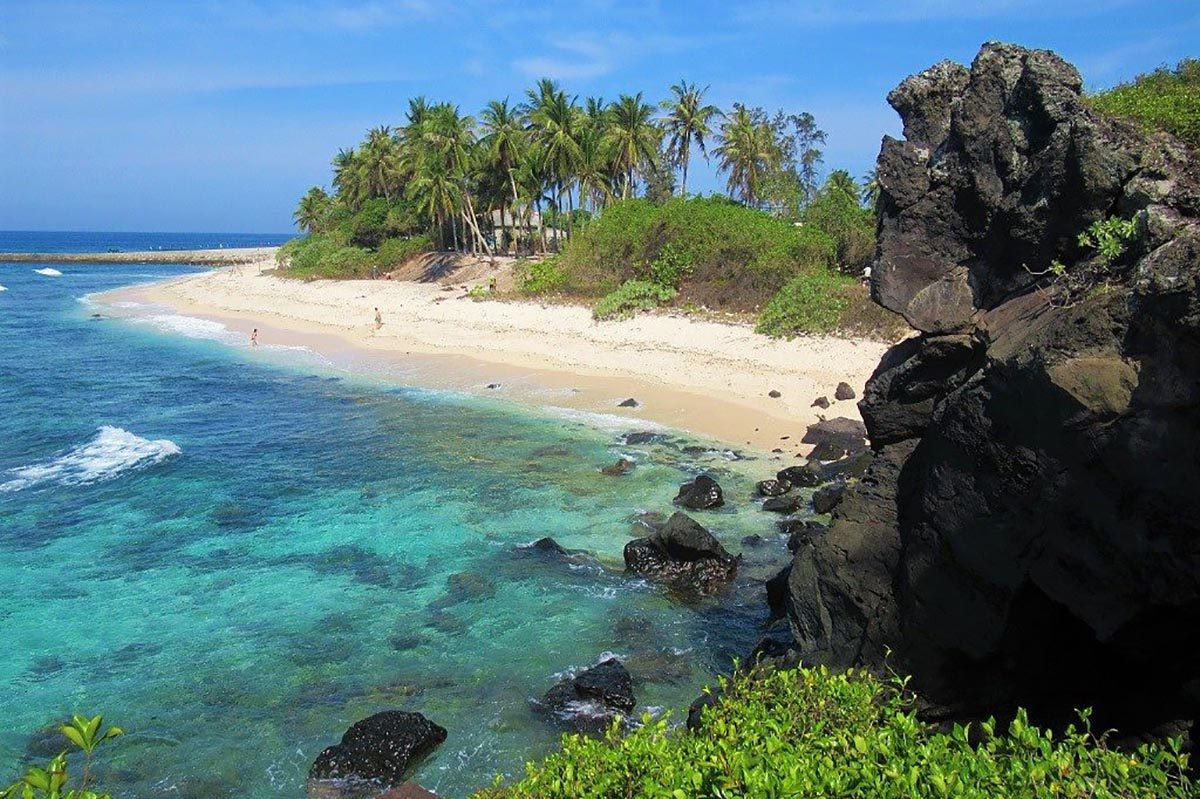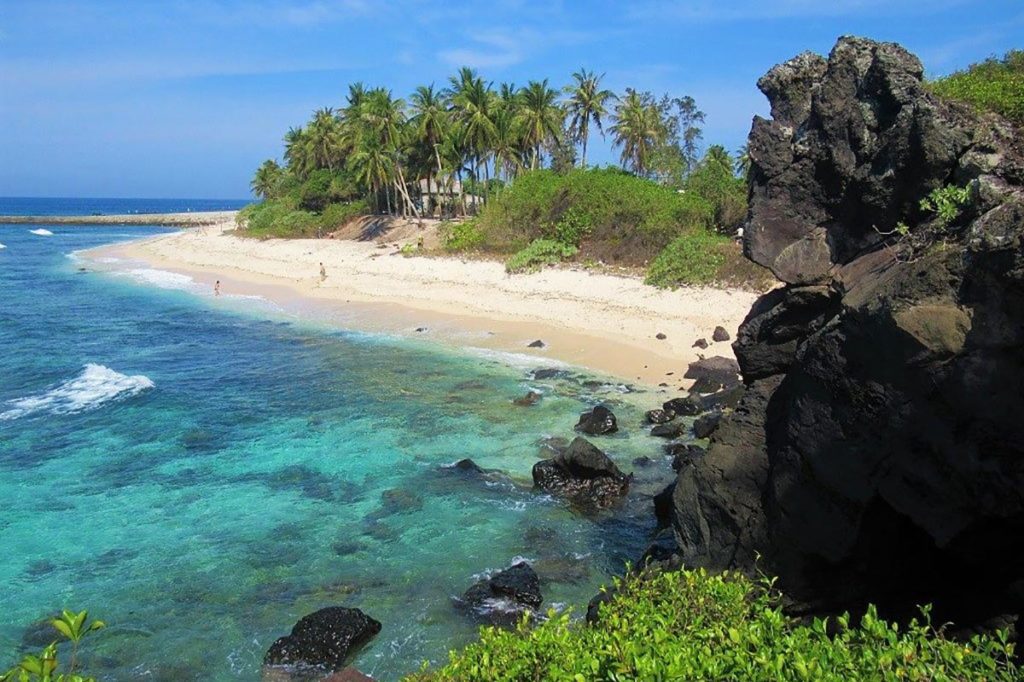 Beach on Ly Son island
Accommodation and food 
Ly Son offers a range of accommodations for all types of travelers, from comfortable hotels and resorts to traditional guesthouses. Visitors can choose to stay near the coast to enjoy the refreshing sea breeze and panoramic views or in the village for a more authentic immersion into island life.
Regarding dining, local restaurants offer delicious cuisine based on fresh seafood, as well as dishes highlighting garlic and onions, true symbols of the island. Ly Son is famous for its garlic and onion culture, which is integrated into daily life and the local economy. Visitors should not miss the opportunity to taste traditional dishes prepared with these flavorful ingredients, such as garlic and onion spring rolls or grilled fish with a garlic-based sauce. In addition to these specialties, fresh seafood and local products cultivated on the island are also not to be missed.
Best time to visit Ly Son
The best time to visit Ly Son is during the dry season, which extends from March to September. The months of April and May are particularly recommended as the weather is pleasant with less rainfall. During this period, travelers can fully enjoy outdoor activities and explore the natural beauty of the island without being hindered by adverse weather.
In summary, Ly Son is an enchanting destination offering a unique experience with its volcanic landscapes, historical heritage, and authentic island culture. Whether for a relaxing getaway or cultural exploration, the island promises travelers a memorable stay in the heart of its volcanic beauty.
Phu Quoc – a tropical paradise
Situated off the southwest coast of Vietnam, Phu Quoc is the country's largest island and a true tropical gem. Let's explore the essential details of this paradise destination.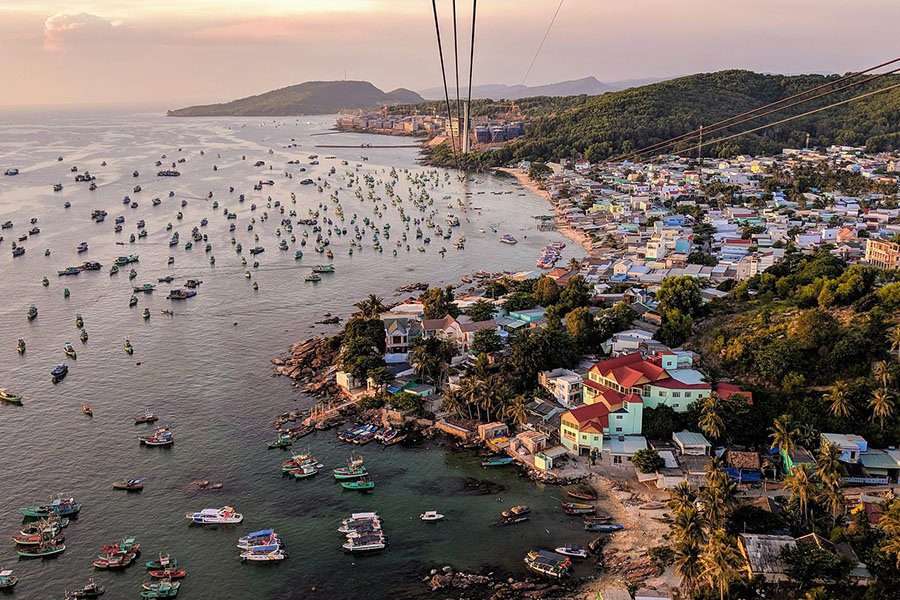 Paysage de Phu Quoc vue depuis le téléphérique. 
How to get to Phu Quoc ?
Phu Quoc is easily accessible by air from several cities in Vietnam, including Ho Chi Minh City and Hanoi. The island has an international airport that serves both domestic and international flights. Visitors can also reach Phu Quoc by ferry from the town of Ha Tien or Rach Gia province on the Vietnamese coast.
What to do on Phu Quoc island ?
Phu Quoc offers a multitude of activities for visitors from all walks of life. The pristine beaches are one of the main attractions of the island, providing stretches of sparkling white sand bordered by crystal-clear waters. Visitors can sunbathe, swim, snorkel, or simply stroll along the coastline.
For diving and snorkeling enthusiasts, Phu Quoc offers spectacular dive sites where you can admire colorful coral reefs and diverse marine life.
Boat excursions are also available to explore the surrounding islands and discover secluded bays and hidden coves.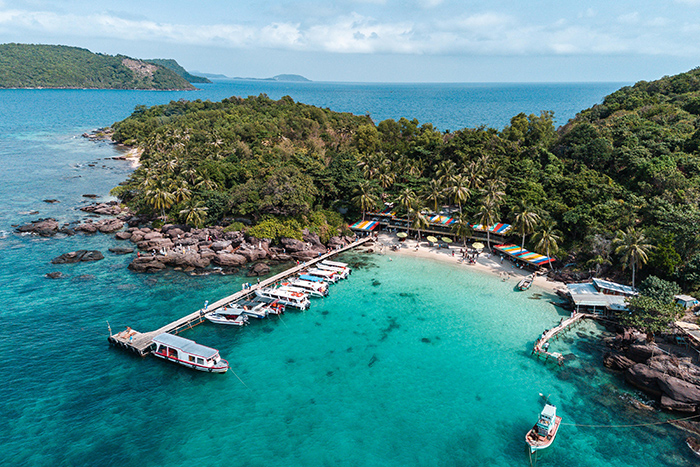 Hon Dua island, Phu Quoc. Crédit : Mathieu Arnaudet 
Accommodation and food 
Phu Quoc offers a diverse range of accommodation options for every budget, from luxury resorts to budget hostels and homestays. You can choose to stay in beachfront resorts along the island's popular beaches or in more secluded accommodations for a quieter experience.
Here are some recommendations:
# Budget Hotels: Island Life Hostel; 9 Station Hostel Phu Quoc; Dormstay Riverside; Seaside Homestay;
# Mid-Range Hotels: Lahana Resort; La Mer Resort; Little Garden Bungalow; Cottage Village; Nadine Resort
# Resorts and Luxury Hotels: Camia Resort; Ancarine Beach Resort; Green Bay Resort; Dusit Princess Moonrise Beach Resort
Regarding dining, Phu Quoc is renowned for its delicious seafood-based cuisine. Local restaurants offer a variety of Vietnamese and international dishes highlighting local flavors. Don't miss tasting the island's culinary specialty: grilled scallops with fatty onion.
Phu Quoc is famous for its pepper production, considered one of the best in the world. Pepper plantations are widespread on the island, and you can visit some of them to learn about the pepper cultivation and processing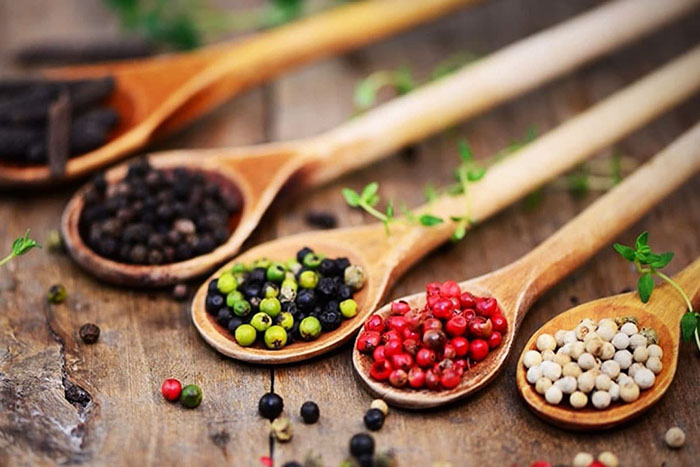 Poivre de Phu Quoc. 
Another culinary specialty of Phu Quoc is nuoc mam, a Vietnamese fermented fish sauce. The island is known for producing a variety of high-quality nuoc mam, used in many Vietnamese dishes to enhance flavors.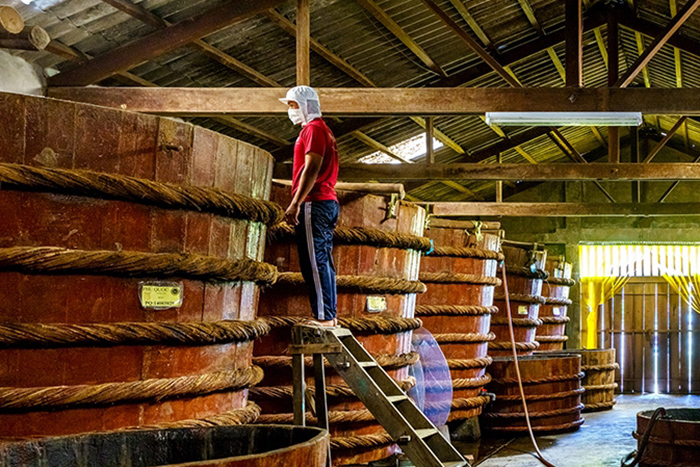 Fish sauce factory, Phu Quoc
Best time to visit Phu Quoc island
The best time to visit Phu Quoc is generally between November and April when the weather is warm and dry. The months of December to February are often considered the high season, with higher tourist influx. The months from May to October can be rainier due to the rainy season, but the island retains its natural charm even during this period.
Phu Quoc is a true tropical paradise that offers an unforgettable experience to visitors. With its pristine beaches, exciting water activities, and unique culinary specialties, the island promises moments of relaxation and adventure. Whether you're looking for a romantic getaway, a family experience, or an underwater adventure, Phu Quoc is the perfect place to rejuvenate and enjoy the natural beauty of Vietnam
Con Dao – the serenity preserved
The Con Dao Archipelago, located off the southern coast of Vietnam, is a true preserved gem. Comprising 16 picturesque islands, this place offers a peaceful and tranquil atmosphere for visitors seeking serenity.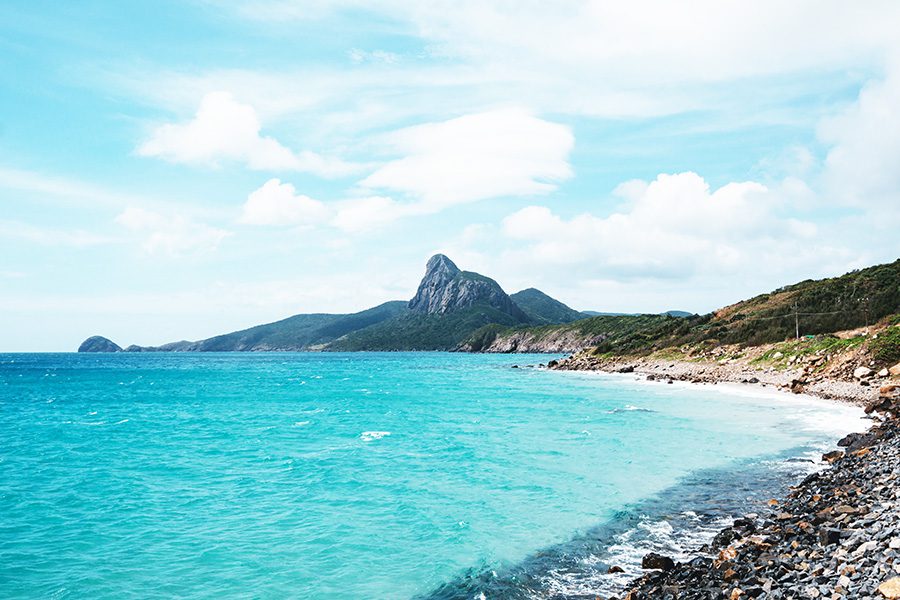 Landscape of Con Dao island
How to get to Con Dao ?
To access Con Dao, visitors can take a flight from Ho Chi Minh City (Saigon) to Con Dao Airport. There are regular flights serving the island, making the journey relatively easy. Once in Con Dao, you can explore the islands by boat or scooter, as there is not much traffic, and the distances are short.
What to do in Con Dao island ?
Con Dao is an ideal destination for nature lovers and diving enthusiasts. The deserted beaches of the archipelago are stunning, with their white sand and turquoise waters. Visitors can enjoy moments of relaxation on the secluded beaches and swim in the crystal-clear waters.
For diving enthusiasts, Con Dao offers incredible opportunities to explore its exceptional underwater world. The colorful coral reefs are home to diverse marine life, allowing divers to swim with a variety of tropical fish, sea turtles, and even sharks.
Accommodation and food
Although Con Dao is a preserved and tranquil place, it still offers a range of accommodation options for visitors. You will find hotels and resorts offering modern comfort while respecting the island's natural environment. It is recommended to book in advance, especially during the high tourist season. On the island, there is the Six Senses hotel, one of the most beautiful resorts in Vietnam.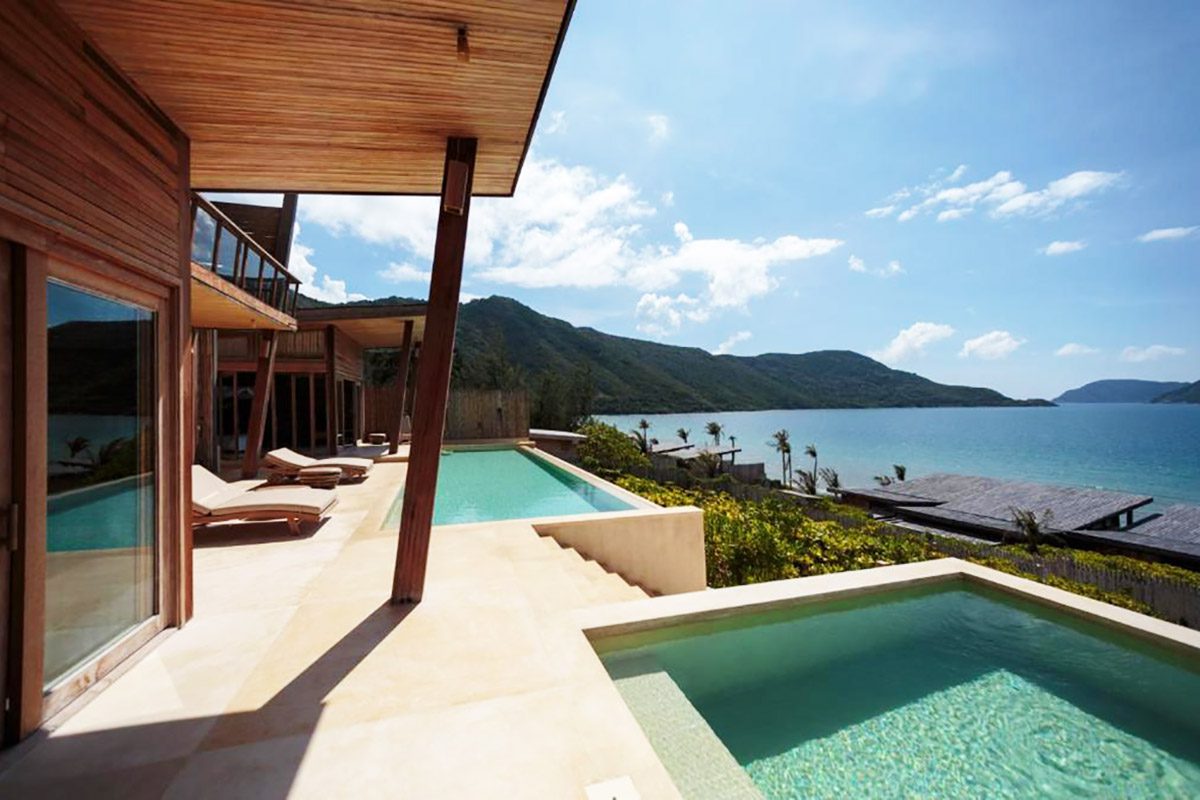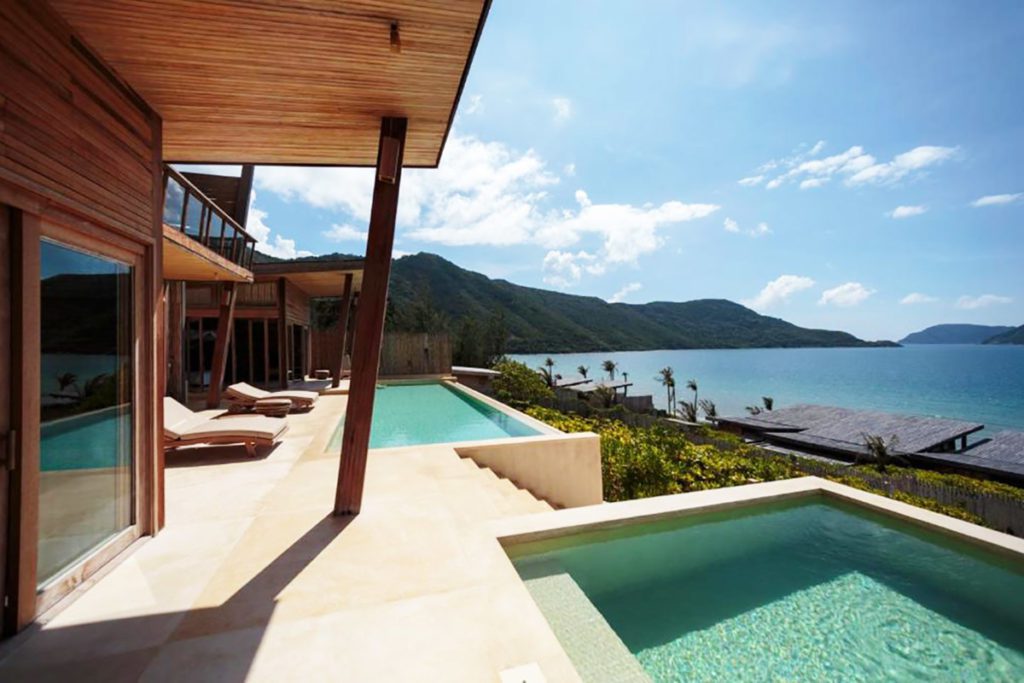 Six Senses resort in Con Dao
As for dining, the majority of local restaurants in Con Dao offer local cuisine with a focus on fresh seafood. You will find few restaurants serving Western cuisine, but this allows you to indulge in discovering authentic local flavors.
Con Dao's cuisine is a delight of fresh seafood. Don't miss the crispy "Cá Lớn Chiên" (fried fish), the "Cua Đồng" (mangrove crab) curry, and the grilled "Tôm Hùm Nướng" (lobsters). Vegetarians will enjoy the "Rau Muống Xào" (stir-fried water spinach) and "Gỏi Đu Đủ" (green papaya salad)
Best time to visit Con Dao
The best time to visit Con Dao is during the dry season, which extends from November to April. During this period, the weather conditions are favorable, with clear skies and little rain. Avoid the rainy season from May to October, as rains can be abundant and affect outdoor activities.
In conclusion, Con Dao is a true haven of peace and preserved beauty. With its pristine beaches, crystal-clear waters, exciting diving activities, and peaceful atmosphere, the archipelago offers a unique experience for travelers seeking tranquility and a connection with nature.
You now know the most beautiful islands in Vietnam.
Need help planning your trip to Vietnam?